OpenSong v2.2.3 MacOS
OpenSong v2.2.3 MacOS OpenSong is a free software application for managing chords and lyrics sheets (lead sheets), presenting lyrics (and custom slides) using a projector, and much more! Great for worship leaders and musicians! Features Live presentation of any song, specifying the order of slides, such as verse 1, then chorus, then verse 2, then the chorus again, etc. Present any passage of the Bible verse by verse Present a timed loop of slides, for use in situations such as automatically displaying announcements, verses, Q&As, etc. Present any combination of songs, scriptures, or loops back-to-back using sets. Fully customize font styles and sizes as well as shadowing and outlining for easy reading against colorful backgrounds Change the background color or background image to any image file Chord and lyrics presentation for audience and musicians Automatically transpose chords to any key Print sheets with regular chords and capo-ed chords together Customize any font face, size, bold, italic, underline, etc. for any sheet elements including title, author, chords, lyrics, copyrights, and more. Keep track of a song's title, author, copyright, ccli #, tempo, time signature, theme, focus, capo position, user defined fields, and more! Click here to visit the author's website.

3,285
Aug 07, 2019
OpenSong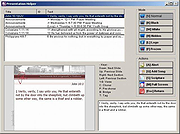 Speed Dreams v2.2.3
Speed Dreams v2.2.3 A Motorsport Simulator featuring high-quality 3D graphics and an accurate physics engine, all targeting maximum realism. Initially forked from TORCS, it has now reached a clearly higher realism level in visual and physics simulation, thanks to its active development team and growing community. It mainly aims to implement exciting new features, cars, tracks and AI opponents to make a more enjoyable game for the player, while constantly pushing forward visual and physics realism. It is also intended for any research, study or teaching activity, around physics and AI, thanks to its GPL V2+ license, and the clear and modular architecture of its C/C++ code base. Features 3D real-time motorsport simulator for gamers and researchers Accurate physics targeting maximum possible realism High Quality graphics 21 HQ tracks to race on 82 HQ fine-tuned cars in 16 balanced and consistent sets Many more cars and tracks available from the community 4 first class AI opponents for thrilling races Fully open to any research, study or teaching work (physics, AI, graphics, ...) Support for many input devices (keyboard, joypad, joystick, wheel/pedal ...) Runs under Windows and Linuxes and Mac OS X This download is for the Windows version. If you need the MacOS version, download here. If you need the Linux version, download here. To download more cars and tracks, download here. Click here to visit the author's website.

3,125
Sep 29, 2021
Speed Dreams Dev Team