Bluefish v2.2.12
Bluefish v2.2.12 A powerful editor for experienced web designers and programmers. Bluefish supports many programming and markup languages, but it focuses on editing dynamic and interactive websites. Bluefish is a multi-platform application that runs on most desktop operating systems including Linux, FreeBSD, MacOS-X, Windows, OpenBSD and Solaris. Features Bluefish has many features, this list will give you an overview of the most important or outstanding features in Bluefish 2.2. Not all features are (yet) available on Windows or Mac OSX. •Lightweight - Bluefish tries to be lean and clean, as far as possible given it is a GUI editor. •Fast - Bluefish starts really quick (even on a netbook) and loads hundreds of files within seconds. •Multiple document interface, easily opens 500+ documents (tested >10000 documents simultaneously) •Project support, enables you to work efficiently on multiple projects, and automatically restores settings for each project. •Multi-threaded support for remote files using gvfs, supporting FTP, SFTP, HTTP, HTTPS, WebDAV, CIFS and more1 •Very powerful search and replace, with support for Perl Compatible regular expressions, sub-pattern replacing, and search and replace in files on disk. •Open files recursively based on filename patterns and/or content patterns •Snippets sidebar - specify custom dialogs, search and replace patterns or insert patterns and bind them to a shortkut key combination of your liking to speed up your development process •Integrate external programs such as make, lint, weblint, xmllint, tidy, javac, or your own program or script to handle advanced text processing or error detection •Integrate external filters of your liking, pipe your document (or just the current selected text) through sort, sed, awk or any custom script ...

3,005
Nov 17, 2022
Olivier Sessink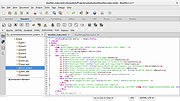 Kitchen Garden Aid v2.2.12
Kitchen Garden Aid v2.2.12 An easy to use application to design your kitchen garden or your house farm. Helps you plan your plants ( vegetables, fruit trees, herbs, flowers ) so that it respects the rules of crop rotation and companion planting. Based on square foot gardening. The windows installer contains all necessary files. A Linux and Mac package contains scripts and instructions to install the dependencies, and run KGA. If you download the jar directly, you must have Java 9+, including javafx. Oracle and OpenJDK java runtimes no longer include javaFX, and it must be separately installed. Alternatively https://www.azul.com/downloads/zulu-community/ is a JRE that provides a free 'JRE FX' installable that includes java and javafx. Installing it is the easiest way to run KGA on another OS. Features Draw your kitchen garden Keeps track of crop rotation and companion planting Square foot gardening visualization Seed manager track variety of plant This download is for the Windows Installer version. All other download assets are below: MacOS: KitchenGardenAid-Macosx-2.2.12.zip Linux: KitchenGardenAid-Linux-2.2.12.tgz Java jar file: KitchenGardenAid-2.2.12.jar Click here to visit the author's website.

3,530
Jan 09, 2022
Stephen Atwell