RedNotebook Portable v2.15
RedNotebook Portable v2.15 RedNotebook is a modern journal. It includes a calendar navigation, customizable templates, export functionality and word clouds. You can also format, tag and search your entries. Tagging Format your text bold, italic or underlined Insert Images, files and links to websites Links and mail addresses are recognized automatically Live-Search Automatic saving Backup to zip archive Word Clouds with most often used words and tags Templates Export the journal to PDF, HTML, Latex or plain text The data is stored in plain text files, no database is needed Translated into more than 20 languages System Requirements: Windows XP, Vista, 7, 8, 10 App License: Open Source (GPL) MD5 Hash: e95b34ae72326fb42fc778ff5421059f SHA256 Hash: 737e00d5a7787f2bfe8d880bd1ec59be0ca16fced2f5533905a7439dc1e32b3c Click here to visit the author's website.

720
Jan 24, 2020
Jendrik Seipp & PortableApps.com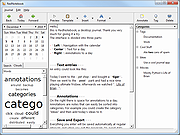 WildRename v2.15
WildRename v2.15 WildRename is a multi-file renaming application for Microsoft Windows users. Its very simple user interface helps you build and perform many file renaming operations one-by-one or in batches. In brief, WildRename helps you: convert filenames to lower/upper case or normalise case (Capitalize First Letter) add or remove strings of characters from filenames replace strings of characters in filenames, using either simple replacements or powerful regular expressions add text counters to a series of files (e.g. 0001_filename.ext) Version 2.15 : Fixed form appearance in high DPI monitors Fixed bug in RegExpr Help Tester to use $n subexpr Click here to visit the author's website.

1,951
Aug 28, 2019
CyLog Software