MultiClipBoardSlots v2.12
MultiClipBoardSlots v2.12 MultiClipBoardSlots is a small portable program that allows you to extend the Clipboard for up to 10 Clipboard Memory Slots (memory storage). This allows you easily to insert text, images, and other objects between the programs via freely selectable Windows shortcut without losing the contents of the Clipboard Slots, because the default Clipboard will be overwritten by other programs. The keyboard shortcuts for the Clipboard Memory Slots are predefined, but always it can be individually adjusted. MultiClipBoard Slots can be uninstalled at any time. If you do not need multiple clipboards or can not cope with the operation of Multi Clipboard. # Features: # Especially small # Install function # Uninstall function # Self explanatory # Freely selectable Windows keyboard shortcut # Portable program # Multilingual # Installation: The installation can be done without any admin rights, this is not required unless you want to install it for all users on the PC. The program recognizes the file as an installation file by the ending _install, by renaming to MultiClipBoardSlots.exe it can be used without installation. As a portable application, it can also be installed, no registry entries are made. Except you want to start the program with Windows. # Employment: The Multi Clipboard software is stable for: Windows 10, Windows 10 Pro, Windows 10 Enterprise, Windows 10 Home, Windows 8.1, Windows 8.1 Enterprise, Windows 8.1 Pro, Windows 8, Windows 8 Enterprise, Windows 8 Pro, Windows 7, Windows 7 Enterprise, Windows 7 Home Basic, Windows 7 Home Premium, Windows 7 Professional, Windows 7 Starter, Windows 7 Ultimate, Windows Vista Enterprise 64-bit edition, Windows Vista Ultimate 64-bit edition, Windows Vista Business, Windows Vista Business 64-bit edition, Windows Vista Enterprise, Windows Vista Ultimate, Windows XP Home and Pro, X64 and x32 all Windows, Windows Server 2000-2008,Windows Server 2012,Windows Server 2016. New in version 2.12 // 7 September 2020 • Various improvements for al Windows Desktop and Server OS • New ...

2,244
Sep 08, 2020
Nenad Hrg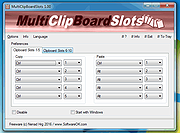 Snap2HTML v2.12
Snap2HTML v2.12 Snap2HTML takes a "snapshot" of folder structures on your harddrive and saves as HTML files. What's unique about Snap2HTML is that the HTML file uses modern techniques to make it feel more like a "real" application, similar to Windows Explorer, displaying a treeview with folders that you can click to view the files contained within (see example output). There is also a built in file search. Still, everything is contained in a single HTML file that you can easily store or distribute. Features: Create folder listings and save as HTML One HTML file contains everything Listings with file explorer "look and feel" Built in search functionality Export file listings as plain text, JSON or CSV Link listings to the real files Sortable columns with filename, date and size Unicode support Automation via command line Portable Free Open Source Software Example Output (Click here for live demo) Exported file listings can be used in many ways. Here are some examples that I have found useful, but you can probably come up with your own ideas! Keep file listings as a complement to your backups (note however that this program does not backup your files! It only creates a list of the files and directories). Keep a list of the files on external HDDs and other computers in case you need to look something up and don't have access to right now. Save file listing for historic or nostalgic reasons, or for documentation. When helping your friends with their computer problems you can ask them to send ...

1,664
Apr 30, 2020
RL Vision