Free Shooter v2.0.7
Free Shooter v2.0.7 This is old-school tool for taking screenshots without bloatware features, simple as life, light as air. It is my first application, written in AutoIt3 and now rewritten on C++. I love this tool, and i hope you are take to love it too. Features: Simple interface without useless features Clear window transparency (vista+) Disable Aero effect for captured window (vista+) Multi-monitor support Free and open source Localization support Portable mode To activate portable mode, create freeshooter.ini in application folder, or move it from %APPDATA%\Henry++\Free Shooter v2.0.7 (22 October 2018) fixed region selection mask device context fixed calculating overlapped windows rectangle fixed calculating shadow size updated project sdk updated windows sdk fixed bugs Click here to visit the author's website.

2,082
Jul 02, 2020
Henry++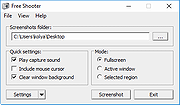 Pointing Magnifier 2 v2.0.7
Pointing Magnifier 2 v2.0.7 The Pointing Magnifier is a cursor replacement designed to reduce the need for fine motor control. It is also useful in getting a close look at any region of the screen without losing the surrounding context, which has been useful to graphic designers and people with low vision. With the Pointing Magnifier, the usual mouse cursor is replaced by a semi-transparent circular cursor. When the user clicks, the area beneath this circular cursor becomes magnified. Once magnified, the typical mouse cursor arrow appears within the magnified lens, allowing for normal mouse operations, now on much larger targets. The Pointing Magnifier supports all button-based actions: clicking, double-clicking, right-clicking, dragging, and button dwelling, both on the cursor itself and within its magnified lens. It does not trigger mouse movement-based events—mouse over, mouse hover, mouse enter, or mouse leave—due to technical limitations. The original Pointing Magnifier was developed in 2010-2011 by Alex Jansen, with lead designer Leah Findlater and help from Jacob O. Wobbrock, among others. A decade later, numerous feature requests and design improvements have resulted in the creation of Pointing Magnifier 2 by Jacob O. Wobbrock, with help from Alexis Hiniker. Pointing Magnifier 2 Despite the many improvements in Pointing Magnifier 2, there are still some known issues. Known Issues: The Pointing Magnifier cannot trigger mouse movement-based events—mouse over, mouse hover, mouse enter, or mouse leave. Application features, like ToolTips, that require such signals will not respond to the Pointing Magnifier area cursor for these events. A remedy is to use the "suppress" key, which by default is the Ctrl key, to temporarily hide the circular cursor and reveal your regular mouse pointer. The Pointing Magnifier will generally draw behind most menus because menus capture the mouse in order to operate. Thus, the Pointing Magnifier ...

603
May 01, 2020
Dr. Jacob O. Wobbrock