Account Profile Fixer v1.7.0.0
Account Profile Fixer v1.7.0.0 Helps you to repair severe issues without the need to reinstall/reset Windows. Supported Operating Systems: Windows XP, Vista, 7, 8, 8.1, 10 and 11. 32 or 64 bits. This tool allows users to easily fix account profile related issues which can not be repaired without creating a new account. Examples of situations where this tool may come in handy are: MS Edge is not working, Windows Store apps are not working, Windows Explorer is not showing the Start screen or the notification area, or a user can not login. Note: Carifred recently renewed their code signing certificate, so you may get a Smart Screen warning saying the file is not commonly downloaded and may harm your computer. Please ignore the warning and chose to keep the file anyway. Overview of Account Profile Fixer (APF) It is no news for a computer tech that, when nothing else works, creating a new user account to replace a broken user profile can save us from fully reinstalling Windows. Actually, it's one of the things technicians do most, lately. Whether a user lost his password, MS Edge is not working, Windows Store apps are not working, Windows Explorer is not showing the Start screen or the notification area, or a user can not login, we usually end up using the same basic solution: Create a new user account and move the data from the old one. But this process can be lengthy, especially if the user has many files to move to the new account, or the machine does not have a SSD. Not to mention that there are some folders that should not be be moved, or we may risk breaking the new user account profile as well. In the end, we also need to delete the old user account. Account Profile Fixer can take care ...

5,279
Sep 01, 2022
Carifred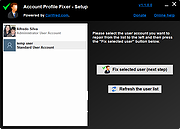 Wavosaur v1.7.0.0
Wavosaur v1.7.0.0 A cool free sound editor, audio editor, wav editor software for editing, processing and recording sounds, wav and mp3 files. Wavosaur has all the features to edit audio (cut, copy, paste, etc.) produce music loops, analyze, record, batch convert. Wavosaur supports VST plugins, ASIO driver, multichannel wav files, real time effect processing. The program has no installer and doesn't write in the registry. Use it as a free mp3 editor, for mastering, sound design. The Wavosaur freeware audio editor works on Windows 98 through Windows 11. Wavosaur features General features Wavosaur screenshot Multiple Document Interface for working with many files in one session All classic editing functions : cut, copy, paste, paste mix, paste replace/insert, paste to new file, trim/crop, delete, undo. Many processing options: mute, channel convert (stereo->mono, mono->stereo), insert silence, change volume, normalize level, fade in/out, invert/flip, undo. Accurate waveform representation, fast zoom in/out, clean easy to use interface Right mouse to scroll/display context menu. Skinable editor look. Advanced features Resample, bit-depth convert (8,16,24,32 bits), pitch shift, vocal removal, DC offset removing, auto-trim, silence remover, interpolate, auto detect region, crossfade loop, exporting multiple wav file from regions. Wavosaur can import, save and edit loop points & markers informations in wav files. Snap to zero-crossing. Batch processing : apply process/effect/VST effects to an entire folder. Export files as text for using in software such as Matlab, Excel or PSpice. Audio capabilities ASIO support. Audio routing, multichannel support, audio output samplerate up to 192 KHz, 24 bits. Record from your soundcard input (line in, mic input). Real time resampling. Loads wav, mp3, aif, aiff, ogg vorbis, raw binary, au/snd, ADPCM Dialogic vox, Akai S1000 sample, Amiga 8svx & 16svx, wavpack. Support for multichannel wav, 8 bits, 16 bits, 24 bits, 32 bits PCM, 32 bits float, 64 bits float @ any samplerate. Import any binary files, export multiple files from markers. Export MP3 (support for lame encoder). Save ...

2,993
Jul 19, 2022
The Wavosaur Team