Fuse for Windows v1.5.7
Fuse for Windows v1.5.7 The Free Unix Spectrum Emulator The Free Unix Spectrum Emulator (Fuse): an emulator of the 1980s home computer. Features Accurate 16K, 48K (including the NTSC variant), 128K, +2, +2A and +3 emulation. Working +3e, SE, TC2048, TC2068, TS2068, Pentagon 128, Pentagon "512" (Pentagon 128 modified for extra memory), Pentagon 1024 and Scorpion ZS 256 emulation. Runs at true Speccy speed on any computer you're likely to try it on. Support for loading from .tzx files, including accelerated loading. Sound (on Windows and Mac OS X, and on systems supporting ALSA, the Open Sound System, SDL or OpenBSD/Solaris's /dev/audio). Kempston joystick emulation. Emulation of the various printers you could attach to the Spectrum. Support for the RZX input recording file format, including 'competition mode'. Emulation of the Currah µSource, DivIDE, DivMMC, Interface 1, Kempston mouse, Multiface One/128/3, Spectrum +3e, ZXATASP, ZXCF and ZXMMC interfaces. Emulation of the Covox, Fuller audio box, Melodik and SpecDrum audio interfaces. Emulation of the Beta 128, +D, Didaktik 80/40, DISCiPLE and Opus Discovery interfaces. Emulation of the Spectranet and SpeccyBoot interfaces. Support for the Recreated ZX Spectrum Bluetooth keyboard. What's new? 1.5.7 GTK+ 3: Make the offset entry wider in memory browser GTK+: Remove duplicated surface creation code GTK+: Remove use of deprecated gtk_device_(un)grab functions GTK+/Win32: Add *.bin as an allowed filetype to file selectors and amend .fmf filetype Improve Fuse's Kempston mouse handling under GTK+ 3.x "Save binary" command can now save 65536 bytes again (regression introduced in ...

1,852
Jun 26, 2019
Sergio Baldoví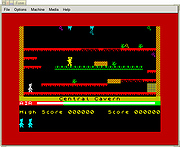 Scribus v1.5.7
Scribus v1.5.7 Powerful, open source desktop publishing software. Welcome to Scribus, a page layout program for Linux, FreeBSD, PC-BSD, NetBSD, OpenBSD, Solaris, OpenIndiana, Debian GNU/Hurd, Mac OS X, OS/2 Warp 4, eComStation, Haiku and Windows. Since its humble beginning in the spring of 2001, Scribus has evolved into one of the premier Open Source desktop applications. Encouraged by professionals and beginners alike, the Scribus Team, with support from a large and growing number of enthusiastic contributors from all over the world, is dedicated to develop and improve "one of the most powerful and useful open-source projects out there" (TechRepublic). Underneath a user-friendly interface, Scribus supports professional publishing features, such as CMYK colors, spot colors, ICC color management and versatile PDF creation. Scribus has many unexpected touches, such as powerful vector drawing tools, support for a huge number of file types via import/export filters, emulation of color blindness or the rendering of markup languages like LaTeX or Lilypond inside Scribus. The Scribus file format is XML-based and open. Unlike proprietary binary file formats, even damaged documents can be recovered with a simple text editor. This download is for the Windows 64bit version. If you need the Windows 32bit version, download here. If you need the MacOS version, download here. If you need the MacOS alternative version, download here. If you need the Linux version, download here. Click here to visit the author's website.

1,893
Jun 15, 2021
The Scribus Team