CrococryptMirror v1.42
CrococryptMirror v1.42 CrococryptMirror (aka "Crococrypt") is an encryption tool which mirrors complete folders to encrypted folders. The encryption algorithms that are used are AES and Twofish (256 bits, cascading). The keyfile is secured by a password using PKCS #5 (PBKDF2) with a SHA512/Whirlpool based HMAC using 100000 iterations and also AES and Twofish. Additionally, a ZIP compression for storage space optimization is used. For reasons of performance the synchronization of source and destination folder is done in the background. A backup copy of the keyfiles has to be stored at a secure place. Without the keyfile the containers cannot be decrypted. In the portable version of CrococryptMirror keyfile and settings are stored together with the application folder. Hence, the complete application can be transported on an external storage device. Moreover, the folder "container" can be used to store portable containers. Mirroring can be done manually (on-demand) or by using the sync service which detects directory changes on the fly. Features Copying and synchronizing of arbitrary folders/directories to encrypted folders (Backup Containers) Automatic Synchronization (Live mode, e.g., for Cloud Uploads) On-Demand Synchronization (e.g., for external drives like USB drives) Encryption of file content, filenames, file meta data Shorten of filenames Using the highest encryption standards (AES-256 & Twofish-256) and password security techniques (PBKDF2, SHA512 & Whirlpool, 100000 iterations) Especially the password security implementation is flexible and can be adapted in the future to fit current hardware performance issues Source folders can be stored in multiple destination containers at the same time (e.g., USB disk drive and Cloud storage) Network drives can be used as ...

2,278
Mar 20, 2020
Frank Hissen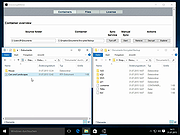 TurnedOnTimesView v1.42
TurnedOnTimesView v1.42 TurnedOnTimesView is a simple tool that analyses the event log of Windows operating system, and detects the time ranges that your computer was turned on. For every period of time that the computer was turned on, the following information is displayed: Startup Time, Shutdown Time, Duration, Shutdown Reason, Shutdown Type, Shutdown Process, and Shutdown Code. TurnedOnTimesView allows you to get this information from your local computer, and from remote computer on your network if you have enough privilege to read the event log of Windows remotely. System Requirements This utility works on any version of Windows, starting from Windows 2000 and up to Windows 10. both 32-bit and 64-bit systems are supported. On Windows Vista/7/8, TurnedOnTimesView generally works without elevation (admin rights). However, in order to get information about system shutdown caused by a system crash (blue screen), you should right-click on TurnedOnTimesView.exe and choose 'Run As Administrator'. Known Limitations TurnedOnTimesView based on a few types of events on the event log of Windows to detect when the computer was turned off and on. It generally works quite well, but it's still possible that you'll get a false positive, which means that TurnedOnTimesView will show that the computer was turned off and on, even when the computer was not actually turned off. When the computer is turned off improperly (For example, on a power outage), TurnedOnTimesView will not be able to detect the shutdown time, and the icon of this item will be red instead of green. If you clear your system event log, TurnedOnTimesView will not be able to detect the shutdown/startup times. On systems prior to Windows Vista, Shutdown Reason, Shutdown Type, and Shutdown Process fields are usually empty. ...

2,359
Sep 24, 2019
Nir Sofer