Eqonomize! v1.4.3
Eqonomize! v1.4.3 - efficient and easy accounting for the small household economy Eqonomize! is a cross-platform personal accounting software, with focus on efficiency and ease of use for the small household economy. Eqonomize! provides a complete solution, with bookkeeping by double entry and support for scheduled recurring transactions, security investments, and budgeting. It gives a clear overview of past and present transactions, and development of incomes and expenses, with descriptive tables and charts, as well as an approximation of future account values. Features: Bookkeeping Bookkeeping by double entry. Transactions: expenses, incomes, transfers, and security transactions. Transaction properties: description, value, quantity, date, payee/payer, comments, from/to account/category, and additional for securities. Split transactions. Refunds and repayments. Explicit support for loans/debts with interest and fee payments. Schedules transactions, with support for a wide range of recurrency schemes, and confirmation and occurrance. Support for multiple currencies, with selectable currency for each account. Supported currencies are automatically updated. Parameters of the last entered transaction, with the same description (or category or payee/payer), is automatically filled in when a description (or category/payer/payee) is entered (with auto-completion) Value input fields support arithmetics and currency conversion. Budgeting Monthly budget for incomes and expenses categories. Ability to exclude categies from the budget. ...

2,665
Jul 13, 2020
Eqonomize Project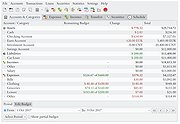 Input Director v1.4.3
Input Director v1.4.3 Input Director enables the control of multiple Windows systems using the keyboard/mouse attached to one computer Switch control between systems either by hotkey or by moving the cursor to the screen edge on one computer for it to appear on the next one Input Director supports a shared clipboard - copy on one computer, switch control, and paste . Input Director is compatible with Windows 10, Windows 8/8.1, Windows 7, Windows 2008, Windows Vista, Windows 2003 and Windows XP(SP3). The systems must be networked. Features Easy to Use Easy to follow installation and usage guides - setup only takes a few minutes Tell Input Director how your monitors are positioned simply by dragging them to the correct spot on the monitor grid: Multi-monitor support Shared Clipboard - copy and paste between computers (including files!) Compatible with Windows 10, Windows 8/8.1, Windows 7, Windows 2008, Windows Vista, Windows 2003 and Windows XP(SP3) Only Input Director ensures the cursor remains visible and correct if the mouse is disconnected on a Windows 10 system. Transitioning control to another computer is a simple as moving your cursor off the screen on one computer for it to jump to the other Able to control a computer without needing to login to it first Supports Windows fast user switching Compatible with Windows User Account Control pop-ups Manage all your computers at once Simultaneously lock all computers Import/Export Input Director configuration and apply configuration updates from the command line Synchronise screensavers across your computers Synchronise shutdown of your system (or individually configure whether a computer goes to standby, hibernate or shuts down) Wake systems over the network Security Encrypt network data between Input Director controlled computers using AES with a 128, 192 or 256bit key Lock down the Input ...

860
Mar 20, 2020
Shane Richards