Lorien v0.5.0
Lorien v0.5.0 Infinite canvas drawing/whiteboarding app for Windows, Linux and macOS. Made with Godot. Lorien is an infinite canvas drawing/note-taking app that is focused on performance, small savefiles and simplicity. It's not based on bitmap images like Krita, Gimp or Photoshop; it rather saves brush strokes as a collection of points and renders them at runtime (kind of like SVG). It's primarily designed to be used as a digital notebook and as brainstorming tool. While it can totally be used to make small sketches and diagrams, it is not meant to replace traditional art programs that operate on bitmap images. It is entirely written in the Godot Game Engine. For an overview on how to use Lorien have a look here. Features Infinite canvas Infinite undo/redo (Almost) Infinite zoom Infinite grid Distraction free mode (toggles the UI on/off) Extremely small savefiles (File format specs) Work on multiple documents simultaneously Tools: Freehand brush, eraser, line tool, rectangle tool, circle/ellipse tool, selection tool Move and delete selected brush strokes SVG export Built-in and custom color palettes Designed to be used with a drawing tablet (Wacom, etc.). It also supports pressure sensitivity A little Surprise Mechanic™ when pressing F12 Runs on Windows, Linux & macOS Localizations: English, German, Italian, Korean, Russian, Spanish, Turkish, Brazilian Portuguese Changes Version v0.5 of Lorien features a new SuperEraser, which erases brush strokes as soon as it inserects with them. The previous implementation just painted over new brush strokes, which always had the same color as the background - giving you the illusion of a traditional ...

601
Jun 14, 2022
Marcus Brummer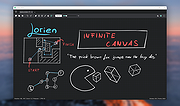 StatusPilatus v0.5.0
StatusPilatus v0.5.0 Monitor your PC like never before! Features Cross-platform and free Monitoring CPU information, usage, flags and temperature GPU information, with support for multiple GPUs RAM information and usage Disk usage statistics and activity General system information such as hostname, operating system, program list with versions and more Network statistics with support for multiple network interfaces Battery information and status Miscellaneous Information about running processes Configurable user settings This download is for the Windows version. If you need the MacOS version, download here. If you need the Linux Debian version, download here. If you need the Linux RPM version, download here. StatusPilatus 0.5.0 New about page New battery page Fresh layout using materialize Some other fixes Click here to visit the author's website.

2,013
Jul 29, 2020
PilatusDevs