hollows_hunter v0.3.1
hollows_hunter v0.3.1 Scans all running processes. Recognizes and dumps a variety of potentially malicious implants (replaced/implanted PEs, shellcodes, hooks, in-memory patches). Hollows Hunter allows you to scan your full system, searching for potentially malicious implants, and extract them for further analysis. It is an application based on PE-sieve (DLL version), so there is a big overlap of the features between those two. They have a similar command-line interface, but while PE-sieve is an engine dedicated to scanning a single process, Hollows Hunter offers many additional features and filters on the top of this base. More information about similarities and differences described here. Start by familiarizing yourself with PE-sieve by reading the PE-sieve's Wiki. Changes: v0.3.1 9-7-21 Updated PE-sieve (v0.3.1): https://github.com/hasherezade/pe-sieve/releases/tag/v0.3.1 Changes in HollowsHunter (in addition to the changes in PE-sieve): Changes in presenting application parameters. Refactored to use ParamKit library This download is for the 64bit version. If you need the 32bit version, download here. Click here to visit the author's website.

1,332
Sep 08, 2021
HASHEREZADE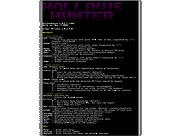 Zed Online v0.3.1
Zed Online v0.3.1 Zed Online is a remake of the classic strategy game Commander Zod (or just Z). Over the last 10 years or so, several projects have been started to bring back Commander Zod to live on modern technology. One of them was the Zod Engine by FreakNigh (Nighsoft). The Zod Engine is a great contribution to the community and brought us all back to those days again. Based on the Zod Engine, DaMarkov started a fork called "Zed Online" and continued the development by adding a user interface, online multiplayer support and much more. Other contributors, including the ZZone, joined DaMarkov in his endeavor to bring back the game to the fans. And back it is! Online Multiplayer - Port forwarding In order to connect online the player who creates the game needs to enable port forwarding on their network router/NAT. The game will use port 8000 TCP. If the game can not bind the server to port 8000 it will try the next port until 8009. We recommend to forward all ports 8000-8009 TCP or at least ports 8000-8002. UPnP (Universal Plug&Play) support When starting the game the program makes a list of all network interfaces, takes the first one, tries to find the router and enable port forwarding on port 8000 to your machine. This means if you are connected to only one network where the router has UPnP enabled and you can open port 8000 on your machine you don't need to setup port forwarding manually anymore. If the game could open port 8000 sucessfully you will see the message "UPNP: Enabled" in the game lobby. Server-side connection test When creating a game online the gateway will try to connect to you. You will see a message if the connection could be established. If the gateway could connect to you this means that port-forwarding is set up correctly. If ...

707
Dec 03, 2020
DaMarkov