Bloatbox v0.20.0
Bloatbox v0.20.0 As the name says Bloatbox allows you to uninstall built-in and sponsered Windows 10 apps. Microsoft's Windows 10 operating system ships with numerous integrated applications. Some of these are app-versions of popular Windows tools, others offer new functionality and the most of them comes sposered by the manufacturer or disguised as ads to get you into buying apps and services you probably don't need or want. Bloatbox was intended as a small extension for Spydish to uninstall specific apps. To avoid adding bloat to Spydish, I decided to offer it as standalone program that you may download and run independently. The app is in its function reduced to the basics, but it is tiny and portable and can assists you in removing Windows Apps including hidden system apps. Bloatbox requires Windows 10 including both 32-bit and 64-bit versions. Bloatbox 0.20.0 (Perseus) Added localization/globalization support (If you want to translate Bloatbox to your native language, with a service e.g. Crowdin, then just use the file located here) Added german localization (had a little spare time left and translated it into german myself) Intro of PowerShell scripting module Click here to visit the author's website.

1,999
Jul 07, 2021
Mirinsoft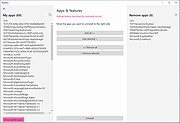 Lost Evocation v0.20.0
Lost Evocation v0.20.0 Lost Evocation is about a character with amnesia and has lost her way, her memories are shattered and she has to find them to remember what she has forgotten. The art style is 2D and 3D with low poly and high poly mixed style, clean but beautiful, there is a lot to see and find. With soothing music tracks and wonderful scenery, you won't have a bad time. How to play: you have to use an XBOX One gamepad/game controller Compatible with the Oculus Rift CV1, HTC Vive, Windows Mixed Reality. Click here to visit the author's website.

1,412
Feb 09, 2020
Kristoffer French-Skog