RIOT (Radical Image Optimization Tool) v0.6.2
RIOT (Radical Image Optimization Tool) v0.6.2 Radical Image Optimization Tool (RIOT for short) is a free image optimizer that will let you to visually adjust compression parameters while keeping minimum filesize. It uses with a side by side (dual view) or single view interface to compare the original with the optimized image in real time and instantly see the resulting file size. It is lightweight, fast and simple to use, yet powerful for advanced users. You will be able to control compression, number of colors, metadata settings and much more, and select image format (JPG, GIF or PNG) for your output file. Main features open many image types including rare/scientific types save and optimize JPEG, GIF and PNG with a simple, clean user interface automatic optimization selects the most suitable format and parameters works in dual view: (original – optimized image) or single view (optimized image). automatic preview of resulting image in-place compare function (alternativelly display the original image over the optimized image to notice small pixel changes) compress files to desired filesize threshold fast processing (all is done in memory); see instant results including resulting filesize batch support (process multiple files at once) transparency handling options decide if you want to keep metadata (comments, IPTC, Adobe XMP, EXIF profiles, ICC profiles). Unsupported metadata is removed transfer metadata between image formats (destination format must support them) common tools: pan and zoom, rotate, flip basic image adjustments: brightness, contrast, gamma, invert visually reduce number of unique colors for PNG and GIF images in ...

1,604
May 08, 2019
Lucian Sabo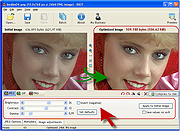 SnmpWalk (Shell Tool) v1.02
SnmpWalk (Shell Tool) v1.02 SNMP is a unified protocol of network monitoring and network device management. All active network devices support SNMP. Besides that, SNMP is supported by major operational systems and a large number of network applications. SnmpWalk allows you to detect a set of variables that are available for reading on an individual device. You can obtain a full list or just part. By analyzing the results of a network device scan obtained with SnmpWalk, you can develop a list of supported MIBs and, in this way, obtain full descriptions of variables and possible values. Besides that, MIB documents contain information about SNMP variables that are available only for writing. After analyzing information retrieved with SnmpWalk from hardware or software SNMP sources, you can use SnmpSet and SnmpGet tools to change and obtain values. The value of SnmpWalk is not limited to only the SNMP analysis of supported features. This tool can efficiently get SNMP tables and read whole sections of variables. This mainly refers to tables that are often used for presenting statistical and status information. SnmpWalk is a command-line tool, which makes possible its use in scripts. This tool supports modern IPv6 in addition to the standard IPv4. Moreover, SnmpWalk allows you to use a simple version of SNMPv1/SNMPv2c and also supports a safe version of SNMPv3. Features Supports SNMP v1/v2c and SNMPv3 Supports IPv4 and IPv6 Full or partial SNMP variables tree Exports to CSV file Command line interface (CLI) Any type of SNMP variables Various Auth. & Privacy protocols Windows XP-10 compatible Windows Server 2003-2016 compatible Parameters SnmpWalk.exe [-q] -r:host [-p:port] [-t:timeout] [-v:version] [-c:community] [-ei:engine_id] ...

1,590
Dec 08, 2019
SNMP Software