SunlitGreen BatchBlitz v3.4.0.1630
SunlitGreen BatchBlitz v3.4.0.1630 - Batch Photo Editor SunlitGreen BatchBlitz is a free, powerful and easy-to-use photo categorizer, file filter and batch editor. It provides an intuitive and efficient way to categorize and batch process your digital photos. The use of regular expressions and actions make the tool extremely flexible and powerful. Features: Simple and intuitive user interface Extensive support for regular expression Exif and IPTC metadata support Highly customizable batch actions Savable batch task Instant preview Source View Here you define a collection of source images for filtering, categorizing or batch processing. Actions View Here you define one or more actions that you want to perform on the source images. Action Properties - Add Text Here you change the properties of action Add Text. This action lets you add text watermark on images. Categorize Photo Files FilesSunlitGreen BatchBlitz lets you categorize your photos by tags (Exif or IPTC metadata). For example, you can categorize your photos by the date they were taken, putting all photos in the same folder if they were taken on the same day. Selective categorization is also supported. E.g. you can pick out the only two categories holding photos rated 4 and 5 stars respectively. Filter Photo Files If you have a huge stock of images, file filtering can be quite a headache. E.g. how do you find out all the files with a suffix number in the name? How do you find out all the portrait photos (viz. height > width) that are no less than 600 pixels in height? BatchBlitz enables you to easily filter or locate such files. The filtering can be done interactively, or through a batch action. Batch Edit Photos BatchBlitz lets you batch-process your photos using customizable actions. You can save your action settings to a task file ...

2,400
Apr 14, 2019
SunlitGreen Software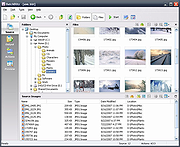 SunlitGreen Free Photo Editor v1.5.0.1633
SunlitGreen Free Photo Editor v1.5.0.1633 SunlitGreen Photo Editor is a free, simple and handy digital photo editing software program. It lets you view, resize, rotate, apply color corrections and effects to your photos in an easy and professional way. Features: Drag and drop to open photo files Automatic color corrections Previewable image adjustments Photo viewer with easy-to-use zoom tools Editable and savable image selections Advanced, channel-oriented color corrections Application Workspace Frequently used zoom commands are accessible through shortcut menu. Curves Dialog Adjust entire tonal range of image by defining control points on curves. Image Size Dialog Resize an image or change its resolution. Using "Auto Levels" to Correct Exposure Using "Auto Contrast" to Adjust Contrast Using "Hue/Saturation" to Colorize Photo Using "Color/Balance" to Reduce the Redness System requirements: Windows 2000/XP/2003/Vista/7/8/10 Click here to visit the author's website.

2,427
Apr 14, 2019
SunlitGreen Software