Simple Sudoku Portable v4.2n
Simple Sudoku Portable v4.2n Sudoku game, creator, and solver. Simple Sudoku makes high quality puzzles that are symmetrical, have a single solution, and do not require trial and error to solve. The user can also choose between five levels of complexity - from Easy to Extreme. Each puzzle is generated randomly so there is an almost limitless selection. Not only does Simple Sudoku make challenging puzzles, it also provides tools to help solve them - removing the drudgery but not the fun. Keeping track of possible values for blank cells (candidates), providing filters and color markers are just some of the tools available to make solving even those really tricky puzzles possible. Also, if you ever get really stuck, Simple Sudoku can get you started again with a discreet hint (without giving everything away). System Requirements: Windows XP, Vista, 7, 8, 10 App License: Freeware (Personal and educational use) MD5 Hash: de443768c2912cfa5be1db2917b3abcd Click here to visit the author's website.

1,202
Nov 06, 2019
Angus Johnson & PortableApps.com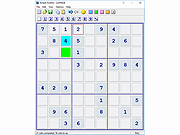 Sudoku v1.0
Sudoku v1.0 Play Sudoku on your computer or print out the game sheets to play the old fashion way. Introduction Sudoku is the short form for the Japanese sentence "Suji wa dokushin ni kagiru", what can be translated as "all numbers have to happen exactly once". It is a logic puzzle which resembles the magical squares. The first known Sudoku-like game was developed by the Swiss mathematician Leonhard Euler under the name "Latin Square" in the 18th century. After that there were further variants again and again, but very popular it became in Japan within the 1980s. Meanwhile it enjoys worldwide popularity. You can play Sudoku on the computer with our program or print out the playing fields, depending on how you prefer to play. Print Mode In the print mode you can first specify under "Game", which size your playing field should have. After that you can choose how many games should be printed on a single page. By clicking "Prepare", the corresponding games are created. If you are satisfied with the generated games, just click "Print" to print the sudoku boxes. Of course you can also generate other new ones if you would like to do this. Sudoku with Letters At the computer there are some further possibilities to play Sudoku. One of them is the game with letters. For this you can choose the option "User-Defined" under "Game". Here you have some other options for specification. For example, you can adjust freely, how many elements should already be solved, how big the size of your field is and what kind of elements you would like to use. For example letters. Then you can start your game with the button "Start Game". In addition, in the box at the bottom right, there are displayed information about which actions are currently possible. Sudoku with Symbols Besides the ...

1,699
Mar 29, 2019
Stefan Trost Media