Sordum Monitor Off v1.1
Sordum Monitor Off v1.1 Computer monitors consume a significant amount of energy and it could be reduced dramatically by simply turning the screen off whenever it's not needed , Unfortunately, Windows does not offer a convenient shortcut for this task. The Power Options in Windows have a setting to turn off the monitor after xx amount of minutes when your computer is idle. While this works, setting it to kick in too fast can be annoying because you don't want the screen to go off when in the middle of reading something. If you have a desktop computer You could for example turn off your monitor manually but have you ever tried to turn off a laptop screen? Most laptops don't offer this feature. Sordum Monitor off Software is an Utility to Switch Off your Desktop or Laptop Monitor with single Mouse click or by pressing a Keyboard key combination. This utility also has some extra features Like lock the workstation feature, Block keyboard When Screen Turns Off ,Block Mouse When Screen Turns Off , Mute Sound When Screen Turns Off , Automatically start with windows startup etc. When using devices like Laptop which run on battery, you can significantly increase the battery life by simply Turning Off your Monitor when not required,or when performing any background tasks like a virus scan or listening to Music or downloading a huge file. then using Sordum Monitor Off Software can not only help protect your computer it is the best way to save money on your power bill. How to Use: The program is very small and no installation is required (portable Freeware). All you need to do is just run executable file "Sordum Monitor off" whenever you want to turn off your screen. if you want to use extra features please run "_MonitorOff_Config.vbs" this ...

416
Nov 26, 2019
Sordum.org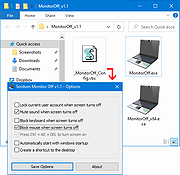 Sordum Random Password Generator v1.0
Sordum Random Password Generator v1.0 Your password is your metaphorical 'key' to unlocking you online 'front door'. You wouldn't hand your home key to just anyone, would you? Cybersecurity experts continually recommend to use of strong, unique passwords for several reasons , cyber-criminals compromise websites and online accounts, and post lists of usernames, email addresses, and passwords online. A criminal can look for other online shopping, social media or financial accounts for that same person. When the criminal finds those accounts they can try logging in with the exposed password. If the password is reused, they can gain access to further accounts. This is why unique passwords are so important. The use of strong passwords can slow or often defeat the various attack methods of compromising a terminal's security. Passwords are the first line of defense against unwanted access to your accounts. The stronger a password, the better protected accounts. Your enemy isn't some guy in a ski mask trying to guess your password one try at a time. It's a program that automatically runs through massive databases of common passwords or random combinations of characters . Hackers use a technique called brute forcing. This is a technique where they try every possible character combination until the correct password is identified.The stronger the password the less likely brute forcing will be successful.To Create a Strong Password ; Choose a password that no one will easily guess , Do not share passwords , Make sure your password is long, Use at least one letter, number and special character in your password, Remember to update and vary passwords. How to use Sordum Random Password Generator. We have developed a free and portable software (Sordum Random Password Generator) to create random secure passwords. Download , Unzip it and run the "RandomPW.exe" file Sordum Random Password Generator has ...

1,434
Nov 26, 2019
Sordum.org