Pioneer Space Sim v2020-02-03
Pioneer Space Sim v2020-02-03 Pioneer is a space adventure game set in our galaxy at the turn of the 31st century. The game is open-ended, and you are free to eke out whatever kind of space-faring existence you can think of. Look for fame or fortune by exploring the millions of star systems. Turn to a life of crime as a pirate, smuggler or bounty hunter. Forge and break alliances with the various factions fighting for power, freedom or self-determination. The universe is whatever you make of it. Pioneer is under constant development and has a friendly community of players, modders and developers around it. We release a new version almost every day. We'd love for you to try it and make part of the galaxy your own! This download is for the Windows version. If you need the Linux version, download here. Changelog March 2020 * Fixes * Prevent change of Pioneer's mouse pointer when hiding HUD (#4827) * Fix body grouping and setspeed target behavior in flightUI (#4794) * Internal Changes * Perf counter Windows memory info (#4820) * Remove unused newUI code, remove old StationView code (#4819) Your browser does not support the video tag. Click here to visit the author's website.

4,576
Mar 11, 2020
Pioneer Developers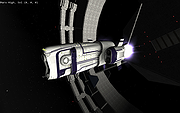 Sim Daltonism for Mac v2.0.3
Sim Daltonism for Mac v2.0.3 A window to color blindness. From the perspective of a color blind person, some colors are impossible to distinguish. Sim Daltonism lets you visualize colors as they are perceived with various types of color blindness. Move the Sim Daltonism window over something on the screen and see what it looks like with a color blindness. With this app you can check the accessibility of websites and other user interfaces, make your visual designs better for color blind people, or just play around to better understand how various color blindness types affect color perception. The Filter Window The Sim Daltonism window acts as a filter for what is under it. You can click inside and manipulate windows from other apps that are located under it. But you can change this so the filter window follows the mouse pointer, displaying the area around it. This makes it possible to view the filtered image alonside the unfiltered one. Performance Sim Daltonism is fast enough to filter a video in real time or to have many filter windows active simultanously. If needed, you can reduce or increase the refresh speed to save energy or improve responsiveness. Simulated Vision Sim Daltonism can simulate the vision of many forms of color blindness: Red-Green Deuteranopia (no green cones) Deuteranomaly (anomalous green cones) Protanopia (no red cones) Protanomaly (anomalous red cones) Blue-Yellow Tritanopia (no blue cones) Tritanomaly (anomalous blue cones) All colors Monochromacy Partial monochromacy Note that the colors ...

1,978
Mar 30, 2019
Michel Fortin