SecureMyBit Deny v1.4
SecureMyBit Deny v1.4 SecureMyBit Deny is a simple, light and freeware security tool that permits you to deny execution of scripts that rely on Windows Script Host, perform impairment indicators analysis to detect possible malicious behaviours in analyzed executables, type your text safely against keyloggers, mouseloggers, screenloggers, etc. Then you can monitor your file system for changes and new files, detect processes that are connected to ports commonly used by malware and optimize security settings. (Please note that some antivirus or antimalware programs can detect SecureMyBit Deny as malware, we want to specify that this is a false positive, you can add SecureMyBit Deny to the exclusion list of your antivirus/antimalware). What's new? Fixed heuristic engine false positive of EXE Analyzer (SecureMyBit Deny.exe) Changed ON/OFF text of File System Monitor button (Thanks @ticklemefeet for the suggestion) Fixed bug in Security Ports Scan Fixed critical bug of Text Editor Anti-Logger Fixed bug in File System Monitor Heuristic engine updated to improve ransomware detection, hash computing, decryption code and registry usage of analyzed EXE Added "Clear log" button to File System Monitor Key Features: Deny scripts execution Make USB read-only Text Editor Anti-Logger Perform EXE analysis Security Ports Scan Monitor File System easily Optimize security settings Terms & Conditions: WE AREN'T ABSOLUTELY RESPONSIBLE FOR ANY KIND OF PROBLEMS, DAMAGES, LOSS OF DATA, LOSS OF FILES OR ANY OTHER KINDS OF PROBLEMS. THE SOFTWARE IS PUBLISHED "AS IS". THERE MAY BE FALSE POSITIVES IN EXE ANALYZER REPORT(S) BECAUSE OF THE HEURISTIC ANALYSIS. Thank you. SecureMyBit Development Team Compatibility Windows Vista Windows 7 Windows 8/8.1 Windows 10 Special Requirement: Microsoft .NET Framework 4.5 Languages: English SecureMyBit Deny Test:

3,855
Nov 13, 2019
JM Security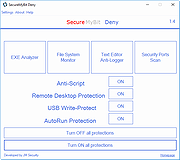 SecureMyBit v2.3
SecureMyBit v2.3 SecureMyBit is a free, portable, and light application , which allows to encrypt any type of file with password (using AES 256 Bit encryption method) and then, decrypt them. SecureMyBit provide, for this purpose, also a secure and strong random password generator, which can generate passwords, as long as you want. Another utility of SecureMyBit is the Secure File Shredder, which can delete a file permanently with an irreversible shredding operation. Our software provides also an utility which can validate the strength of user's passwords; and a System Specs utility, which can tell us all the informations about our computer. SecureMyBit provides also, in addition, a secure virtual keyboard which doesn't produce any keystroke, so this guarantee a protection while entering your password. Finally, you can also get information about your files: hashes, file type, file attributes, etc. and compress your text easily and fast! When you encrypt your file(s) or folder(s) the Smart Monitor will check in real-time if they are modified, renamed or changed/deleted. Key Features Secure File Password Encryption (AES 256 Bit) Secure File Shredder System Specs Password Generator File Info Viewer Text Compressor Smart Monitor Compatibility Windows Vista Windows 7 Windows 8/8.1 Windows 10 Special Requirement: Microsoft .NET Framework 4.5 Languages: English F.A.Q. -Why SecureMyBit is detected by my antivirus/antimalware? We want to specify that this is surely a false positive. SecureMyBit is a clean file. Do I need to install SecureMyBit? No, SecureMyBit is avalaible only in "portable" version, so it doesn't require any installation. -Is SecureMyBit free? Yes, SecureMyBit is absolutely FREE and WITHOUT advertisements! -Does SecureMyBit protect files against ransomware? Well, SecureMyBit provides surely additional protection to the encrypted files, against ransomware, also because the extension of the encrypted files are encoded. This doesn't mean SecureMyBit protects files against all type of ransomware. -Why SecureMyBit gives me an error message when I ...

4,152
May 19, 2019
JM Security