Phrozen ADS (Alternate Data Stream) Revealer v1.0.5642
Phrozen ADS (Alternate Data Stream) Revealer v1.0.5642 Phrozen ADS (Alternate Data Stream) Revealer is a Microsoft Windows program, especially designed to reveal possible malicious ADS files in your file system. Since the Alternate Data Stream functionality is only available for NTFS (New Technology File System), the program is able to scan and detect this kind of files only for this type of file system (Physical Hard Drive/Virtual Hard Drive/Physical Removable Device/Virtual Removable Device). If some ADS Files are detected during the scan you then can decide wether or not you want to keep them or to back them up. You can also have a content preview to detect in one glance if it looks legitemate or not. Phrozen ADS Revealer is the perfect tool to sanitize your NTFS file systems against bloated content or hidden malwares. Another great tool to put in your collection and 100% free. What are Alternate Data Stream Alternate data streams allow more than one data stream to be associated with a filename, using the format "filename:streamname" (e.g., "text.txt:extrastream"). NTFS Streams were introduced in Windows NT 3.1, to enable Services for Macintosh (SFM) to store resource forks. Although current versions of Windows Server no longer include SFM, third-party Apple Filing Protocol (AFP) products (such as GroupLogic's ExtremeZ-IP) still use this feature of the file system. Very small ADS (called Zone.Identifier) are added by Internet Explorer and recently by other browsers to mark files downloaded from external sites as possibly unsafe to run; the local shell would then require user confirmation before opening them.[21] When the user indicates that they no longer want this confirmation dialog, this ADS is deleted. Alternate streams are not listed in Windows Explorer, and their size is not included in the file's size. They are ignored when the file is copied or moved ...

3,735
Nov 15, 2019
PHROZEN SAS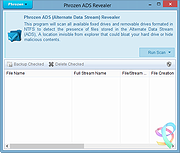 Wifi Password Revealer 1.0.0.6
Wifi Password Revealer 1.0.0.6 WiFi password revealer is a small freeware utility which will show you all your saved WiFi passwords. If you forgot or lost password to your wireless network - this tool is for you. For Windows XP and 2003 Server users. your passwords will be recovered as 64 HEX digits, and not exact password which you have entered. This is NOT a bug. Windows XP automatically converts them into this form, and it can't be converted back. But you can still use this HEX digits instead of real password in order to connect to your wirelesss network. Administrator rights are required on your PC in order to decrypt stored passwords.

6,749
Jan 21, 2014
Magical Jelly Bean