McAfee Stinger with Real Protect v12.2.0.53
McAfee Stinger with Real Protect v12.2.0.53 McAfee Stinger is a standalone utility used to detect and remove specific viruses. It is not a substitute for full anti-virus protection, but a specialized tool to assist administrators and users when dealing with infected system. Details on new or enhanced signatures added with each Stinger build are listed in the Readme details. Stinger now includes Raptor - a real-time behavior detection technology that monitors suspicious activity on an endpoint. Raptor leverages machine learning and automated behavioral based classification in the cloud to detect zero-day malware in real-time. This download is for the 64bit version. If you need the 32bit version, download here. Stinger Release Notes Build Number: 12.2.0.53 Build Date: 18-May-2020 Stinger 32bit MD5: 4e6e7ae83d3129f6abf064b2f31fdbb9 SHA1: 7710432905b18170ecc403bc9a351388e1890f12 Stinger-ePO 32bit MD5: 20543ea1713470a225b6e1e3cf54a493 SHA1: 62dcccadc70e08293a6e591835299fed8e856a24 Stinger 64bit MD5: 39283d860d411662370f77364b7d4c3e SHA1: ada608c512ad4bb1629bd5aea269539187ed3d1f Stinger-ePO 64bit MD5: 0f932df0542a56325d41ee5dc8aa57ed ...

6,696
May 19, 2020
McAfee Security Products and Services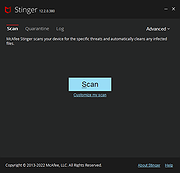 Real Network Monitor 1.4
Real Network Monitor 1.4 Real Network Monitor is a professional solution to monitor internet traffic information and statistics. Features: Auto-Run feature Stores all downloaded and uploaded rates by day / month / year of all applications with many formats as Megabytes and Gigabytes Auto-Update and Auto-Select the new connected interfaces Select the interface to see all statistics Desktop monitor function with Windows aero feature if the operating system supports the feature Taskbar monitor function to see statistics inside the Windows taskbar Download / Upload Speed Type / Speed / MAC Adress Maximum Download / Upload Rate Average Download / Upload Speed Downloaded / Uploaded data by connection Total Downloaded / Uploaded data Website Blocker Interfaces Lookup Traffic Database Compatible with all adapters, including DialUP / Bluetooth / Wireless Connections Look at the properties of the current adapter, including DNS and IP Addresses Save all data in an encrypted text file located in the root of the EXE Save the latest inferface selected in the UI for the next runtime See the local IPs and variations with connection by Time Written in English and PortuguÍs do Brasil languages Minimize to tray and other UI functions Using Smart Installer Technology for the Setup, one click to install this program Smart Uninstaller will kill all running applications of the program before removal Compatibility: Windows 8 Windows ...

1,877
May 24, 2017
Josh Cell Softwares Corporation