Macrorit Disk Partition Wiper 1.6.0
Macrorit Disk Partition Wiper 1.6.0 If you want to clean up your data from your hard disk drive, formatting or deleting the hard drive is not enough to prevent your personal information or company documents from recovering. What you need is a professional disk wiper to completely and permanently erase data on the hard drive or partition. Macrorit Disk Partition Wiper is a bran-new free disk wiper software tool which can help you wipe hard disk drive inside and out. With powerful algorithms and comprehensive wipe ability, Macrorit Disk Partition Wiper provides the easy-to-follow solution for permanently destroy data which has no possibility to recover. This easy-to-use hard drive eraser is compatible with all Windows operating systems. As a 100% free disk wiper, Macrorit Disk Partition Wiper is also 100% Free of malware, spyware and adware.

7,845
Feb 21, 2014
Macrorit Tech Development Co., Ltd.

Macrorit Disk Scanner v6.6.8
Macrorit Disk Scanner v6.6.8 Free Disk Scanner to Check Hard Drive Errors and Issues Hard disk bad sector is the most common problem and the disk is not safe to store data any longer. Bad sector will cause the important data loss and blue screen error sometimes, and even slow disk space. Macrorit Disk Scanner is a third party disk surface test portable tool for disk bad sectors which provides you better options and performance than Windows native disk scanner. With the fastest algorithm, this disk scanner free software usually could reach to the maximum speed that supported by the device. It is compatible with all recent versions of Microsoft Windows - both client and server, and supports major storage device types such as IDE and SATA HDD and SSD, SCSI, FireWire, hardware RAID, flash cards and more. Features: SCAN DISKS BAD SECTORS Surface test on hard drives and you can define scan area MARK BAD SECTORS When bad sectors/blocks are found, we mark them as red UNDERSTANDABLE LOGFILE Easy to find where are the bad sectors are in scan log PORTABLE EDITION Yes, you can put Scanner in to USB and Scan off-line Disks Changes: v6.6.8 Fixed Ukrainian translation Fixed some multilingual texts Click here to visit the author's website.

4,887
Sep 19, 2023
Macrorit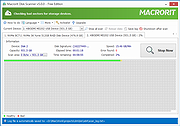 Macrorit Partition Expert Free Edition v7.9.0
Macrorit Partition Expert Free Edition v7.9.0 A free Partition Magic alternative, Macrorit Disk Partition Expert Home Edition is powerful free partition software allows you to extend partition (especially for system partition), settle low disk space problem, manage disk space easily on MBR and GUID partition table (GPT) disk. Besides the basic disk partitioning ability, it is also the only one free disk partition management software possesses advanced technology of power-off protection and data disaster recovery, this means you never worry about data loss any longer while executing the partition operations, you should just let your hair down and relax. Features: For free, forever: It could assist you to solve common disk partition problems WITHOUT ANY CHARGE. Extremely easy-to-use: All tasks could be easily operated, undo/redo/commit operations with several mouse click. Feature-rich: HASSLE-FREE partition software fixes for your computer common disk partition problems. Macrorit New Technology: Although it is freeware, it possesses all the unique technology of power-off protection and data disaster recovery. Enjoy continual practical features, for free: There will be more practical features added based on users' needs. Wide compatibility: *Support > 2T hard drive , 1024 sector size and MBR/GPT partition. *Support Windows native environment, any partition can be locked. *Support Multi- operating system environment. Fast working speed: The speed to resize/move, copy, wipe, surface test can reach the limit of IO devices. Free Edition offers Basic Partitioning: Create Partition, Format Partition and more. Advanced Partitioning: Resize/Move Partition, Explore Partition, Wipe Partition Changes: July 4, 2023 (Version 7.9.0) Added Bulgarian, Ukrainian, Hungarian, and Croatian languages. Fixed some Turkish, Swedish, Italian, Slovenian, French text translation issues. Optimize some UI details. Fixed storage driver issues. Fixed disk uuid error. Improve some error codes. Click here to visit the author's website.

8,969
Jul 05, 2023
Macrorit Tech Development Co., Ltd