Error Lookup v2.4
Error Lookup v2.4 Portable open source tool which can help by translating error codes into a more meaningful text description. The interface is simple - just a box to type your code, and another which displays the details - so there doesnít seem much to learn. The program also supports a wide range of codes: regular Windows errors, DirectX, NTSTATUS errors, Windows Internet errors, STOP codes, And we think it can probably be configured to read more (Settings > System modules), although thereís no documentation to confirm that and we didnít test it. The lightweight application is less than a megabyte, and it is compatible with Windows XP SP3 and higher operating systems. You can download either the installer or portable version. Portable mode To activate portable mode, create errorlookup.ini in application folder, or move it from %APPDATA%\Henry++\Error Lookup. v2.4 (3 January 2021) open module location on double-click updated error modules list updated facility list updated project sdk updated locales Click here to visit the author's website.

4,013
Jan 04, 2021
Henry++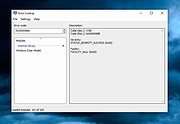 Tweaking.com - svchost.exe Lookup Tool v1.6.0
Tweaking.com - svchost.exe Lookup Tool v1.6.0 For Windows XP, 2003, Vista, 2008, 7, 8, 8.1, 2012, 10 (32 & 64 Bit) Tweaking.com - svchost.exe Lookup Tool is another tool I made for my fellow techs toolboxes and for users who need the extra information. If you have ever noticed svchost.exe in your task manger taking a large amount of memory or high CPU you wonder what it belongs to. svchost.exe is used to run certain services in Windows. With this tool you can see all currently running svchost.exe on the system and what service each one belongs to. You can now see which service is giving you trouble :-) As an added feature you can view detailed information about the service right from the program. Change Log: v1.6.0 Per user request I added the PID memory usage to the list.

6,923
Sep 14, 2016
Tweaking.com