Absolute HTML Compressor v1.14
Absolute HTML Compressor v1.14 Absolute HTML Compressor is an award-winning tool that optimizes HTML files so that their size reduces. The program doesn't corrupt most HTML files unlike other optimizers. Features works under Windows 95/98/Me/NT/2000/XP operating system (or higher); compressed documents are displayed in browsers unchanged; scripts and preformatted text are preserved; you can compress individual files or entire folders; backup files may be created; the program supports command line mode; you can specify various options of the program: merge lines; remove unnecessary whitespace characters; remove unnecessary quotation marks. For example, will be converted to ; replace some tags with the short ones - replace STRIKE tags with S, STRONG with B and EM with I remove HTML comments. The comments within the scripts and styles aren't removed; remove <!DOCTYPE ...> tags; remove meta tags. You can specify names of the meta tags to be removed. Click here to visit the author's website.

1,847
Dec 09, 2018
Alentum Software Ltd.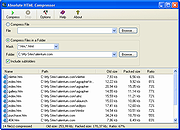 Ron's HTML Cleaner v2019.08.02.1122
Ron's HTML Cleaner v2019.08.02.1122 HTML processing to help you get a little more out of the Internet. Perfect for cleaning HTML generated by rich editors (such as Word), before being published to SharePoint, on a Content Management System (CMS), or Blog. The HTML Cleaner contains the ability to clean, or alter, a source HTML document or page, through the use of Cleaners. Cleaners are made up of a list of operations that can be build, saved and applied to an HTML document as required. Powerful Any number of rules can be combined in any order to satisfy almost all Cleaning needs. Complex rule sets can be saved to give instant access to frequently used Cleaning tasks. Easy With two or three clicks HTML can be Cleaned: select a Cleaner, click Paste, click Copy All. Job done! Smart Lays out the HTML to enhance the visibility of the structure, and list links and images separately. Fast Processes the source HTML in the blink of an eye to give instant visual feedback of the document before and after Cleaning. Ideal for taking an HTML page written in a rich text editor like Word, and cleaning it before publishing a Blog or CMS to remove redundant code and formatting. By way of an example many people compose content intended for SharePoint using Word. However they struggle when the formatting in the published document clashes with that on their SharePoint intranet site. Ron's Cleaner can strip the document of redundant formatting and code so that SharePoint can display the document using the corporate styling in use on that site. This applies equally to any Blog or CMS. Link and Resource Extraction View lists of links and resources from a web page. Clean and Format a WEB Page Build Cleaners from a list of rules, ...

1,860
Sep 13, 2019
Aaron Stewart