Alternate FTP v2.760
Alternate FTP v2.760 A simple FTP client to view browse through the directory structure on a FTP server. Program offers possiblity to upload, download and delete files as well as creating or deleting folders. Freeware and Open Source (MS VC++ 2005)! Supported operating systems: Windows XP, Server 2003, Vista, Server 2008, 7, 8, 8.1, 10 Languages included: English, German, Spanish, Danish, Italian, French, Polish, Greek, Arabic, Chinese, Turkish, Hungarian, Russian, Japanese, Swedish Changes in this version: - Correction for font parameter MD5 value: 07c5db35423af139a8e68a3ad04f0cd6 Click here to visit the author's website.

4,559
Jul 13, 2020
Alternate Tools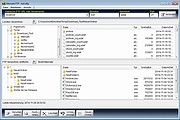 Core FTP LE v2.2.1960
Core FTP LE v2.2.1960 This free, secure FTP client gives you a fast, easy, reliable way to update and maintain your website via FTP. It also provides a secure method (via SSL, TLS, FTPS, HTTPS, or SFTP) to upload / download files to and from FTP servers. Check out the list of features and you'll find almost every feature you need, all in a free ftp program. There are no popup ads, advertising or spyware and you're never asked or reminded to register. Features: Secure SFTP, SSL, TLS, & FTPS International Domain support Fast and secure client transfers HIPAA compliant security Mode Z compression User-friendly interface(s) Site to Site file transfers FULL drag and drop support Start/stop/resume of transfers Auto retry of failed transfers Transfer bandwidth control Browser integration File masking (wildcards) Keep Alive functionality Remote file searching File permissions (CHMOD) Advanced directory listings .htaccess & .htpasswd editing One click transfers Keep Alive functionality Automatic S/Key support Favorites via menu & drop down Desktop shortcuts & drop u/l's Command line support FTP/HTTP Proxy, Socks 4&5 support Changelog Version 2.2 (build 1960), updated Sep 28th, 2020 Fixes for Windows SSL "High crypto" mode - resolves issues with servers requiring TLS 1.2 when using "AUTH TLS" and "FTPS/Direct SSL" Windows SSL crash on disconnection via server timeout, fixed This may be the last build that includes the ansi version (sorry Win98/NT users!). Version 2.3 will be available very soon with many internal updates including updates to OpenSSL 1.1.1g/TLS v1.3 and changes since 1957. This download is for the 64bit version. If you need the 32bit version, download here.

3,537
Apr 11, 2021
Core FTP