Clipboard Help+Spell v2.42.0
Clipboard Help+Spell v2.42.0 Clipboard Help+Spell is a clipboard history utility with the following features: Database stores history of all past text and image clipboard entries for easy viewing, modification, and search Use it for keeping hierarchical notes - search, sort, filter by text, modification date, last view date Super easy and super fast search function - or use complex filters if you need them - you'll never have a problem finding a note again! Organize your notes and clips any way you want - show them all or view by group or category; view your clips any way you like High-quality spellcheck - underlined mistakes; learning spellchecker Configurable hotkeys for common functions Powerful text formatting options - make your own presets for common functions Simple functions for copying and pasting into and out of other applications Windows 2k/XP/VISTA/Win7/Win8/Win10 Version History v2.42.0 - April 25, 2017 • [Improvement] Deleting clip(s) keeps the selection where it was, does not move the list of clips to top or bottom; other situations where clip list position was lost are now fixed as well. • [BugFix] Custom group filter sql expressions were being capped at 500 character length. • [Improvement] Statusbar now shows linecount of each clip. • [BugFix] When StayOnTop option is set (View menu), some dialogs were showing behind the main form. • [Feature] New (customizable) hotkey to quickly toggle clipboard monitoring on and off. • [Improvement] The hotkey that used to be used to trigger a copy even when CHS monitoring is disabled now does double duty, and can be used to tell CHS to trigger a copy and *NOT* store the clip if CHS monitoring is enabled.

3,844
Oct 23, 2019
DonationCoder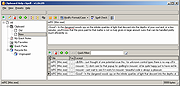 Free Clipboard Viewer v3.0
Free Clipboard Viewer v3.0 A free, full-featured and portable clipboard viewer Free Clipboard Viewer is a program used to view the information that is stored in memory when you use copy and cut functions of Windows operating system. A clipboard viewer displays the current content of the clipboard. Most applications for Windows support cutting or copying data to the Windows Clipboard and pasting data from the clipboard. The clipboard data formats vary among applications. The clipboard viewer is just a handy way to know what's on your clipboard at different times. The clipboard temporarily stores whatever you've cut or copied. As soon as you cut or copy something else, the clipboard's contents change. Other useful features Free Clipboard Viewer allows you to save a clipboard data to a file and load a clipboard data from a file. So you can transfer clipboard contents between computers. The program also allows you to clear the clipboard and redeem the memory occupied by the large object. To clear the contents, click the "Delete" button in the clipboard viewer toolbar. Clipboard Formats An application can place more than one object on the clipboard, each representing the same information in a different clipboard format. Free Clipboard Viewer lists the available formats for any data that is currently stored on the clipboard. It automatically updates the information displayed as the contents of the clipboard change. For any format you can also view the clipboard contents, size and description. Run it from your portable USB flash drive Free Clipboard Viewer is a totally portable application, meaning that you can put it on any USB stick and run it directly from there. In this way, your clipboard viewer and manager will always be with you. Clipboard Software You may need more functionality than the clipboard viewer provides. In either case there is a variety of software solutions available for download ...

3,792
Jul 02, 2020
Comfort Software Group