Domination (Risk Board Game) v1.2.3
Domination (Risk Board Game) v1.2.3 Domination is a game that is a bit like the well known board game of Risk or RisiKo. It has many game options and includes many maps. Written in java it includes a map editor, a simple map format, multiplayer network play, single player, hotseat, 5 user interfaces and many more features, it works in all OSs that run java 1.4 or higher. Features 100s of maps online play Changes: 1.2.3 PlayerList for Lobby games shows players with correct color Fix for hi-res Linux jdk-11 that sometimes uses display density instead of scale Now works for gtk dark theme Auto-Defend now happens on the server for Lobby Multiplayer Map Editor shows rectangle for country that is used on cards SwingGUI: Options and AI speed setting put into same Options Dialog max players can be changed in game.ini config file, requested by Patreon Steve Sybesma MapEditor: fixed zoom to keep the mouse position on map static SwingGUI: testing tab, show player for online games Click here to visit the author's website.

3,670
Oct 23, 2021
Yura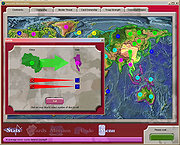 Sports Tactics Board v0.2.1008
Sports Tactics Board v0.2.1008 Sports Tactics Board is a utility that allows coaches, trainers and officials to describe sports tactics, strategies and positioning using a magnetic or chalk-board style approach. Supports soccer, hockey, volleyball and floorball. Features Supports more than one sport (currently Soccer/Football, Hockey, Volleyball, Floorball, Futsal and American Football). Records sequences of positions for documenting tactical strategies or plays. Save and loads tactical sequences - allows building a library of plays or drills. Supports pre-defined layouts that position players, ball/puck and officials. Supports exporting images and image sequences to files or clipboard. English and German translations of the UI. 0.2.1008 - Added new playing surfaces (Futsal and American football) FEAT - Added FIFA Futsal pitch FEAT - Added American football (NFL) field (players are a bit random and possibly labelled wrong -- need someone with expertise) CHG - Relabelled sports to be more specific and add governing body designation related to field markings and layout Click here to visit the author's website.

1,829
Aug 07, 2019
rdturner0