FighterPilot 0.05 Beta
FighterPilot 0.05 Beta FighterPilot is a combat flight simulator in which players fly a fourth generation jet aircraft on a series of missions to eliminate enemy targets. As the pilot of a Dassault Mirage 2000, players face a range of enemies from hostile aircraft to ground based defenses. And thanks to arcade style controls, you can be flying in minutes! The single player mode takes you through a seven level campaign, challenging you with the task of eliminating a series of increasingly difficult adversaries. In multiplayer mode, a split screen view allows two players to play together on a single computer. Players can either compete against each other, or they can work cooperatively to complete levels of the campaign. Finally, a built in level editor lets you create your own custom levels.

5,553
Apr 26, 2015
FighterPilot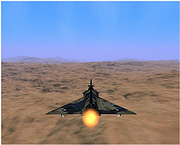 SuperDuper v3.7.5
SuperDuper v3.7.5 The wildly acclaimed program that makes recovery painless on your Mac computer, because it makes creating a fully bootable backup painless. Have no fear. SuperDuper v3.7.5 is here, and it includes full Big Sur, Monterey, and Ventura support! SuperDuper is the wildly acclaimed program that makes recovery painless, because it makes creating a fully bootable backup painless. Its incredibly clear, friendly interface is understandable, easy to use, and SuperDuper's built-in scheduler makes it trivial to back up automatically. It's the perfect complement to Time Machine, allowing you to store a bootable backup alongside your Time Machine volume—and it runs beautifully on your Mac! Version 3.7.5 supports bootable backups for Big Sur, Monterey, and Ventura, is Apple silicon native, lets you ignore "missing drive" errors during scheduled copies, and also improves Smart Wake, which ensures your backups happen whether your Mac is awake or asleep...and won't turn on your screen if your Mac is already awake. This new version also improves Smart Delete, an awesome new capability that minimizes the possibility of disk full errors while maintaining safety with no speed penalty, native Notification Center support, a Finder extension to quickly run copies, and other improvements. SuperDuper can even create and copy from snapshots, which means with an APFS backup drive, you can restore today's Smart Update, yesterday's, etc! It's super cool. SuperDuper's interface confirms all your actions in simple, clear language to ensure that the end result is exactly what you intended. We all know that using the Macintosh is usually a trouble-free experience. Except when it's not. Like when: • Your hard drive starts making that horrible clicking noise that signals an imminent meltdown • A momentary lapse of coordination causes your MacBook Pro to take a dirt nap • The system ...

3,423
Mar 30, 2023
David Nanian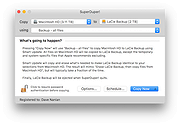 Winkey Finder 2.0 Beta 1
Winkey Finder 2.0 Beta 1 Win Keyfinder 2.0 retrieves your Microsoft Windows 7, Windows 8, Windows 8.1, windows XP, windows 2000, windows ME, 98, 2003 and .NET both 32bit and 64bit Operating system Product keys from the registry and display it for you. It does not generate any product key it merely displays the key stored in registry. It also retrieves Microsoft Office Product key stored in registry. Here are some features of Win Keyfinder 2.0: View Windows 8 and Windows 8.1 Product CD Key View/change XP Key View Windows 7 Product/CD Keys. View Windows Vista Product Key View/Change MS office Key View Win98 Key view Win2000 Key View .Net Key View Win2003 Key Check Activation Status (WinXP) / Coming soon Win 7/Vista Save Your Product Key By Encrypting It De-Crypt your saved encrypted key Support for MS Office Product keys

5,562
Mar 13, 2015
Winkey Finder