CheatBook DataBase 2021
CheatBook DataBase 2021 Cheatbook-DataBase 2021 is a cheats code tracker that makes hints, Tricks, Tips and cheats (for PC, Walkthroughs, Playstation, Playstation 2, Playstation 3, Playstation 4, Sega, Nintendo 64, Nintendo DS, DVD, Gameboy Advance, Gameboy Color, N-Gage, Nintendo DS, XBox, XBox 360, XBox One, iPhone, Gamecube, Dreamcast, Super Nintendo, Wii, Wii U, Sony PSP) easily accessible from one central location. If you're an avid gamer and want a few extra weapons or lives to survive until the next level, this freeware cheat database can come to the rescue. Covering more than 25700 Games Cheats, this database represents all genres and focuses on recent releases. Games are listed alphabetically in the left-hand window. When you click on a game name, the relevant cheat is displayed in a editor window, with convenient buttons that let you print the selection or save any changes you've made. In the latest past many users of the Cheatbook-Database and readers of the monthly being published magazine have sent to us small error messages and suggestions for improvement again and again. First of all we say "Thank you very much!" to all of you! Due to this assistance and the permanent sending in of new and revised cheats the Cheatbook is ever increasing and becoming more and more voluminous. Release date: January 10, 2021. Cheatbook-DataBase 2021 is Freeware for Win95/ 98/ 2000/ NT/ XP/ Vista/ Windows 7/ Windows 8/ Windows 10. CheatBook DataBase 2021 - The encyclopedia of game cheats. A die hard gamer would get pissed if they saw someone using cheats and walkthroughs in games, but you have to agree, sometimes little hint or the "God Mode" becomes necessary to beat a particularly hard part of the game. If you're an avid gamer and want a few extra weapons and tools the survive the game, CheatBook ...

12,357
Feb 10, 2021
Cheatbook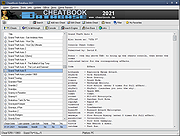 Policy Plus vJune 2021
Policy Plus vJune 2021 Local Group Policy Editor plus more, for all Windows editions. Goals Policy Plus is intended to make the power of Group Policy settings available to everyone. Run and work on all Windows editions, not just Pro and Enterprise Comply fully with licensing (i.e. transplant no components across Windows installations) View and edit Registry-based policies in local GPOs, per-user GPOs, individual POL files, offline Registry user hives, and the live Registry Navigate to policies by ID, text, or affected Registry entries Show additional technical information about objects (policies, categories, products) Provide convenient ways to share and import policy settings Non-Registry-based policies (i.e. items outside the Administrative Templates branch of the Group Policy Editor) currently have no priority, but they may be reconsidered at a later date. Quick intro At startup, Policy Plus opens the last saved policy source, or the local Group Policy Object (Local GPO) by default. To open a different policy source (like a Registry branch or a per-user GPO), use File | Open Policy Resources. Much like the official Group Policy editor, categories are shown in the left tree. Information on the selected object is shown in the middle. Policies and subcategories in the selected category are shown in the right list. By default, both user and computer policies are displayed, but you can focus on just one policy source using the drop-down in the upper left. To edit a policy, double-click it. If the selected setting applies to both users and computers, you can switch sections with the "Editing for" drop-down. Click OK to keep the changes to the setting. Notice: If a policy source is backed by a POL file (like Local GPO), changes to it will not be committed ...

5,114
Apr 13, 2022
Ben Nordick