DriveImage XML 2.60
DriveImage XML 2.60 DriveImage XML is an easy to use and reliable program for imaging and backing up partitions and logical drives. Image creation uses Microsoft's Volume Shadow Services (VSS), allowing you to create safe "hot images" even from drives currently in use. Images are stored in XML files, allowing you to process them with 3rd party tools. Never again be stuck with a useless backup! Restore images to drives without having to reboot. DriveImage XML is now faster than ever, offering two different compression levels. DriveImage XML runs under Windows XP, Windows Server 2003, Vista, Windows 7, Windows 8, and Windows 10 only. The program will backup, image and restore drives formatted with FAT 12, 16, 32 and NTFS. Testimonials & Reviews See what our customers and the press have to say View Products View all our products Buy Now! Order our products online now! How-to-Guides Step-by-step solutions for common problems. Documentation View the software help files and other resources. Contact Us For Technical Support and all other inquiries. Languages Last updated: November 3, 2016 DriveImage XML V2.60 Free Download DriveImage XML English (1.78MB) Image and Backup logical Drives and Partitions File Size:1.78 MB Price: Private Edition Free - Commercial Edition - Buy Now Go! System Requirements: Pentium Processor - 256 MB RAM Windows XP, 2003, Vista, Windows 7, Windows 8, Windows 10 Product Highlights Backup logical drives and partitions to image files Browse images, view and extract files Restore images to the same or a different drive Copy directly from drive to drive ...

4,490
Jul 06, 2017
Runtime Software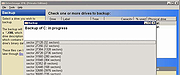 MDB Viewer Plus 2.60
MDB Viewer Plus 2.60 MDB Viewer Plus is a freeware viewer plus editor for opening Microsoft Access MDB and ACCDB database files. It does not need to be installed to run. It uses Microsoft Data Access Components (MDAC) which is installed as part of Windows. MDB Viewer Plus has been written to provide a free, quick and easy way to open, view, edit, filter, sort, import to, export from, modify and search MDB and ACCDB files. This is useful for software developers like myself who use Access databases as a backend database for their bespoke software. MDB Viewer Plus provides a convenient way to view and edit these databases. The table info screen even has the ability to copy the list of field names in a table to the clipboard. A developer can then paste this list into their source code for direct access. What are MDB / ACCDB files ? MDB and ACCDB files are Microsoft Access Database files. ACCDB is the newer format to the original MDB file. Both Accdb and MDB files can be opened with MDB Viewer Plus. Opening MDB and ACCDB Files MDB Viewer Plus can be used to open MDB files and Accdb files without having Access installed. It will also use workgroup files if specified in the open options. Workgroup files (MDW) can be specified using the open options. If you need to open and view many MDB files frequently. You can associate MDB and Accdb files with MDB Viewer Plus so that they open with MDB Viewer Plus when you double click on then in explorer. If you are always using the same MDB or ACCDB file, you can create a shortcut on your desktop to MDB Viewer Plus and specify the MDB file as a runtime parameter. How to open Accdb files To open an ACCDB file select "ACCDB files" ...

815
Jun 27, 2018
Alex Nolan