File Access Monitor 1.0.2
File Access Monitor 1.0.2 File Access Monitor is a multipurpose tool that monitors access to your files and provides detailed history of who read, wrote and manipulated them. SoftPerfect File Access Monitor can be used on a file server to track network users activity, as well as on a local computer where it will track local users file access. It is similar in nature to Windows auditing features yet is much easier to use and provides flexible reporting capabilities and notifications. Key features Monitors file actions: creating, moving, deleting, reading and writing to files. Records remote user access to shared folders. Keeps track of local users as to what files they access. Features a powerful filter system to include or exclude certain activities. Self-contained, doesnít require a database server alongside. Supported platforms Windows XP through Windows 10, Windows Server 2003 through 2012 32-bit and 64-bit Changelog: 2016-10-10 1.0.2 This software is now freeware.

4,598
Dec 14, 2016
SoftPerfect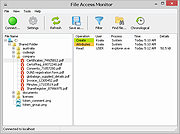 Gifferly 1.0.2
Gifferly 1.0.2 Gifferly captures the screen under it's window to a GIF file. There are options to control when to end the capture, how to down sample the colours and whether to include the cursor or not. Translations: Language Code Age Author(s) English (en) [Native] Matthew Allen Greek (el) 10 Dec 2014 geogeo.gr Changes: 1.0.2 Fixed an optimized palette generation bug. Greek translation update.

5,374
Jan 17, 2017
Matthew Allen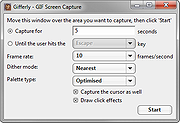 KryptoFiler 1.0.2
KryptoFiler 1.0.2 Encrypt and decrypt files, documents, and archives through major cryptographic standards, including, TripleDES, Blowfish, TwoFish, Cast128, DES, Ice, Ice2, RC2, RC4, RijnDael, Serpent, Tea, Thin Ice. Features: Strong encryption : Support for cryptographic standards, TripleDES, Blowfish, TwoFish, Cast128, DES, Ice, Ice2, RC2, RC4, RijnDael, Serpent, Tea, Thin Ice. Hash data through various secure algorithms including Haval 256, MD4, MD5, RipeMD-128, RipeMd-160, SHA1, SHA256, SHA384, SHA512, Tiger. Using 'salts' in order to defend against dictionary attacks versus a list of password hashes and against pre-computed rainbow table attacks. Encrypt & Decrypt Large Files. OS: Windows Xp/ Vista/ 7/ 8/ 10. What's New version 1.0.2 : added drag and drop

5,352
Sep 29, 2015
3nity Softwares