Malwarebytes Browser Guard v2.1.0 (Firefox)
Malwarebytes Browser Guard v2.1.0 (Firefox) Filters out annoying ads and scams while blocking trackers that spy on you. The browser extension that beats the scammers Malwarebytes Browser Guard Premium crushes unwanted and unsafe content, giving you a safer and faster browsing, Not only that, it is the world's first browser extension that can identify and stop tech support scams. We take on the bad guys so you don't have to. What it does for you Browse up to 4x faster Speeds up how fast web pages display by blocking third-party ads and other unwanted content, saving your sanity and bandwidth. Puts the hurt on tech support scammers Identifies and stops browser lockers, browser hijackers, and other scare tactics tech support scammers use to con you out of money. Crushes clickbait ads Removes annoying clickbait ads that often point to content of questionable value. Protects your privacy Blocks third-party ad trackers that follow you around the Internet and target you with the same ads over and over again. Stops malware in your browser Blocks web pages that contain malware, stops in-browser cryptojackers (unwanted cryptocurrency miners), and gives other malicious content the boot. Click here to visit the author's website.

540
Nov 13, 2019
Malwarebytes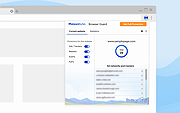 Social Fixer v24.1.0 (Firefox)
Social Fixer v24.1.0 (Firefox) Customize and Enhance Facebook! Social Fixer for Facebook plugs into your browser and improves the existing Facebook.com web site. You get to pick which features you want to use: Hide Sponsored Posts Auto-switch to the Most Recent news feed Hide Politics! (click here for details) Filter your news feed by keyword, author, and more Friend Manager notifies you when you've been unfriended and more Tabbed news feed organizes posts by games, apps, author Hide parts of the page you don't want to see Don't show posts again once you've read them Filter Your News Feed Powerful filtering capabilities allow you to create rules that process the posts in your feed. Hide stories by keyword, author, application, etc. Organize your feed into tabs to group posts into categories. Advanced users can even apply HTML classes to posts that match rules, and add CSS styles to customize how they appear. You're in control. Filter Subscriptions Filters are powerful, but not everyone will understand how to create them. Luckily you don't have to! Social Fixer supplies a number of pre-made Filter Subscriptions for you that you can simply add with one click. As Facebook changes, Filter Subscriptions are automatically updated for you in the background, so you never have to tweak them to keep them working correctly. Hide "Sponsored" Stories (Ads) One of the pre-made filters you can simply select is to hide "Sponsored" stories in your news feed, aka ads. Since Social Fixer works at the code level, it can see and hide posts that other tools like AdBlock can't. Hide Politics Another pre-made filter you can click to add filters posts related to the 2016 U.S. Election and Politics. One click removes all the political junk from your news feed, so you can stay friends with people without seeing their political opinions. Fix "Enter" in Comments Force the "Enter" key to create a new line in ...

543
Oct 14, 2019
Matt Kruse