Always scroll to the bottom of the page to download files on OlderGeeks.com.
We don't believe in fake/misleading download buttons and tricks.

DesktopSnowOK v3.77 64bit

Let it snow on the Windows desktop, you can also drop other things on the desktop not just snowflakes! See: ...extra Images , for a little winter magic feeling on your Desktop is DesktopSnowOK the right program.

DesktopSnowOK is a lightweight portable Windows program for 5 or more snow or other flakes on your windows desktop.

:::: Features :::::
# Very Small
# Low CPU usage
# 5-64 snow flakes
# Adjustable speed
# Several flakes textures (bitmaps)
# Optional alpha transparency
# Optional deactivation by mouse movement or keyboard input
# Optionally rotate the snowflakes, flowers, leaves ....
# Optional translation feature
# Portable
# Multilingual

You can try this freeware and if you not satisfied, you can delete it quickly.

Installation!
"DesktopSnowOK" does not have to be installed and can be executed easily from the desktop, and can be carried on a small usb-stick or other memory device. It's a small fun program for all Windows-NT systems.

perating systems: Windows 10, Windows 10 Pro, Windows 10 Enterprise, Windows 10 Home, Windows 8.1, Windows 8.1 Enterprise, Windows 8.1 Pro, Windows 8, Windows 8 Enterprise, Windows 8 Pro, Windows 7, Windows 7 Enterprise, Windows 7 Home Basic, Windows 7 Home Premium, Windows 7 Professional, Windows 7 Starter, Windows 7 Ultimate, Windows Vista Enterprise 64-bit edition, Windows Vista Ultimate 64-bit edition, Windows Vista Business, Windows Vista Business 64-bit edition, Windows Vista Enterprise, Windows Vista Ultimate, Windows XP Home and Pro, X64 and x32 all Windows, Windows Server 2000-2008,Windows Server 2012,Windows Server 2016.

Versions History
New in version 3.77 // 27 January 2019
• Improvements in the appearance of snowflakes especially under Windows 10.
• Updating the language files in DesktopSnowOK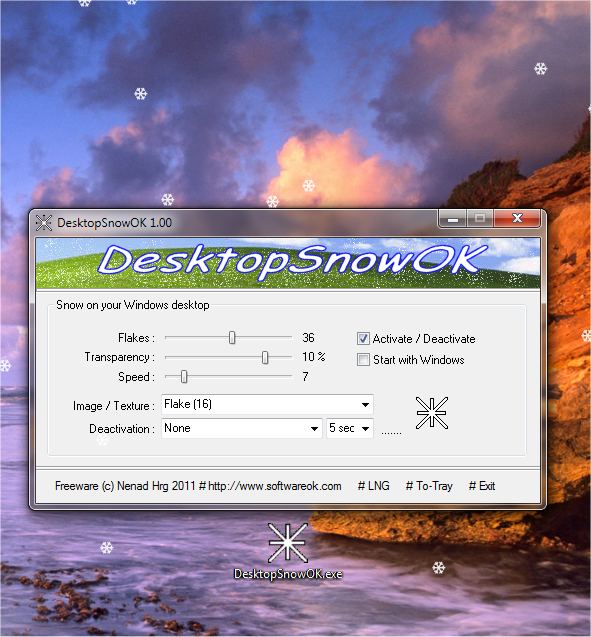 Click here to visit the author's website.
Continue below to download this file.