Always scroll to the bottom of the page for the main download link.
We don't believe in fake/misleading download buttons and tricks. The link is always in the same place.
---

Bean v3.4.6

A free macOS word processor

Bean is a small, easy-to-use word processor that is designed to make writing convenient, efficient and comfortable. Bean is lean, fast and uncluttered. It starts up quickly, has a live word count, and is easy on the eyes. Also, Bean is available free of charge.

Bean has some limitations: it doesn't do footnotes or use stylesheets and is only partially compatible with Word's file formats. Also, it allows in-line graphics, but not floating graphics.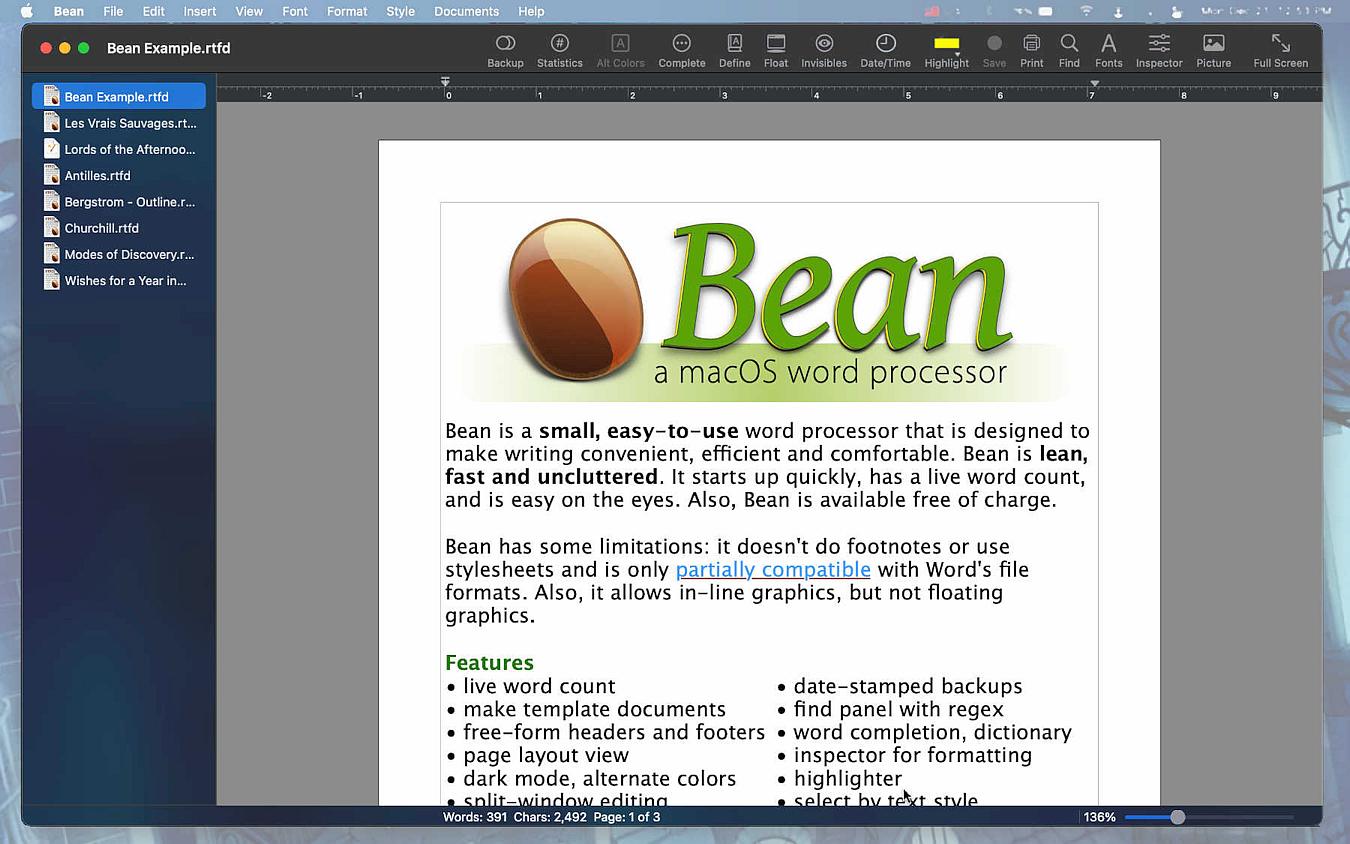 Features
• live word count
• make template documents
• free-form headers and footers
• page layout view (optional 2-up)
• dark mode, alternate colors
• split-window editing
• full screen / focus mode editing
• date-stamped backups
• find panel with regular expressions
• word completion, dictionary
• inspector for formatting
• highlighter
• select by text style
• floating window

Included localizations:
Catalan, Chinese (Mainland), Dutch, English, French, German, Italian, Polish, Portuguese (Brazilian), Slovak, Spanish

Localization Instructions:
https://bean-osx.com/localization.html

Installation
To install, double-click the downloaded .zip file. This will unarchive a folder named Bean-Install. Inside this folder you will find Bean.app, which you can drag into your Applications folder. You can then trash the .zip file and the Bean-Install folder. If you are upgrading versions, be sure to quit the older version first.

File Formats:
Bean natively reads and writes these file formats:
• .rtf format (rich text)
• .rtfd format (rich text with graphics)
• .bean format (identical to .rtfd)
• .txt and plain text (Unicode and legacy)
• .webarchive format (Apple's web archive format)

Bean transparently imports and exports these formats:
• .doc format (MS Word '97, minus images, margins, and page size)...see note below
• .docx format (Word 2007, minus images and some formatting)...see note below
• .odt format (OpenDocument, minus images, margins, and page size)

Bean can export all of the above formats to these formats:
• .html (web page format)
• .pdf
• .doc compatible (with images intact)

Page Layout and Inspector
Here you see Bean in page layout mode, with the Inspector panel open. Changes in the Inspector panel apply instantly to text. Also visible is the live word count in the status bar at the bottom of the window. (Text from Andromeda Galaxy article is from Wikipedia.)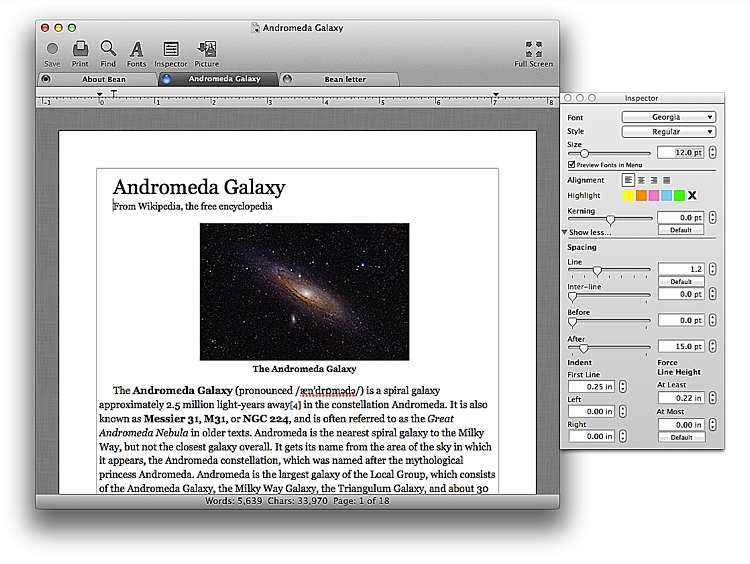 Full Screen and Info Panel
Here you see Bean in full screen mode with the Info Panel open. Alternate editing colors are turned on (white on blue here, but they are customizable). (Text from Andromeda Galaxy article is from Wikipedia.)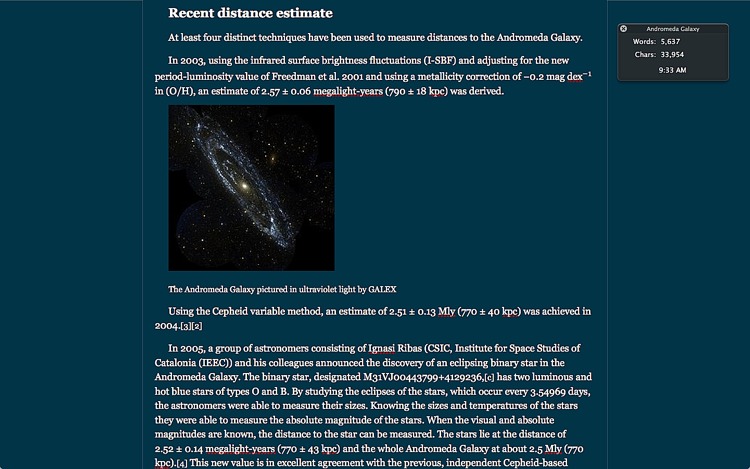 Find/Replace and Select by Styles panels
The Find/Replace panel in Bean allows the use of regular expressions (pattern matching). The text selection may also be narrowed using the Select by Styles panel.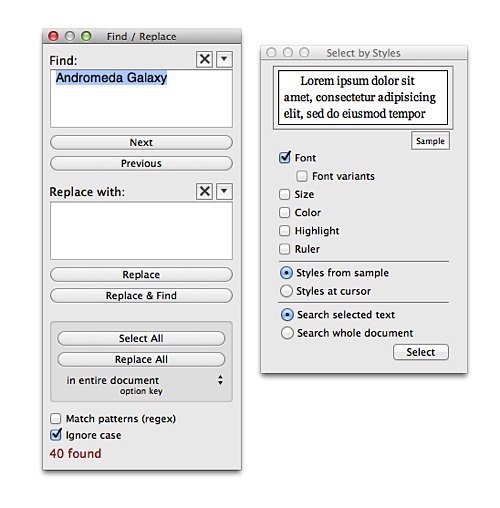 Headers and Footers; Templates with Boilerplate Text
Bean allows free-form headers and footer, with auto-updating page numbers etc. Template documents can include boilerplate text.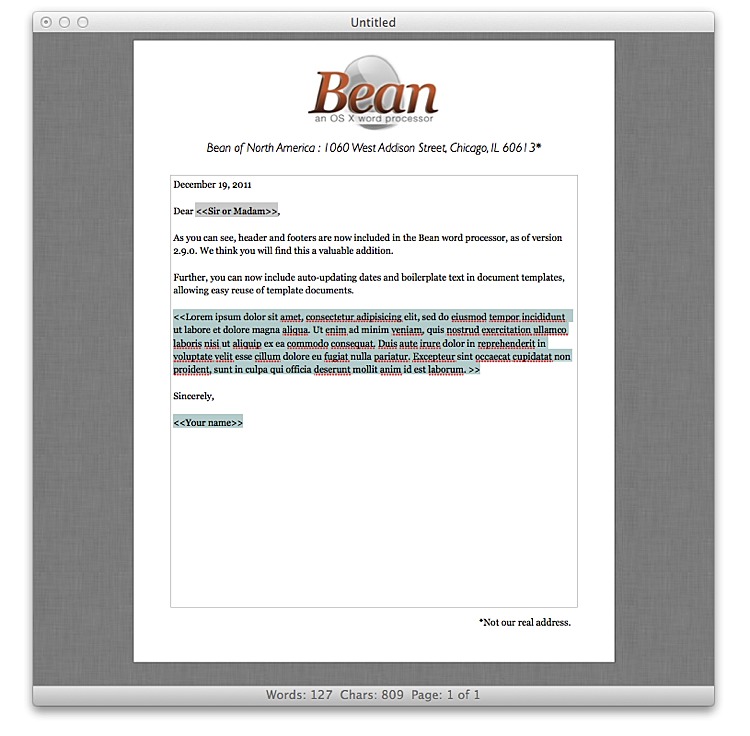 Split Screen; 2-Up View
Bean allows vertical or horizontal split-screen editing of the same document. Also seen here: 2-up mode, sidebar document list, popup dictionary (Lion).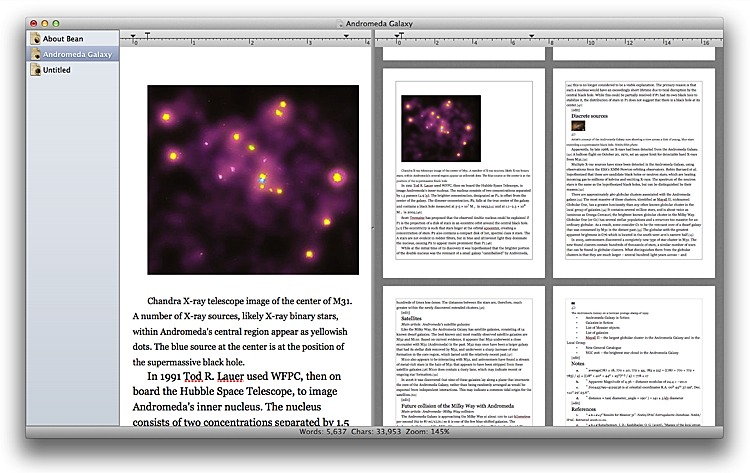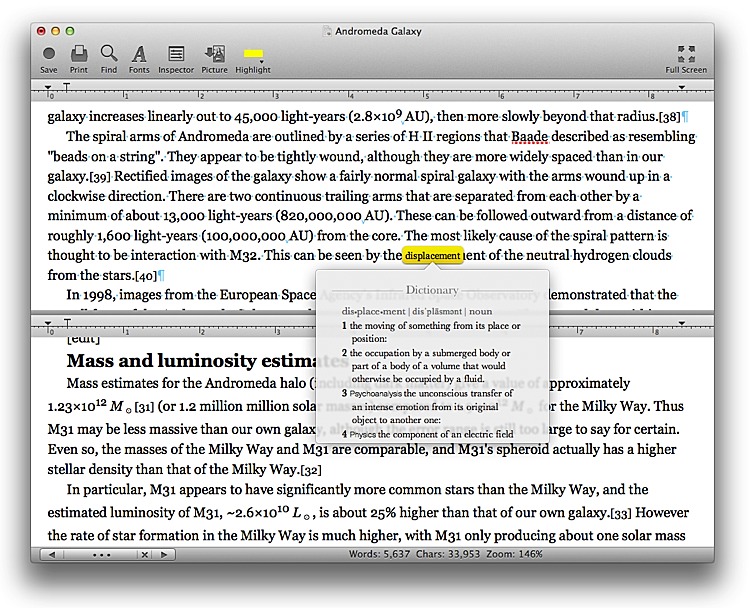 Rich text editing > Export > Plain text/HTML editing > Safari
The left window shows Bean editing a rich text document with images. This document was then exported to HTML using Bean (the HTML file is open in Bean in the middle window). In the front-most window, this same HTML file is shown rendered as a webpage in Safari.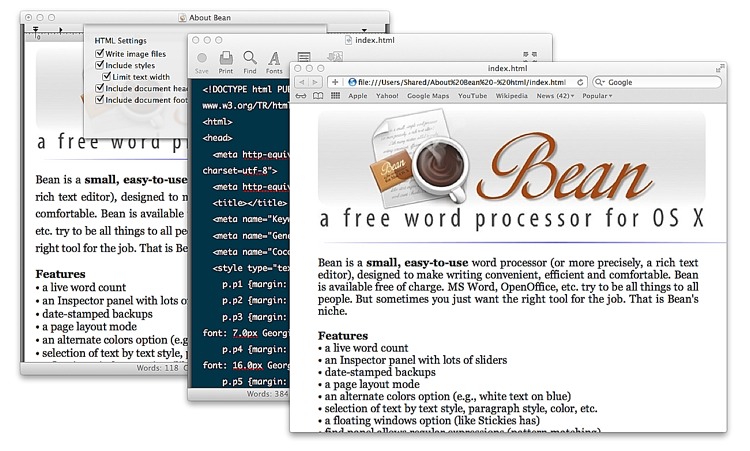 This download is for the macOS Monterey (12), Big Sur (11), Catalina (10.15), Mojave (10.14), and High Sierra (10.13) version. All other download assets are below:


macOS Sierra 10.12:
Bean-Install-Sierra.zip

OS X 10.5 to OS X 10.11 (El Capitan):
Bean-Install.zip

PowerPC Macs running OS X 10.5:
Bean-Install-3-1-1.zip

PowerPC Macs running OS X 10.4:
Bean-Install-2-4-5.dmg



Click here to visit the author's website.
Continue below for the main download link.