Always scroll to the bottom of the page for the download link.
We don't believe in fake/misleading download buttons and tricks. The link is always in the same place.
---

AnyTXT Searcher v1.3.1050

A Powerful Desktop Full-Text Search Engine, Just Like Local Google!

AnyTXT Searcher is a free powerful local document & text search application, just like a local disk Google search engine, and much faster than Windows search, It is your ideal desktop file content full-text search engine.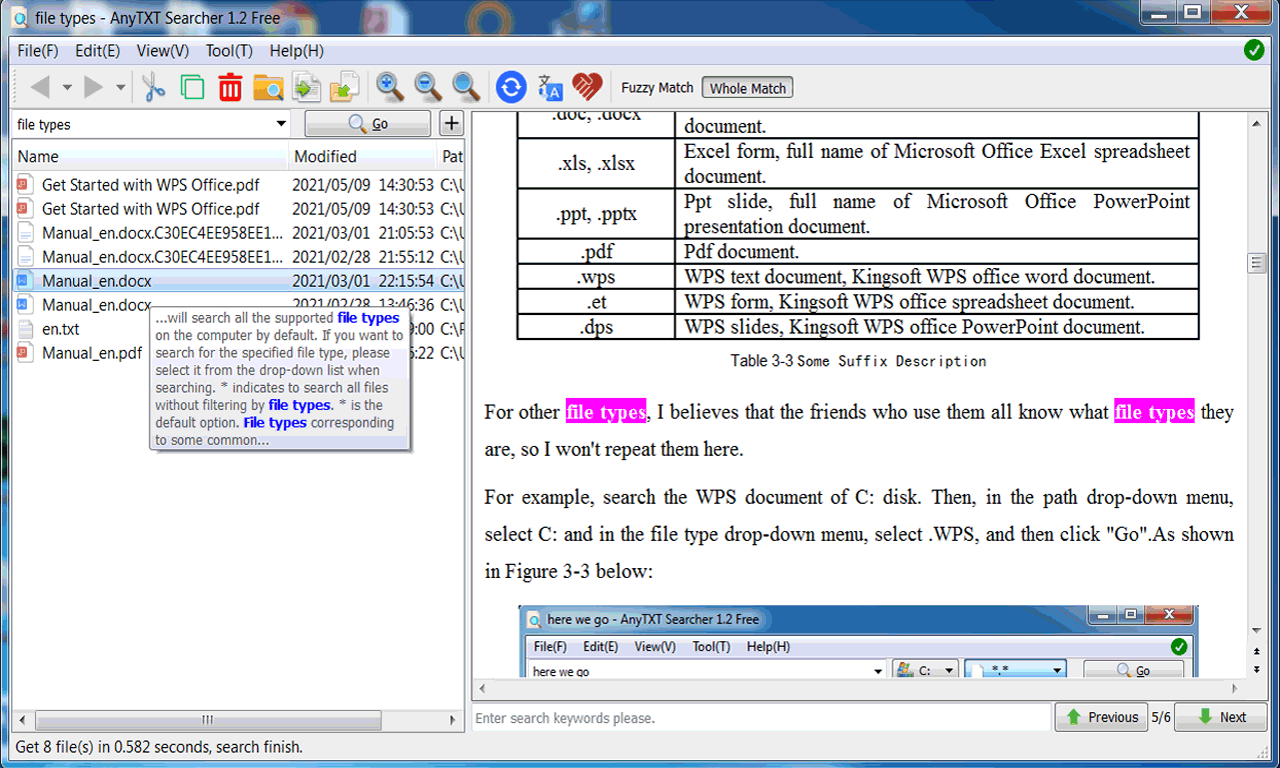 AnyTXT Searcher has a powerful document parsing engine built-in, which extracts the text of commonly used documents without installing any other software, and combines the built-in high-speed indexing system to store the metadata of the text. You can quickly find any words that exist on your computer with AnyTXT Searcher. It works perfectly on Windows 11, 10, 8, 7, Vista, XP, 2003, 2008, 2012, 2016, etc.

Your time is too valuable to be wasted on inefficient and ineffective searches-use Anytxt for fast and effective full-text file and document search. Free professional desktop search solutions can find all important information for you in record time. No matter where it is stored, Anytxt can instantly find every file, every document, and every code.

Formats Supported
• Plain Text Format (txt, cpp, html etc.)
• Microsoft Word (doc, docx)
• Microsoft Excel (xls, xlsx)
• Microsoft PowerPoint (ppt, pptx)
• Microsoft OneNote (one)
• Portable Document Format (pdf)
• eBook Format (epub, mobi, djvu, chm, fb2, azw(3) etc.)
• WPS Word Format (wps)
• WPS Excel Format (et)
• WPS PowerPoint Format (dps)
• Open Document Format (OpenOffice, LibreOffice etc.)
• Mind Map Format (lighten, mmap, mm, xmind etc.)
• Open Fixed-layout Document Format (ofd)
• Edraw Max Format (eddx)
• WizNote Format (ziw)
• Image Format (jpg, png, bmp, gif etc.)
• Binary File (exe, dll, so)
• More Document Types please let us know

Features
• Microsoft Office (doc, xls, ppt) Full Text Index Supported
• Microsoft Office 2007 (docx, xlsx, pptx, docm, xlsm, docm) Full Text Index Supported
• Multi-language(include Chinese,Japanese,Korean) Document Full Text Index Supported
• WPS Office (wps, et, dps) Full Text Index Supported
• Image text (png, jpg, bmp etc.) Full Text Index Supported
• Fast Full-Text Index
• Fast Full-Text Search, almost in 0.1 second
• Keyword View
• SSD Optimization
• HTTP Search Service (Beta)
• Realtime Sync Full-Text Index (Beta)
• High DPI Supported
• Startup at Boot
• Scanned PDF text search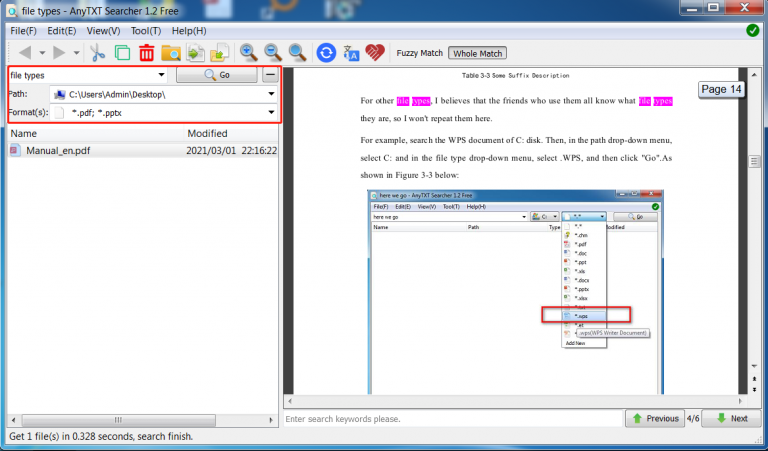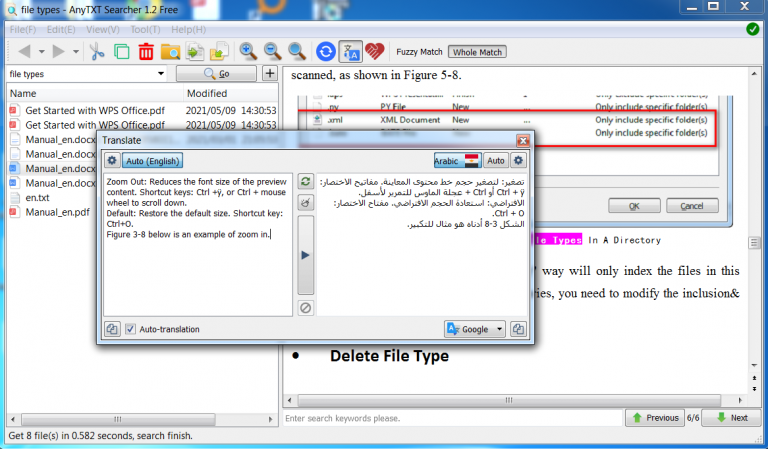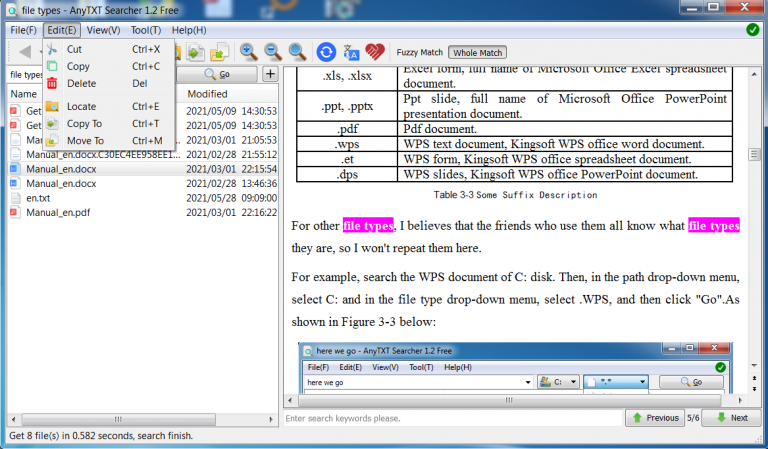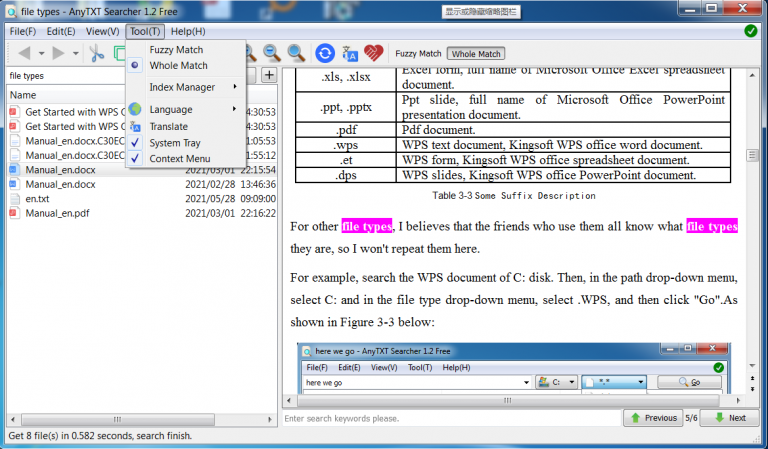 This download is for the standard version. If you need the OCR (Optical character recognition) equiped version, download here.



Click here to visit the author's website.
Continue below to download this file.