Always scroll to the bottom of the page for the main download link.
We don't believe in fake/misleading download buttons and tricks. The link is always in the same place.
---

Rescuezilla v2.4.2

The Swiss Army Knife of System Recovery

Disk imaging for all
Rescuezilla is an easy-to-use disk imaging application that's fully compatible with Clonezilla ó the industry-standard trusted by tens of millions.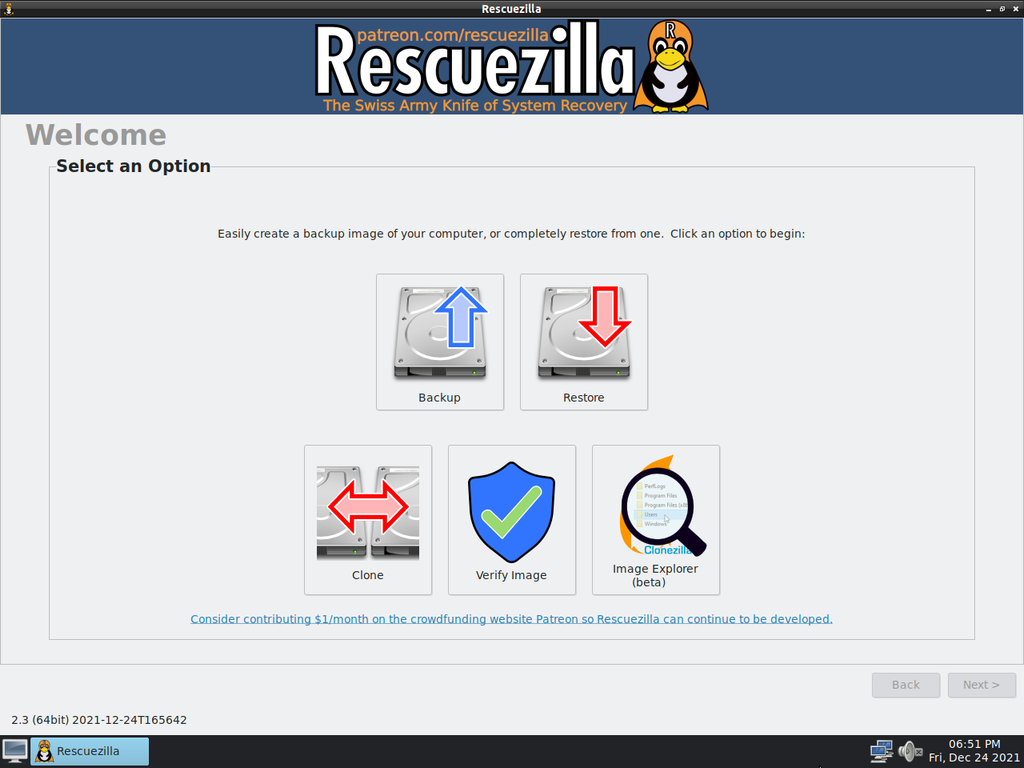 Disk imaging makes a backup of your computer's hard drive which is managed as files stored on an external hard drive. If your hard drive fails, you can restore your disk image and within a few minutes all your documents and settings will be restored to the exact same state they were in when the last snapshot was taken.

Rescuezilla lets you perform backup, restore and recovery actions, even if you aren't able to boot into your regular operating system. It does not matter if you use Windows, Mac or Linux. It doesn't matter if you can't even login. Download and write the ISO to a USB stick, and reboot your machine. Your computer will load a complete mini operating system with a point-and-click user interface into your computer's memory without writing any information to your hard drive.

Rescuezilla is a fork of Redo Backup and Recovery (now called Redo Rescue) after it had been abandoned for 7 years.

More Features, Less Complex
Rescuezilla has the most features coupled with the simplest, most user-friendly interface:

Easy graphical user interface boots from USB in seconds
No installation needed; runs from a USB stick or a CD-ROM
Saves and restores Windows, Mac and Linux machines
Fully interoperable with Clonezilla, the industry-standard trusted by tens of millions
Supports images made by VirtualBox, VMWare, Qemu and all known open-source imaging frontends including Clonezilla!
Easily mount any supported image and copy out your files (beta)
Access your files even if you can't log in
Recover deleted pictures, documents, and other files
Internet access with a full-featured browser

Features
Rescuezilla is a backup/recovery solution. It's a Clonezilla GUI that's fast, feature-packed and very easy-to-use, even for everyday computer users.

No Installation Needed
You don't have to install Rescuezilla. And you don't even need to have an operating system installed to recover. Just insert the USB stick into your PC and reboot.

It's Easy-To-Use
Rescuezilla provides a point-and-click interface with network access and a complete operating system (based on the Ubuntu GNU/Linux distribution). Open other applications while your system backup is being transferred.

Fully interoperable with Clonezilla
Rescuezilla is the Clonezilla GUI (graphical user interface) that you've always wanted. It is carefully developed to be fully interoperable with the industry-standard Clonezilla, trusted by tens of millions of individuals and businesses for almost 20 years. Backup images made using Clonezilla can be restored with Rescuezilla, and vice versa!

Works with virtual machine images
Rescuezilla works with images created by virtual machines: VirtualBox (VDI), VMWare (VMDK), Hyper-V (VHDx), Qemu (QCOW2), raw (.dd, .img), in addition to all known open-source imaging frontends (including Clonezilla). For more information checkout the 'compatibility' section of Rescuezilla GitHub release page.

Extract files from your backup images
Rescuezilla makes it easy to access your files that are saved within all supported backup image formats, including virtual machine images. You won't need to struggle with the command-line!

It's great for large uncompressed images (including virtual machine images), but will be too slow for larger images using gzip or zstandard compression until Rescuezilla implements indexed access using ratarmount (task #153).

Boots in Seconds
The system boots in about 30 seconds from USB, and all your hardware gets detected automatically. It uses minimal space and resources, and you can copy it freely. No licenses or serial numbers!

Works with Windows, Mac or Linux
Some backup solutions only work with Windows, some only work with Mac, and some only work with Linux. But with Rescuezilla, any computer user can save and restore all machines with the same tool.

Access Your Files
Can't boot or log in, but need files from your PC? No problem: just pop the Rescuezilla USB in, reboot, and you can copy your documents to another drive, a network-shared folder, or a USB stick.

Recover Lost Data
If you accidentally delete a file or empty your Recycle Bin, simply shut down the computer, insert the Rescuezilla USB, and open the file recovery tool, which will undelete your files and save them to another drive.

Easy Internet Access
Is your computer broken, but you need Internet access to download drivers or read documentation? In about one minute, you can insert the Rescuezilla USB, reboot, and be browsing the Internet.

Drive Configuration Tools
Graphically edit, manage, and resize partitions to take full advantage of your drive's capacity. Access powerful drive management and partition editing tools from the Rescuezilla start menu.

Available in many languages
Rescuezilla has been translated into several languages.

Write the image to a USB
You'll need to write the image to a USB drive using a program such as balenaEtcher which works on Windows, Mac and Linux. This step will completely erase any data on your USB stick.

Changes:
v2.4.2 (2023-03-05)
Removes the Intel screen tearing fix introduced for v2.3 (2021-12-24), which should fix black screens on Intel graphics (#281)
Introduces Ubuntu 22.10 (Kinetic) for best support of recent hardware, but leaves default build as Ubuntu 22.04 (Jammy)
Reintroduces a 32-bit (Intel i386) build, currently based on Ubuntu 18.04 (Bionic) (#232) after it was temporarily dropped in Rescuezilla v2.0 (2020-10-14)
Note: Partclone backwards compatibility is imperfect and 32-bit release uses old Ubuntu repository partclone version, not latest compiled version
Fixes Backup mode's broken SSH port field introduced in v2.4 (#385)
Installs lxappearance (#274), hexdump (bsdmainutils) (#382), flashrom (#388)
Installed packages which improve ability to mount encrypted drives with pcmanfm file manager (#379)
Replaces out-of-service Travis-CI build bot integration with GitHub Actions, for improved quality-control, and to assist Rescuezilla contributors
Many existing translations updated, but also added:
Albanian/Shqip (sq-AL) (Translation in-progress)
Lithuanian/Lietuvių (lt-LT)
Dutch/Nederlands (nl-NL)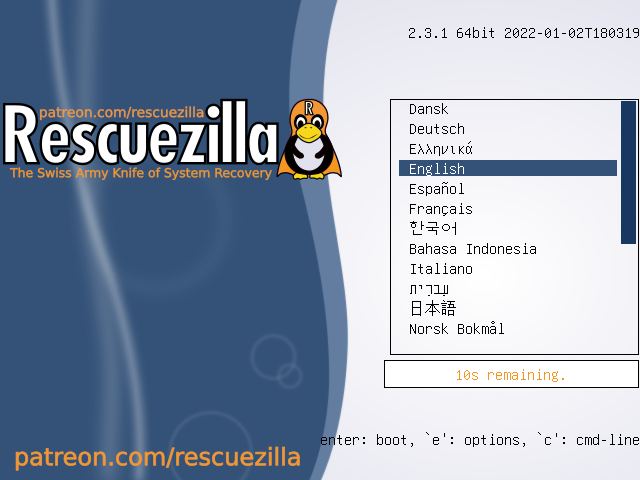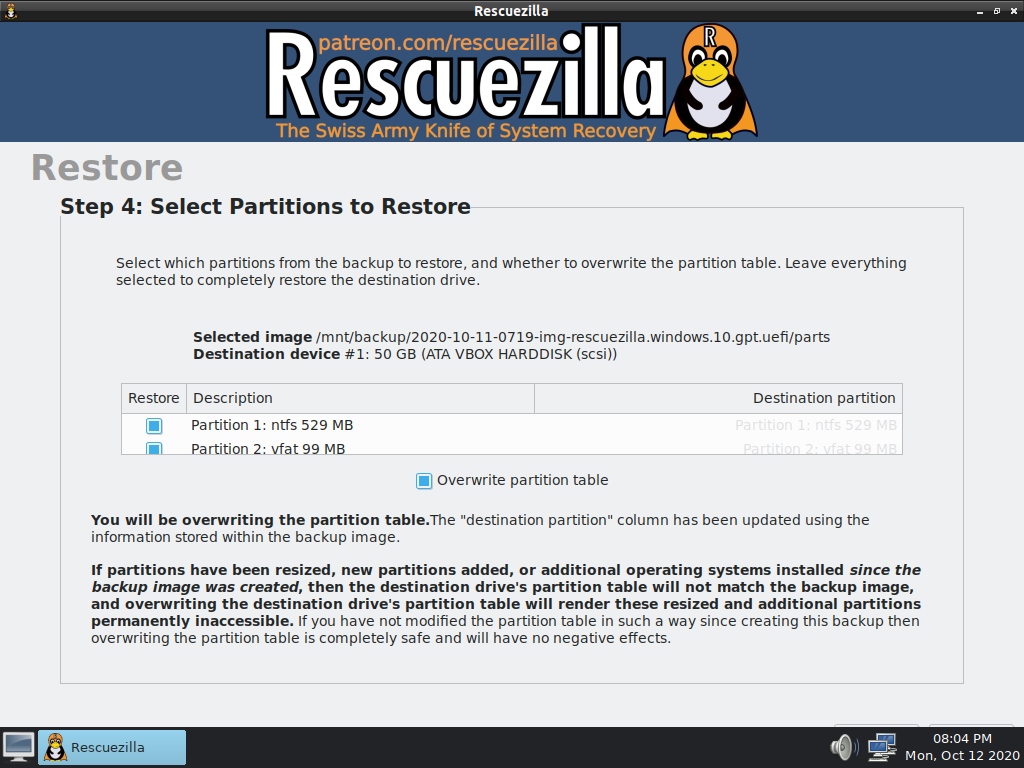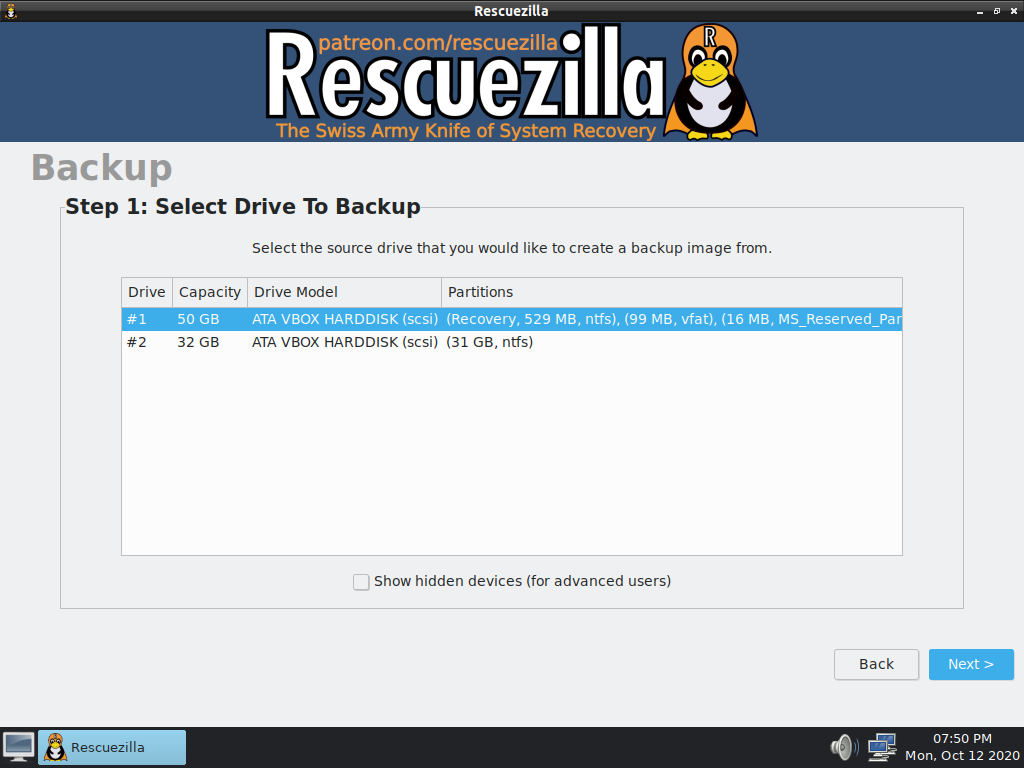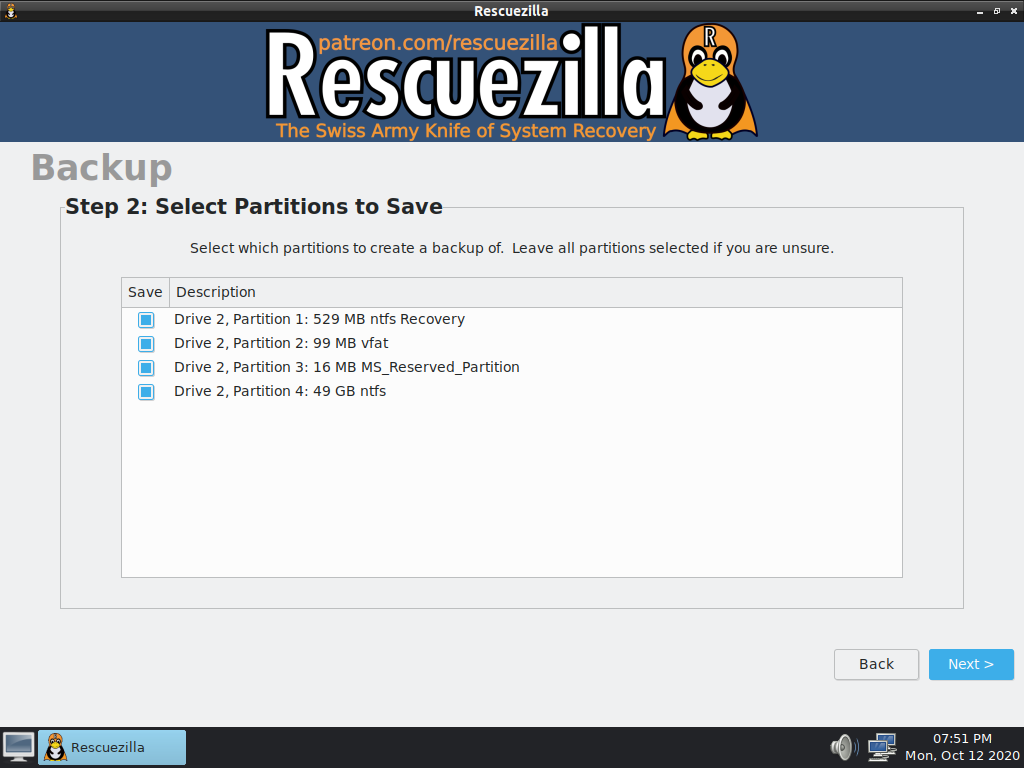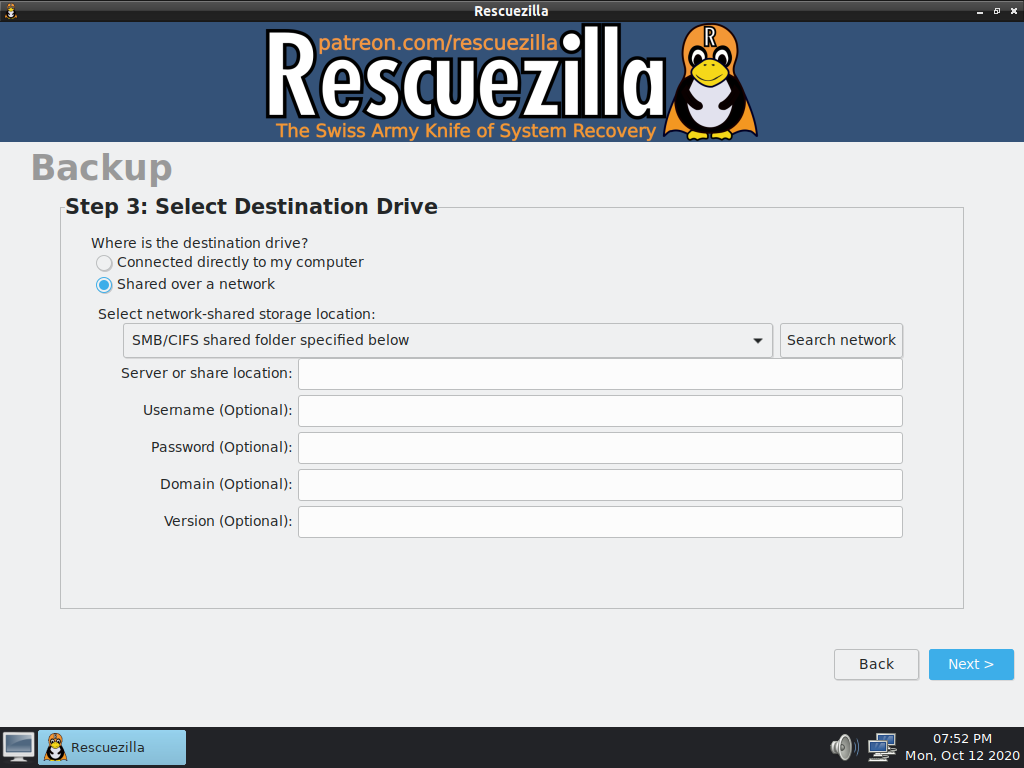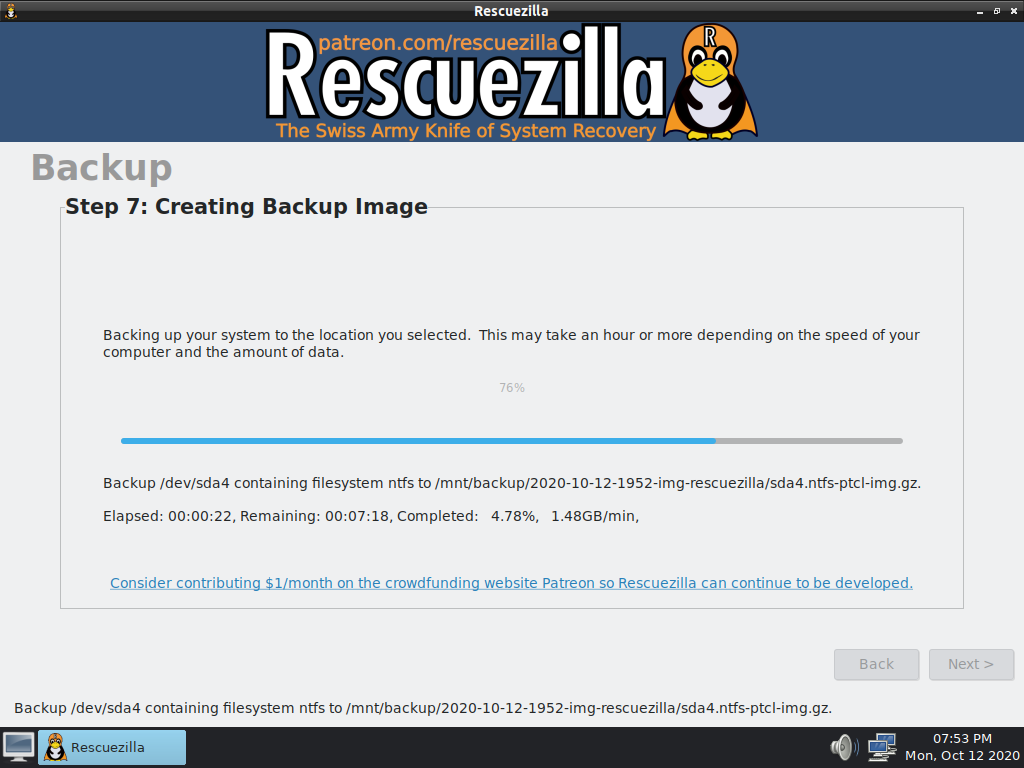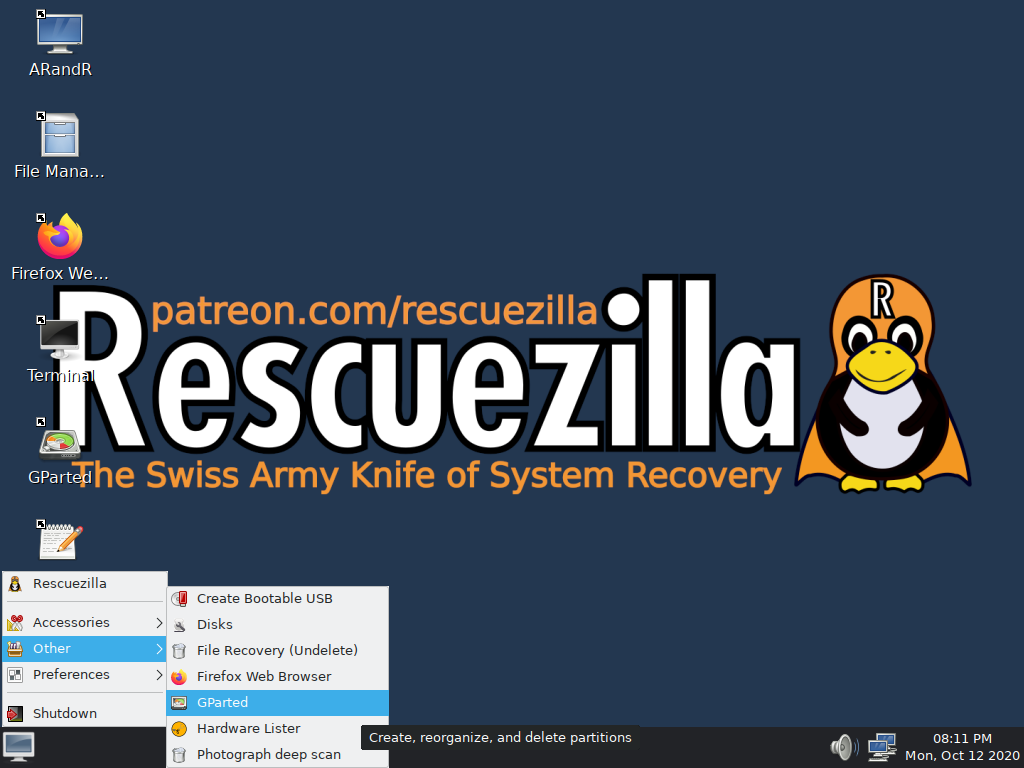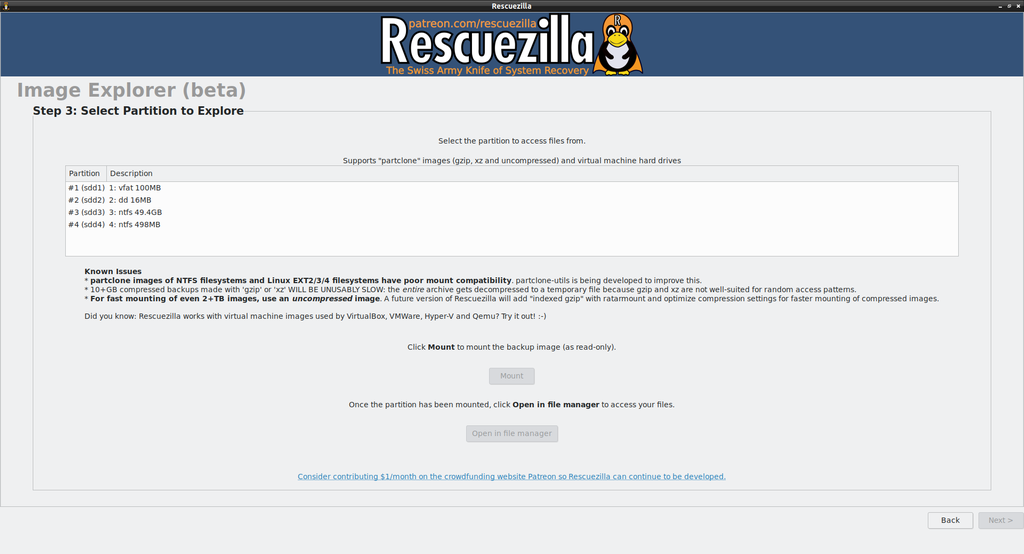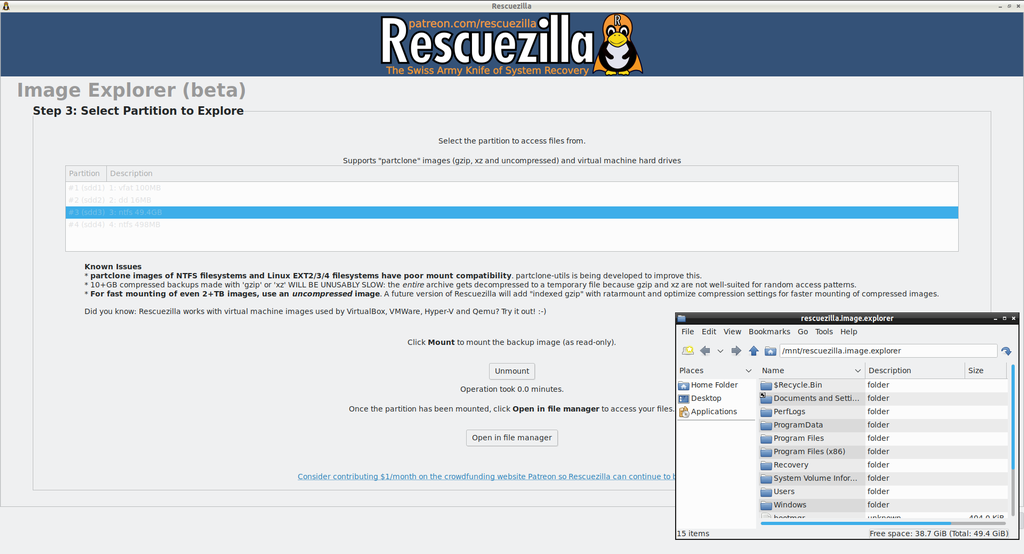 Click here to visit the author's website.
Continue below for the main download link.