Always scroll to the bottom of the page for the download link.
We don't believe in fake/misleading download buttons and tricks. The link is always in the same place.
---

Voicemeeter v1.0.7.3

Voicemeeter is Audio Mixer Application endowed with Virtual Audio Device used as Virtual I/O to mix and manage any audio sources from or to any audio devices or applications.

For first use, it's highly recommended to follow user manual step by step, especially step ZERO of the documentation.

Standalone Application and Virtual Audio Device supporting MME, DX, KS, WDM, ASIO interfaces (XP to WIN10 32/64 bits)

INSTALLATION: Run Setup program in administrative mode / Reboot after installation (and Reboot after de-installation).

The Virtual Audio Mixer

VoiceMeeter is able to mix audio sources coming from audio device as well as from audio applications. it mixes 3 Inputs to 3 outputs though 2 buses. Then Microphone, Music, Movie, Skype call, video game sound, net radio... can be mixed and sent to different audio outputs, VOIP or Recording Application...

as Virtual Audio Device

Voicemeeter is an application endowed with Virtual Audio I/O and can be used as main audio device by your system, like it was hardware mixing console. Voicemeeter supports all audio interface: MME, Direct-X, KS, WaveRT, WASAPI, and ASIO to connect audio pro DAW or musical instrument.


Voicemeeter Audio Device Mixer
Universal Virtual Audio Device to connect everything together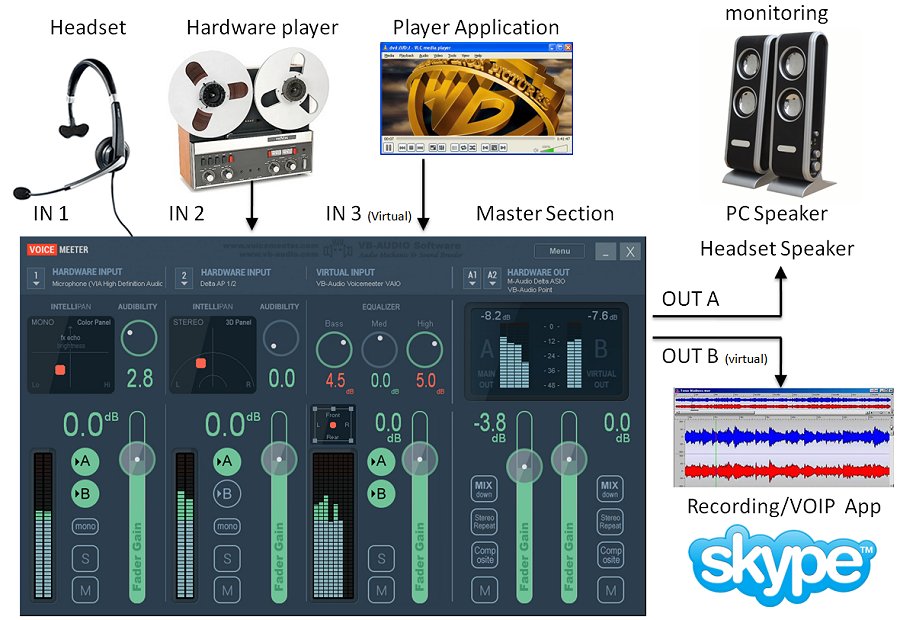 Voicemeeter Virtual I/O
All Audio Interfaces Support: MME, Direct-X, KS, WaveRT, WASAPI, and ASIO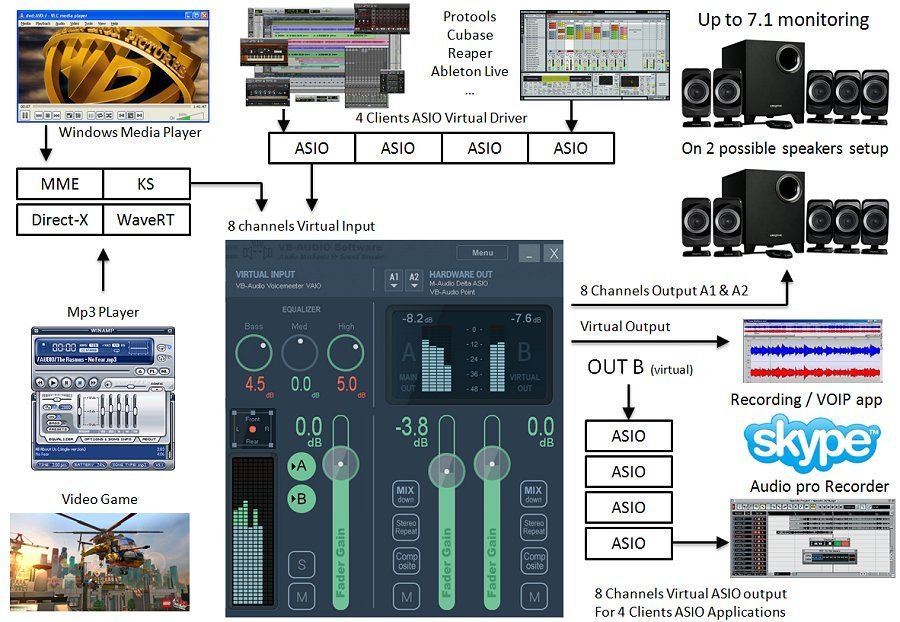 Voicemeeter new audio experiences

[1]- To mix your voice with your music on Skype or Google Voice and make your live podcast or own radio program.
[2]- To use 2x USB Headset on a computer, for VOIP applications or online educational program.
[3]- To Play Video Game in 5.1 and keep the MIC for communication with your team.
[4]- To make tutorial with your preferred audio/video capture software.
[5]- To Record Conference or Interview in multichannel for post production.
[6]- To use different Audio Application together and record the performance in live with your preferred DAW.
[7]- Finally to manage simply whatever sound sources on your computer in an easy way.

Voicemeeter Mixing Console

Voicemeeter is the first Application working as a virtual Mixer, able to manage every audio sources and audio points

By Including various DSP algorithms from VB-Audio, Voicemeeter is a concentrate of technology letting you control the sound as you want, without worrying about any limitations. Made it your way and retrieve feeling of vintage analog mixing console !

Voicemeeter is a Unique Application designed for everyone willing to manage audio in a smart way! For VOIP users, Broadcasters, Podcasters, Video gamers, Musicians, DJ's and whatever Sound Lovers, P.A. System tweaker, Home-Cinema audiophiles...

SPECIFICATIONS

Device Type:
PC-Core Virtual Audio Mixing Console
Compatibility:
Windows XP, VISTA, WIN7, WIN8, WIN8.1, WIN10 (32 / 64 bits)
PC Configuration:
Min: Celeron / Duo Core 1.8 GHz - 512 MB RAM - Disk < 100 MB

Number of Audio Device I/O:


3 Inputs (2 physicals / 1 Virtual).
3 Outputs (2 physicals / 1 Virtual)

BUS / Layer:
2x BUS (A and B) / Single Layer
Audio Engine Capabilities:

32, 44.1, 48, 88.2, 96, 176.4 or 192 kHz DSP Processing (defined by Output A1 configuration)
Output A1 (Main):
WDM, KS, MME, ASIO (32 kHz to 192 kHz) - 1 to 8 channels
Output A2:
WDM, KS, MME (8 kHz to 192 kHz) - 1 to 8 channels
2x Physical Inputs:
WDM, KS, MME (8 kHz to 192 kHz) - mono or stereo.

1x Virtual I/O:

WDM, KS, MME, DirectX, WaveRT (8 kHz to 192 kHz) 1 to 8 channels
8 channels on virtual input, 2 on virtual output
1x Virtual ASIO I/O:
ASIO (32 kHz to 96 kHz) 8 Channels (in and out) / 4x Client Applications.
Virtual ASIO configuration is given by Main Output A1 (SR and Buffering)

M.I.D.I. Implementation (remoting):

Gain faders, Mute, Solo, M.C. (Configuration by Learn process).

Strip Processing:
- "Color Panel" Control (Equalization).
- 3D Panoramic Control (source positioning by binaural effect).
- Audibility Knob (Compressor / Gate effect).
- 3 Bands Graphic Equalizer (on Virtual Input).
- Mute / Solo.
BUS Processing:
- Integrated Limiter and Peak Remover.
- Mix Down to convert 5.1 or 7.1 to Stereo.
- Stereo Repeat (Stereo signal copied on channel 3,4 / 5,6 / 7,8)
- Mute / Mono
Others:
- Physical Output Synchronization Delay in system settings dialog box.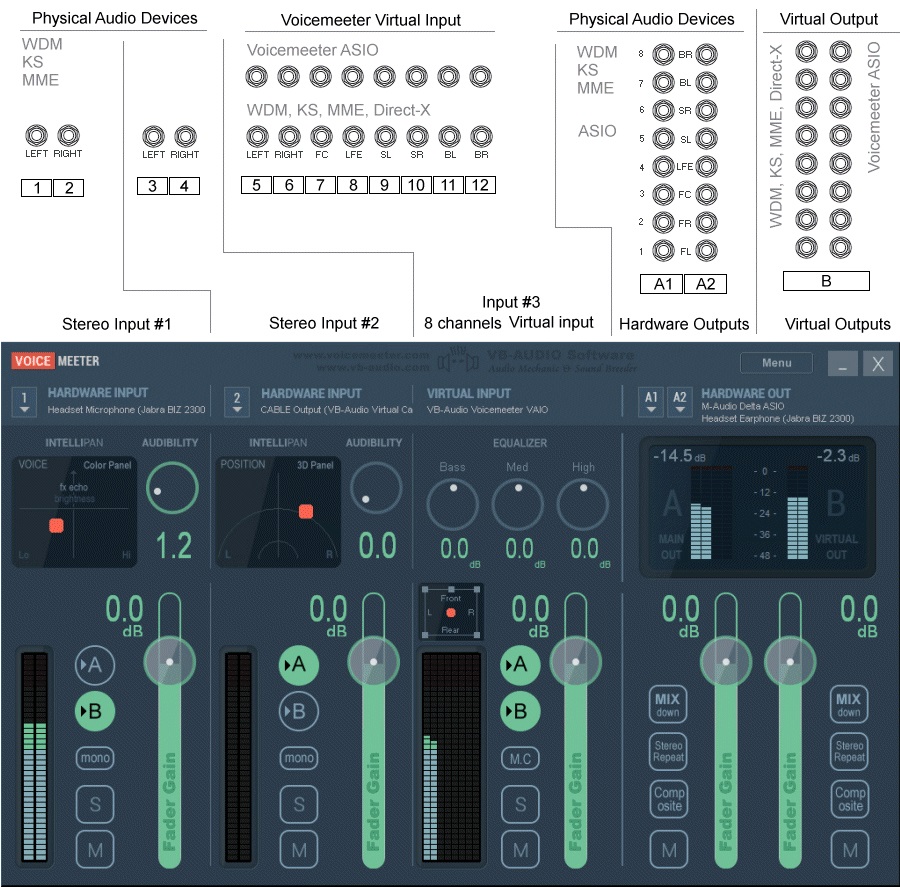 Click here to visit the author's website.
Continue below to download this file.