Always scroll to the bottom of the page for the main download link.
We don't believe in fake/misleading download buttons and tricks. The link is always in the same place.
---

darktable v4.2.0

Free, open source alternative to Adobe Lightroom.

darktable is an open source photography workflow application and raw developer. A virtual lighttable and darkroom for photographers. It manages your digital negatives in a database, lets you view them through a zoomable lighttable and enables you to develop raw images and enhance them.

Here is a short list of highlights where darktable can improve your digital photography processing workflow and help you to make better images with less effort. You can find a more detailed description of every single item in the online user manual.

Features:

Non-destructive editing throughout the complete workflow, your original images are never modified.

Take advantage of the real power of raw: All darktable core functions operate on 4x32-bit floating point pixel buffers, enabling SSE instructions for speedups.

GPU accelerated image processing: many image opertions are lightning fast thanks to OpenCL support (runtime detection and enabling).

Professional color management: darktable is fully color managed, supporting automatic display profile detection on most systems, including built-in ICC profile support for sRGB, Adobe RGB, XYZ and linear RGB color spaces.

Cross platform: darktable runs on Linux, Mac OS X / macports, BSD, Windows and Solaris 11 / GNOME.

Filtering and sorting: search your image collections by tags, image rating (stars), color labels and many more, use flexible database queries on all metadata of your images.

Image formats: darktable can import a variety of standard, raw and high dynamic range image formats (e.g. JPEG, CR2, NEF, HDR, PFM, RAF … ).

Zero-latency, zoomable user interface: through multi-level software caches darktable provides a fluid experience.

Tethered shooting: support for instrumentation of your camera with live view for some camera brands.

Speaks your language: darktable currently comes with 21 translations: Albanian, Catalan, Czech, Danish, Dutch, French, German, Greek, Hebrew, Hungarian, Italian, Japanese, Polish, Portugese (Brazilian and Portugese), Russian, Slovak, Slovenian, Spanish, Swedish, Ukrainian.

Powerful export system supports G+ and Facebook webalbums, flickr upload, disk storage, 1:1 copy, email attachments and can generate a simple html-based web gallery. darktable allows you to export to low dynamic range (JPEG, PNG, TIFF), 16-bit (PPM, TIFF), or linear high dynamic range (PFM, EXR) images.

Never lose your image development settings darktable uses both XMP sidecar files as well as its fast database for saving metadata and processing settings. All Exif data is read and written using libexiv2.

Automate repetitive tasks: Many aspects of darktable can be scripted in Lua.



Read about all features here.

darktable's lighttable mode showing a collection.

Notice how the collection module (left panel) is used to narrow down a bunch of images by using different metadata attributes. In the left panel we have the image information module currently expanded. It shows you information such as focal length, exposure, resolution about the image you are currently hovering.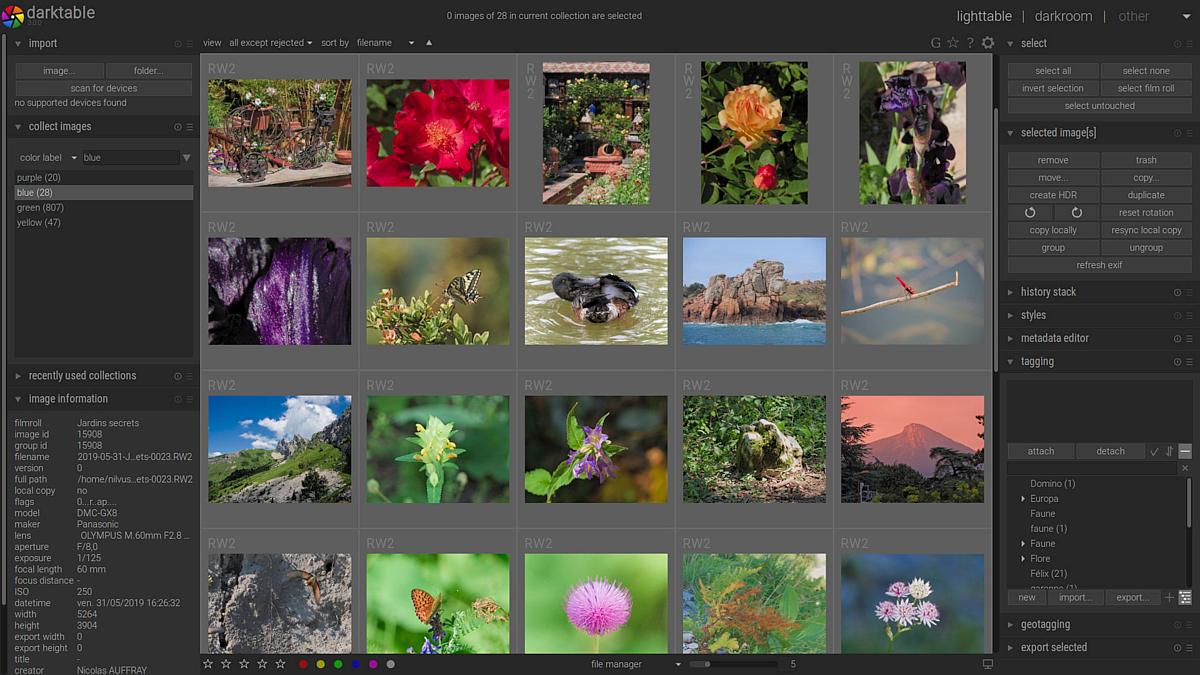 darktable's darkroom mode with an image opened.

The left panel offers you informations about the processed image and your editing history. Beside that the snapshot module can be found there – useful to compare the image (or parts of it) before and after a change in the process values – as shown here. In this example the powerful color zones module has been used to change the green hue of the leaf into orange. You can also see the mask manager and color picker with a live sample on the left. Notice also the top and bottom toolbars – you can switch the view there (top right corner) or assign color labels or rating directly to the opened image.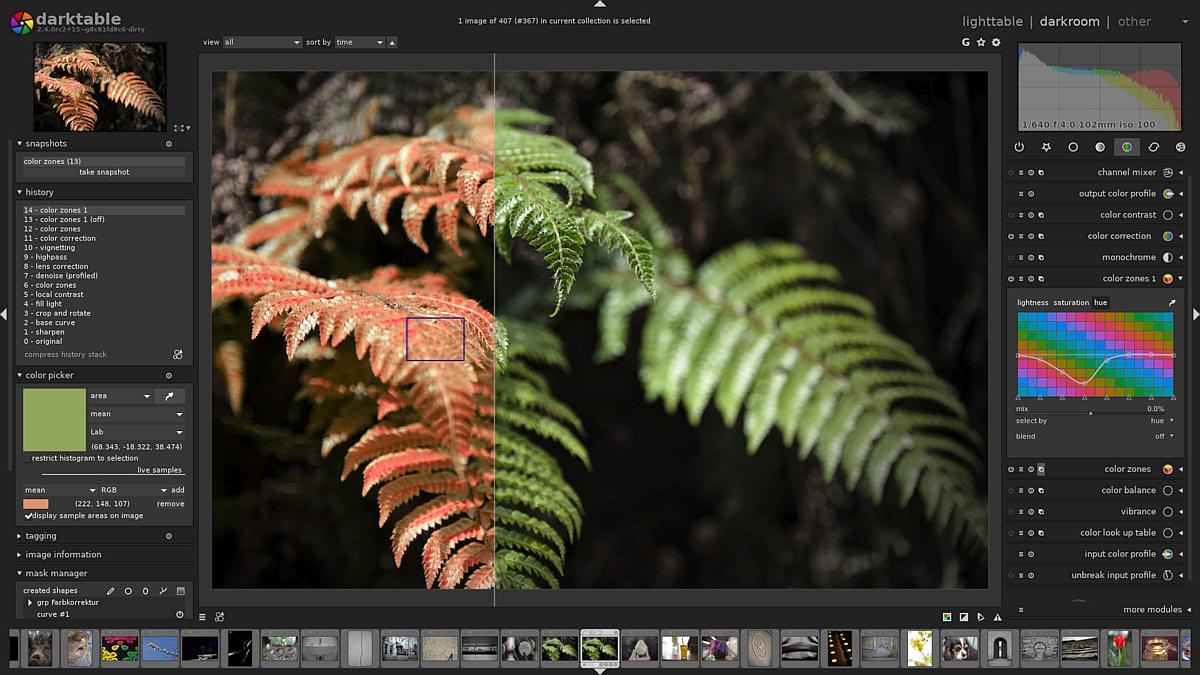 darktable's darkroom mode, sharpening an image.

Yet another screenshot of the darkroom mode. Here you can see both the tone curve module and our equalizer in action. While the first is used to increase the contrast by changing the lightness the equalizer is here used with its "sharpen" preset that enhances the local contrasts. At the bottom you see the filmstrip allowing you to quickly switch between the images included in your current collection.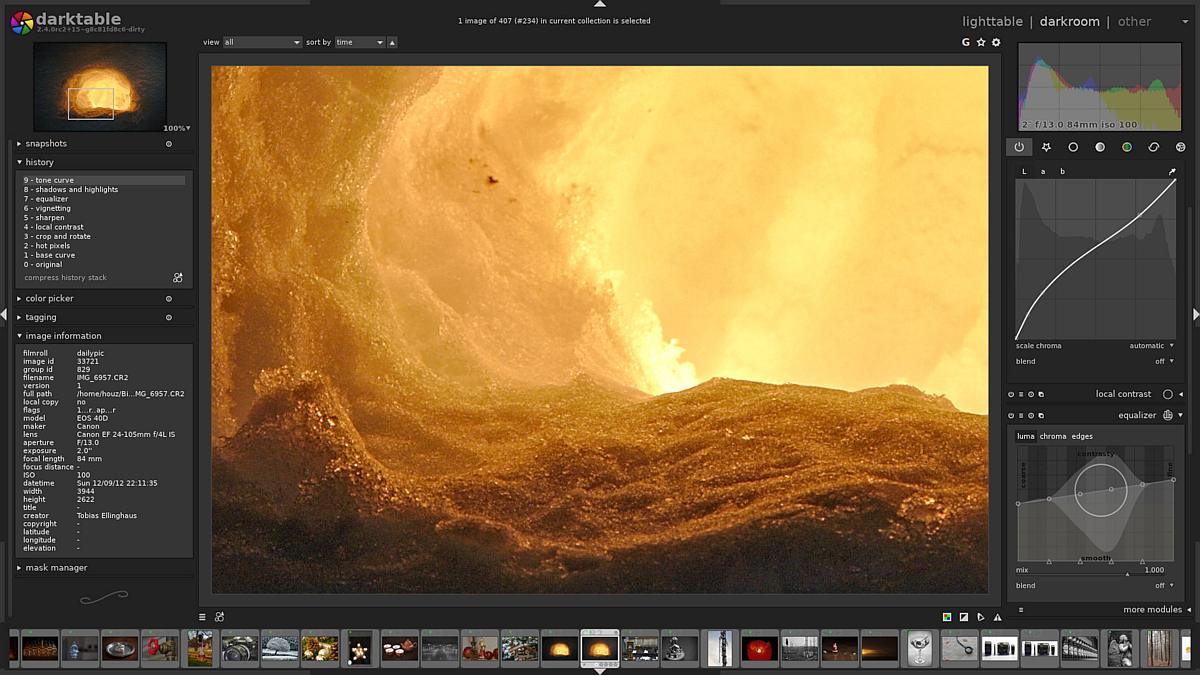 darktable's darkroom mode, split toning an image.

This time, the top and bottom panels are collapsed to safe some screen space. Here we are giving the image a chocolate brownish tint with the split toning module using one of the default presets.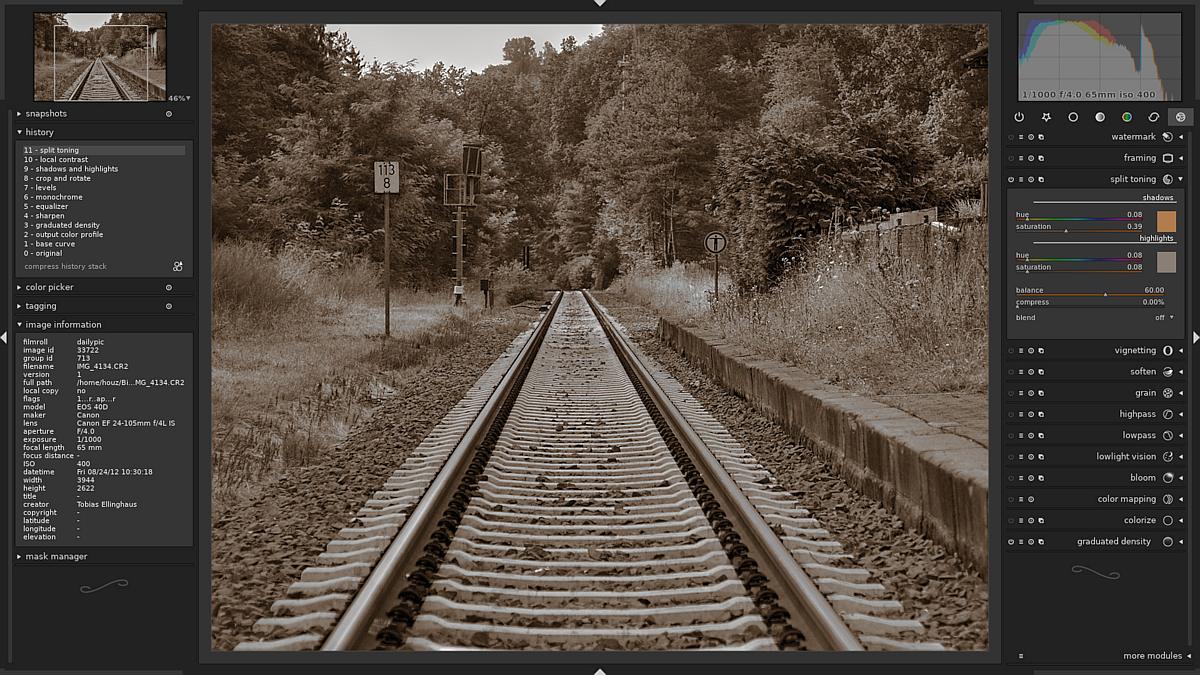 darktable's map mode.

In darktable's map mode you can geo tag your images by placing them on a map via drag&drop. On the right you can select between different map providers, like OpenStreetMap, Google and a few more.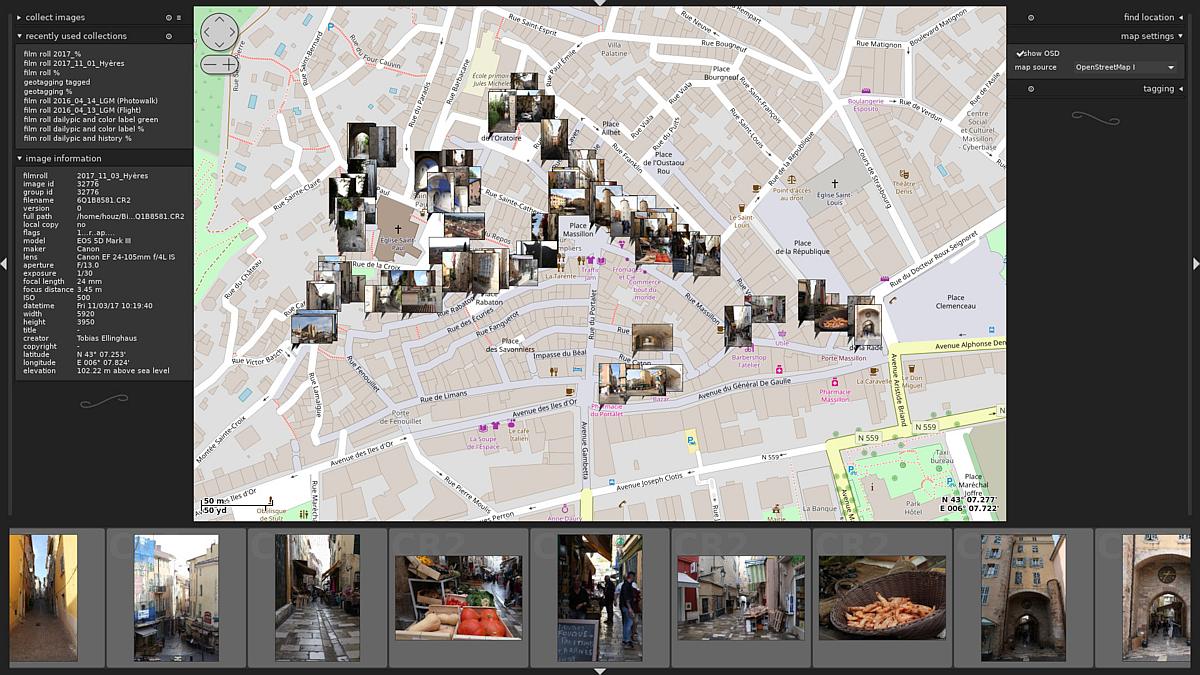 darktable's print mode.

In print mode you can prepare your images for printing, telling darktable where to put it on the paper. Notice that here a pseudo PDF printer is selected, but of course all printers supported by CUPS can be used.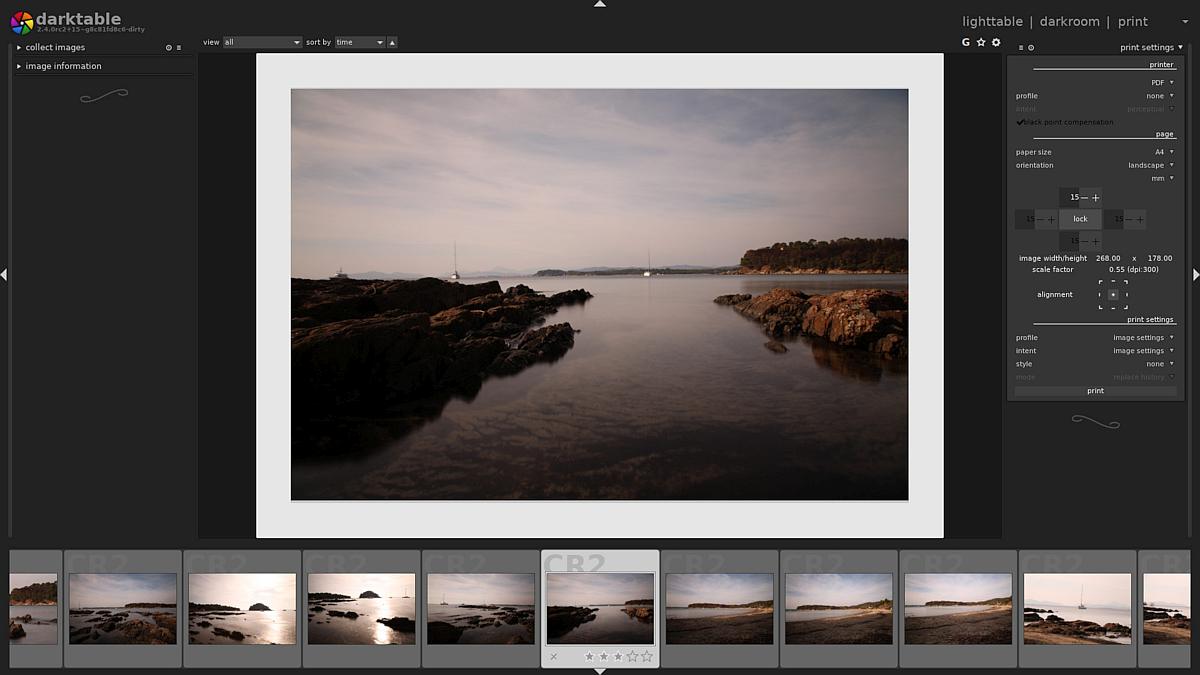 This download is for the Windows 64bit version.
If you need the MacOS version, download here.
If you need the MacOS Arm64 version, download here.
If you need the Linux version, download here.



Click here to visit the author's website.
Continue below to download this file.