Always scroll to the bottom of the page for the download link.
We don't believe in fake/misleading download buttons and tricks. The link is always in the same place.
---

OpenCloseDriveEject v1.41 64bit

OpenCloseDriveEject is a small and effective program when it comes to Open, Close DVD-, CD, Blue-Ray Drive Eject USB and External SSD, SD, ...!

Unlike other programs that only have a partial function in this often-needed task, you'll find everything under one roof, removing drives safely and opening DVD, Blue-Ray drives will be a regular and easy one, as Microsoft has provided it for all Windows OS. Here you can still open the drives in relation drive to drive name directly, which can be very time expensive with normal Windows on-board resources until you recognize which drive is on the appropriate partition.

Open Close Drive Eject features:

◆ DVD, CD, Blue-Ray open and close
◆ Can be used as a passive program
◆ Explore Volume, based on Drive
◆ Optional hot keys for the To-Tray menu and program
◆ Direct opening of the drives (Explorer)
◆ Open Close Drive and Eject via Notification Area
◆ Safely remove USB, SD, ... drives
◆ Zoom: Visually impaired and eye-friendly
◆ Notification Menu Customization
◆ Quick access to essential drive and system functions

Other possibilities and specifications
◆ Very small program
◆ Low CPU usage
◆ Optional translation function
◆ Portable
◆ Multilanguage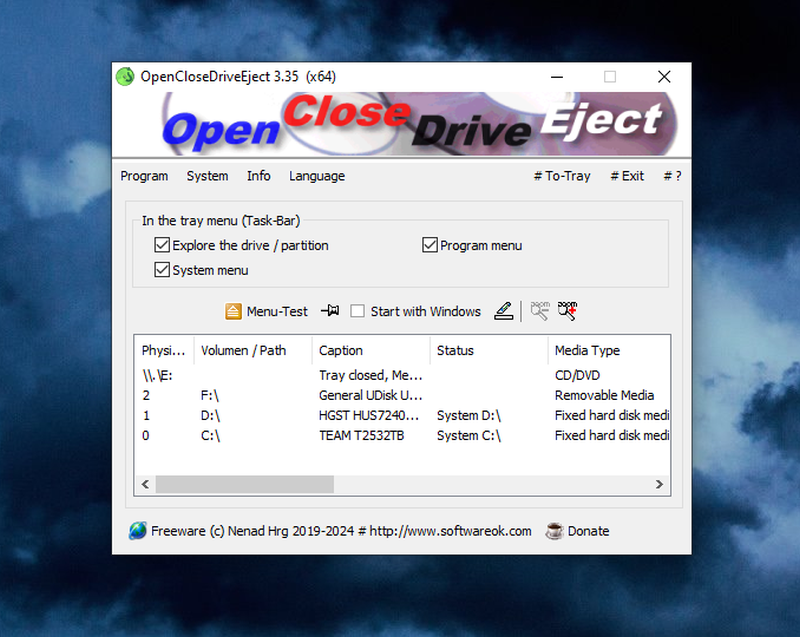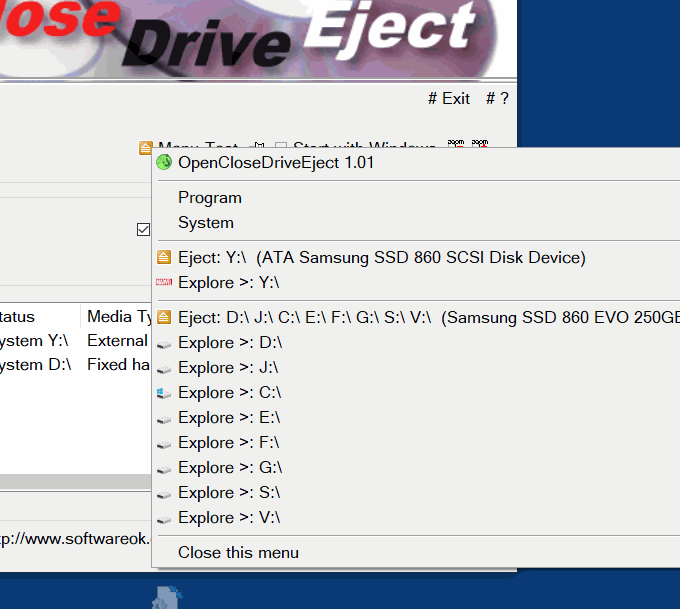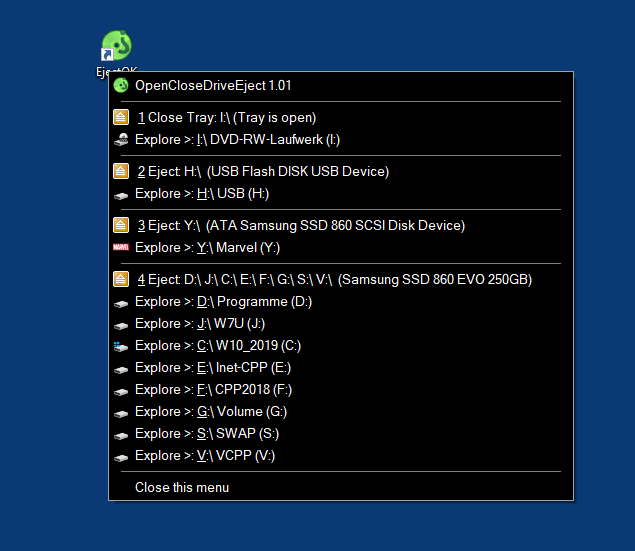 A simple example of using the "Open Close Eject the Drive Tool"

Start the program. The first time you will be offered the default setting for the safe removal of USB, SD, ... drives. For example, directly opening the drives (Explorer) for opening, closing, and ejecting drives through the Info area of ​​the taskbar. But you can quickly customize everything!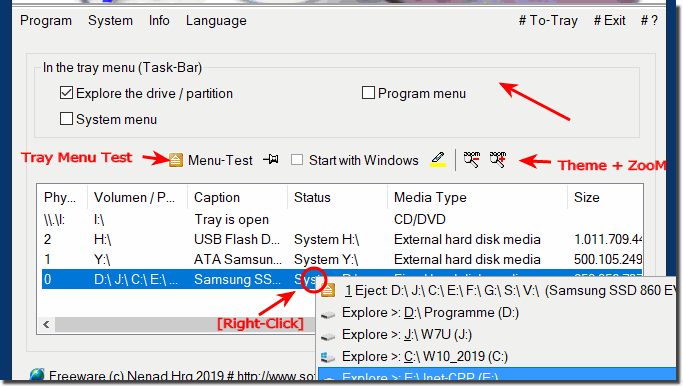 "Open, Close and Eject Drive" story

With this "open, close and drive ejecting problem" deal many users, forums and blogs and there are always some scripts presented, or cmd.exe and power shell commands, but it is an impertinence, something to remember and self As a user you are stressed, if you have to deal with this opening, closing and ejecting drive scripta for a long time.

These solutions are costly and time consuming not only for standard users but also for power users. Need to know, of course, how to do it theoretically, but then not cover everything in terms of "opening, closing and ejecting drive"

This OpenCloseDriveEject tool was created based on user request, here I have put my stuff into it and equipped it with a few extras. According to personal needs and the ideas of the users of this Windows tool is still extended. Have fun with this nice Windows tool, which will spare you a few simple steps under Windows. With under 300 KB a very small software, which is not wasting space on the hard disk, can be deleted at any time.

Here's how you can use it easily. That's it!
Here in the example with zoom factor 125% and Dark Theme on Windows 10

Just click on the icon in the info area of ​​the Windows taskbar:







"Safely Remove Tool" installation


OpenCloseDriveEject.exe. You do not necessarily have to install the OpenCloseDriveEject tool, you can simply place OpenCloseDriveEject on the desktop and immediately benefit from the advantages; it can be used immediately on all Windows operating systems. Thus it can be used under Windows as a portable application.


New in version 1.41 // 15 May 2020
• New language: Italian
• Improvements in eject drive detection

• Many thanks to bovirus for the Italian language

The software is suitable for all Windows operating systems, x64 and x32!

The software OpenCloseDriveEject is also free for commercial use and free of charge.




Click here to visit the author's website.
Continue below to download this file.