Always scroll to the bottom of the page for the download link.
We don't believe in fake/misleading download buttons and tricks. The link is always in the same place.
---

Kid3 - Audio Tagger v3.9.1

If you want to easily tag multiple MP3, Ogg/Vorbis, FLAC, Monkey's Audio, MPC, MP4/AAC, MP2, Opus, Speex, TrueAudio, WavPack, WMA/WMV, WAV and AIFF files (e.g. full albums) without typing the same information again and again and have control over both ID3v1 and ID3v2 tags, then Kid3 is the program you are looking for.

Kid3 can convert between ID3v1 and ID3v2, set the tags of multiple files, generate tags from file names or vice versa and import from freedb, MusicBrainz and Disco.

Features
With Kid3 you can:


Edit ID3v1.1 tags

Edit all ID3v2.3 and ID3v2.4 frames

Convert between ID3v1.1, ID3v2.3 and ID3v2.4 tags

Edit tags in MP3, Ogg/Vorbis, DSF, FLAC, Monkey's Audio, MPC, MP4/AAC, MP2, Opus, Speex, TrueAudio, WavPack, WMA/WMV, WAV, AIFF files and tracker modules (MOD, S3M, IT, XM)

Edit tags of multiple files, e.g. the artist, album, year and genre of all files of an album typically have the same values and can be set together

Generate tags from filenames

Generate tags from the contents of tag fields

Generate filenames from tags

Rename and create directories from tags

Generate playlist files

Automatically convert upper and lower case and replace strings

Import from gnudb.org, MusicBrainz, Discogs, Amazon and other sources of album data

Export tags as CSV, HTML, playlists, Kover XML and in other formats

Edit synchronized lyrics and event timing codes, import and export LRC files

Automate tasks using QML/JavaScript, D-Bus or the command-line interface


Requirements
Kid3 runs under Linux (KDE or only Qt), Windows, macOS and Android and uses Qt, id3lib, libogg, libvorbis, libvorbisfile, libFLAC++, libFLAC, TagLib, Chromaprint.

Information
en: The Kid3 Handbook
ca: El manual del Kid3
de: Das Kid3 Handbuch
it: Manuale di Kid3
nl: Het handboek van Kid3
pt: O Manual do Kid3
sv: Handbok Kid3
uk: Підручник з Kid3

License
Kid3 is open source software licensed under the GNU General Public License (GPL).

Changes
15 Jan 2022 v3.9.1
Kid3 3.9.1 fixes bugs which were introduced with release 3.9.0, notably a crash which occurs when tags are displayed in the file list. Also problems with the new formatting of folder and playlist file names are solved. Other fixes concern users of MP4 files and of the Android version.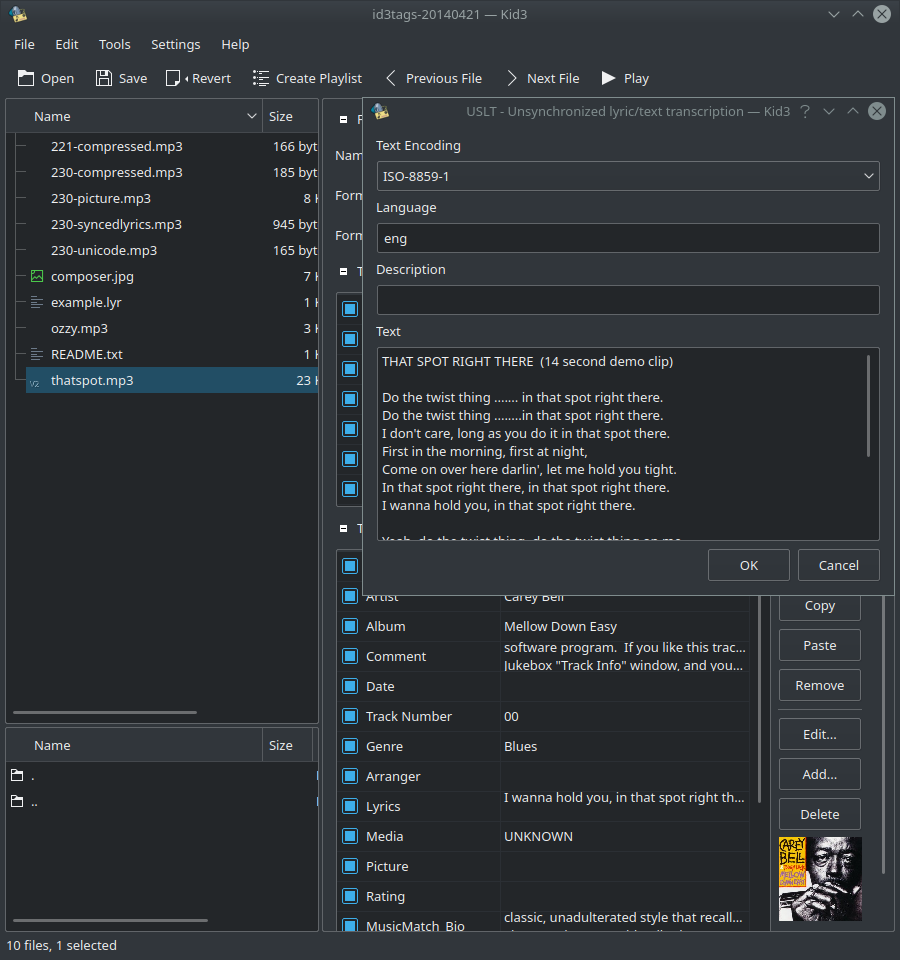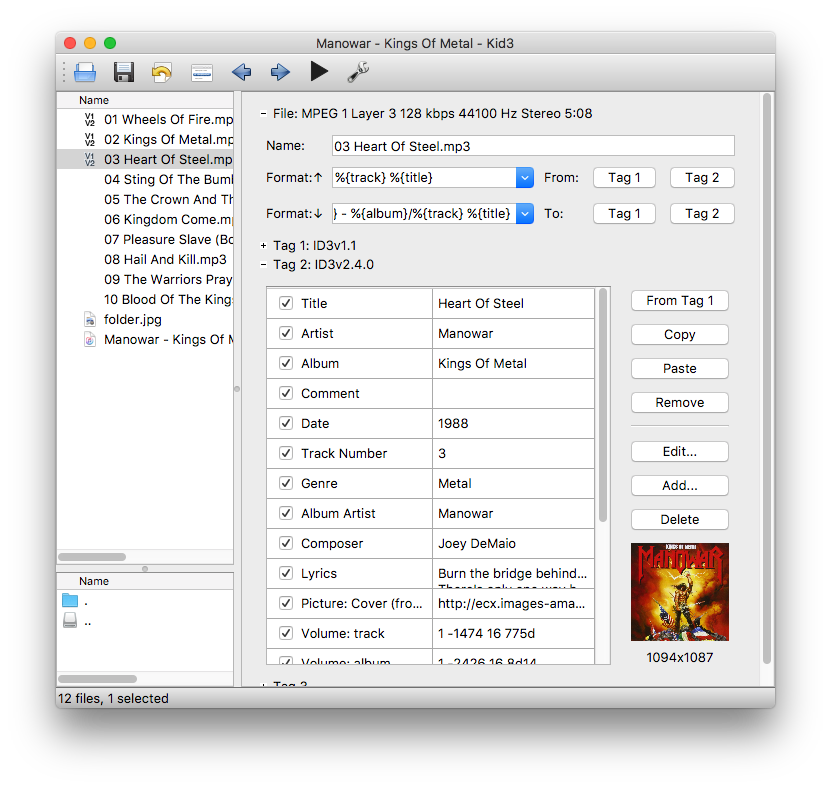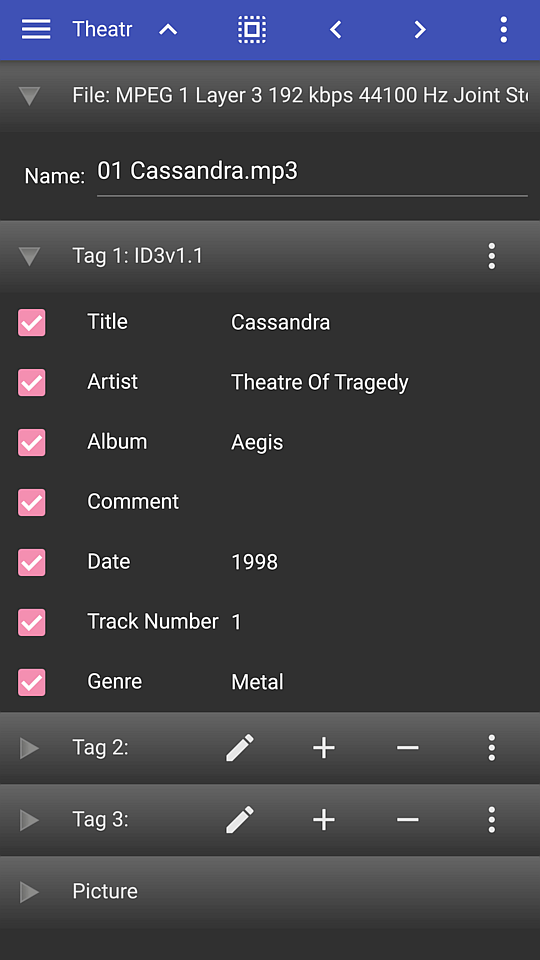 This download is for the Windows 64bit version. All other download assets are below:



MacOS:
kid3-3.9.1-Darwin-Qt6-Mojave.dmg
kid3-3.9.1-Darwin.dmg

Linux:
kid3-3.9.1-Linux.tgz
kid3-3.9.1.tar.gz

Android:
kid3-3.9.1-android.apk





Click here to visit the author's website.
Continue below to download this file.