Always scroll to the bottom of the page for the download link.
We don't believe in fake/misleading download buttons and tricks. The link is always in the same place.
---

HeidiSQL v11.0 32bit

HeidiSQL is free software, and has the aim to be easy to learn. "Heidi" lets you see and edit data and structures from computers running one of the database systems MariaDB, MySQL, Microsoft SQL or PostgreSQL. Invented in 2002 by Ansgar, with a development peak between 2009 and 2013, HeidiSQL belongs to the most popular tools for MariaDB and MySQL worldwide.

Features

Free for everyone, OpenSource
Connect to multiple servers in one window
Connect to servers via commandline
Connect via SSH tunnel, or pass SSL settings
Create and edit tables, views, stored routines, triggers and scheduled events.
Generate nice SQL-exports, compress these afterwards, or put them on the clipboard.
Export from one server/database directly to another server/database
Manage user-privileges
Import text-files
Export table rows as CSV, HTML, XML, SQL, LaTeX, Wiki Markup and PHP Array
Browse and edit table-data using a comfortable grid
Bulk edit tables (move to db, change engine, collation etc.)
Batch-insert ascii or binary files into tables
Write queries with customizable syntax-highlighting and code-completion
Pretty reformat disordered SQL
Monitor and kill client-processes
Find specific text in all tables of all databases of one server
Optimize and repair tables in a batch manner
Launch a parallel mysql.exe command line window using your current connection settings
And much more

HeidiSQL 11.0 released
New features and enhancements in this version:

Support connecting to SQLite database files
drop schema support for PostgreSQL
support foreign keys in PostgreSQL
support foreign keys in MS SQL
read-only mode for grid cell editors, if underlying query or table does not allow updates
support scram-sha-256 authentication on PostgreSQL
enhanced readability of release notes
enhanced readability of help links with dark themes
support column comments of PostgreSQL
support disabling "Full table status" on PostgreSQL
new filter edit box on session manager, for filtering sessions using regular expressions
close query tabs via middle mouse click
trim text in various text inputs of session manager, to prevent leading and trailing spaces after pasting
sort collation drop down on "Bulk table editor" alphabetically
place icons on the 3 new/save/delete buttons on the session manager, to make them more noticeable
performance: use first 1000 rows only for calculating the CSV export size, and interpolate the rest.
widen buttons on search/replace dialog by one quarter, so translations fit better on them
use default library of given network type in command line receiver
refreshed application icon

Bugfixes:

fix crashes when restoring tabs: expect no UTF-8 BOM
Procedure body changes invisible when parameter tab is active
last active session was no longer scrolled into view area of session manager
crash when mouse moves over data grid with broken connection
clicking too fast on session folder opens connection instead of collapse
passphrase input for SSH tunnel now masked
detect columns from PG table keys only in current schema, do not mix these with columns from an equally named table in a different schema
fix crash when accessing data from data tab on a disconnected session
fix crash when active main tab changes and data grid is disabled (due to disconnect)
make copy/cut safer against harmless crashes, and show occurring error messages in log panel
MSSQL: Remove surrounding parentheses from default value
fix state of checkboxes on the session manager's Advanced tab
fix crash by click on "Add column" in table editor, when columns list has a minimum height

Third party libraries and components:

update libmariadb.dll to v3.1.7
update libpq.dll to v10.0.11
introduce additional libpq.dll v12.0.1
update InnoSetup compiler to v6.0.3
update VirtualTree component to v7.3
introduce sqlite3.dll v3.30.1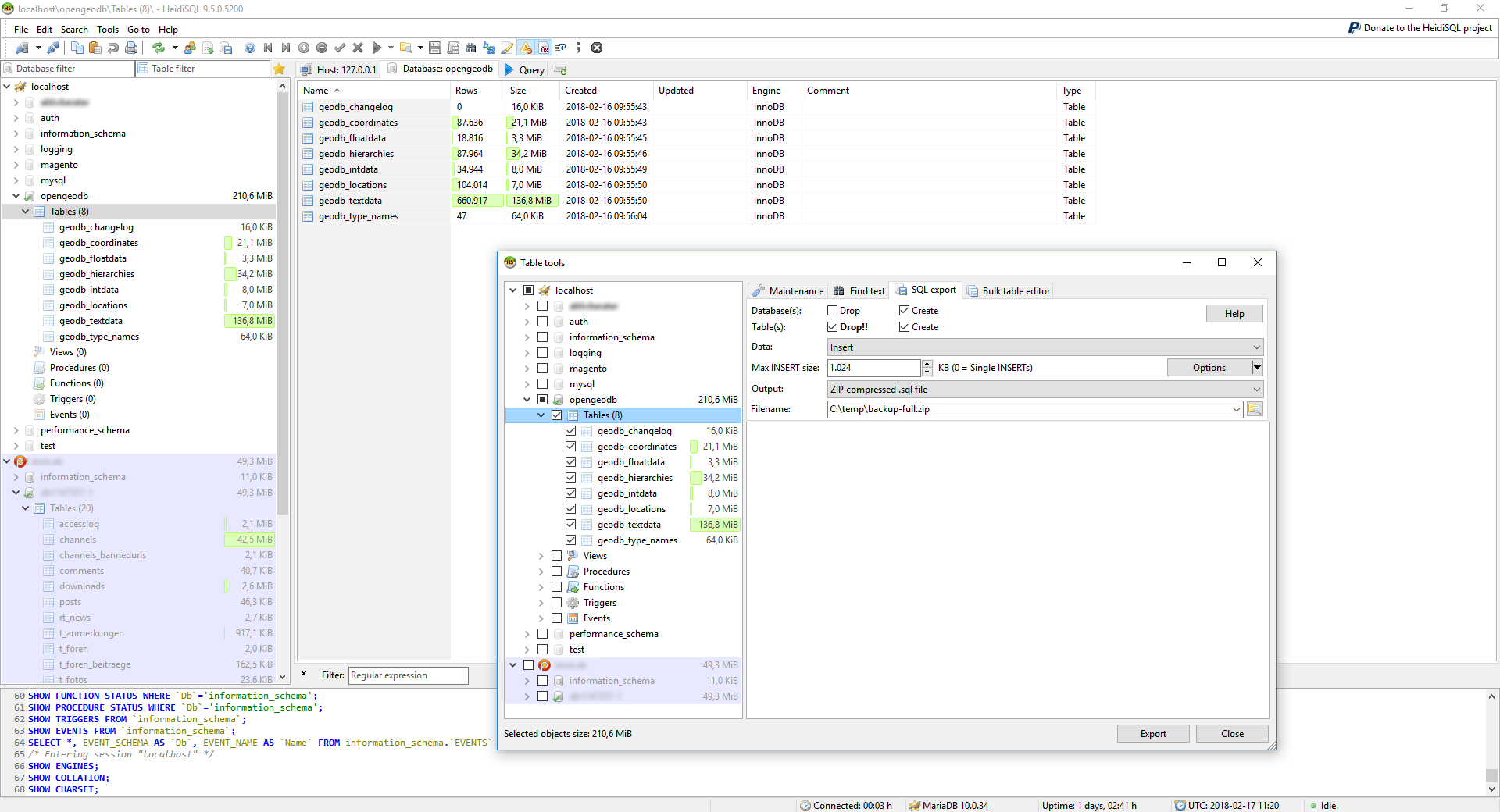 The very first dialog which asks for hostname and credentials. The list of wanted databases can be limited and sorted alphabetically.







Establishing connections to MariaDB/MySQL servers through an SSH tunnel, using plink.exe.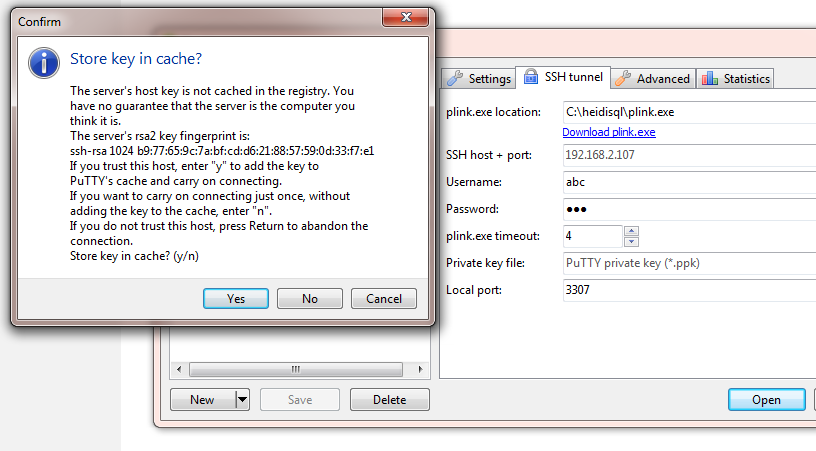 Administer MariaDB/MySQL accounts as easily as a toy. A pulldown showing assigned database objects reveals everything.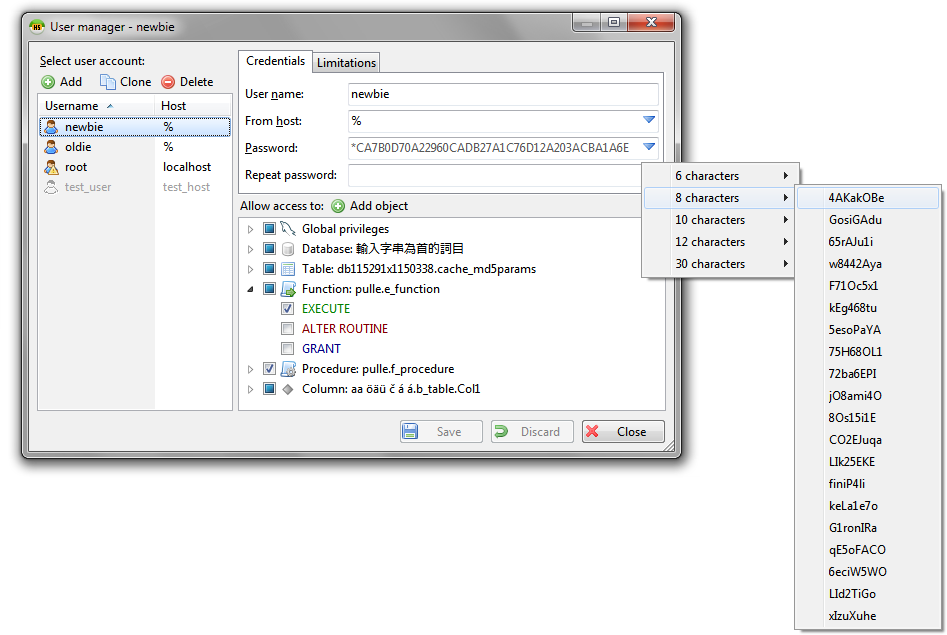 The list of server variables. Most of them are editable by doubleclick. Filterable.






Editable server variables, either for session or global scope.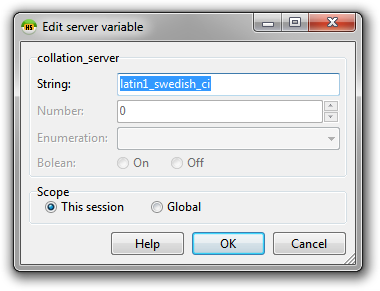 The list of currently running processes. Used to analyze executed SQL and to kill bad processes.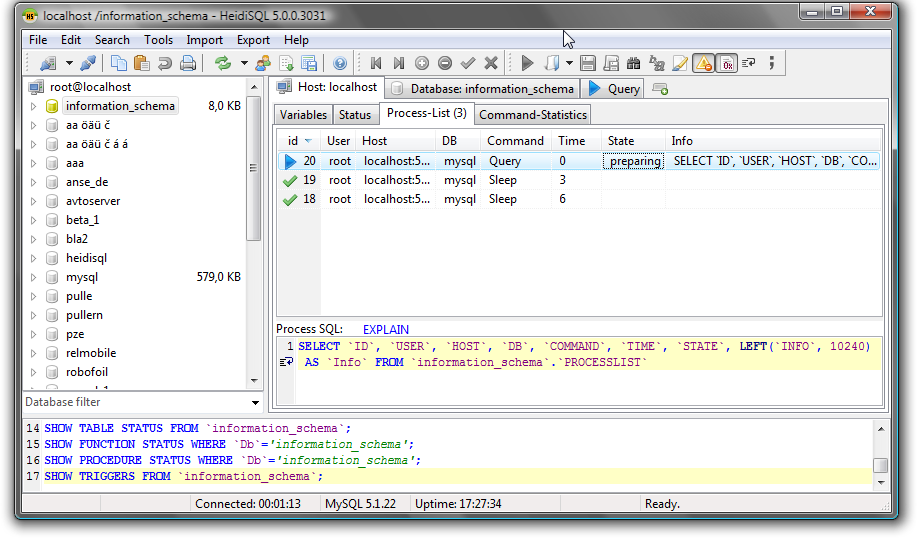 Graphical statistics on the amount of all different SQL commands.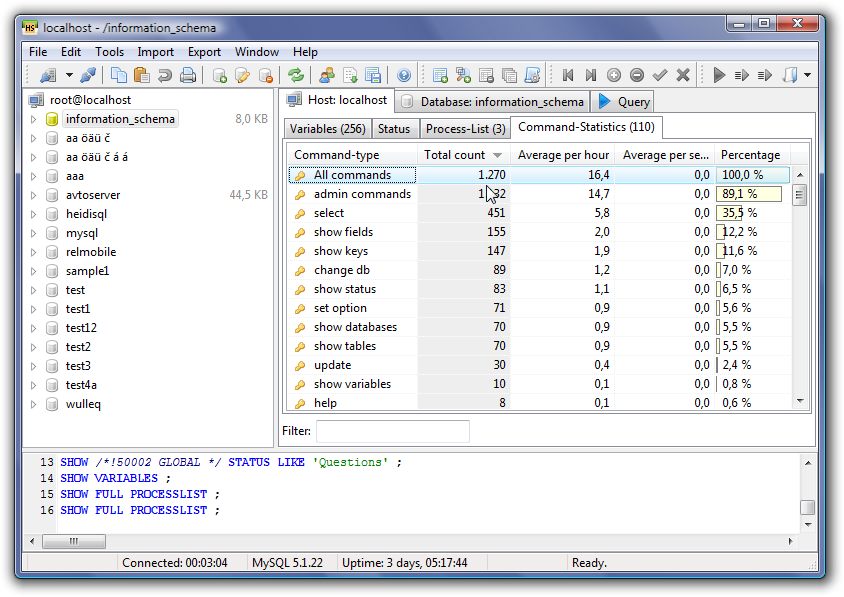 Details about tables and views. Switchable column headers. Used to rename, delete, empty and modify tables.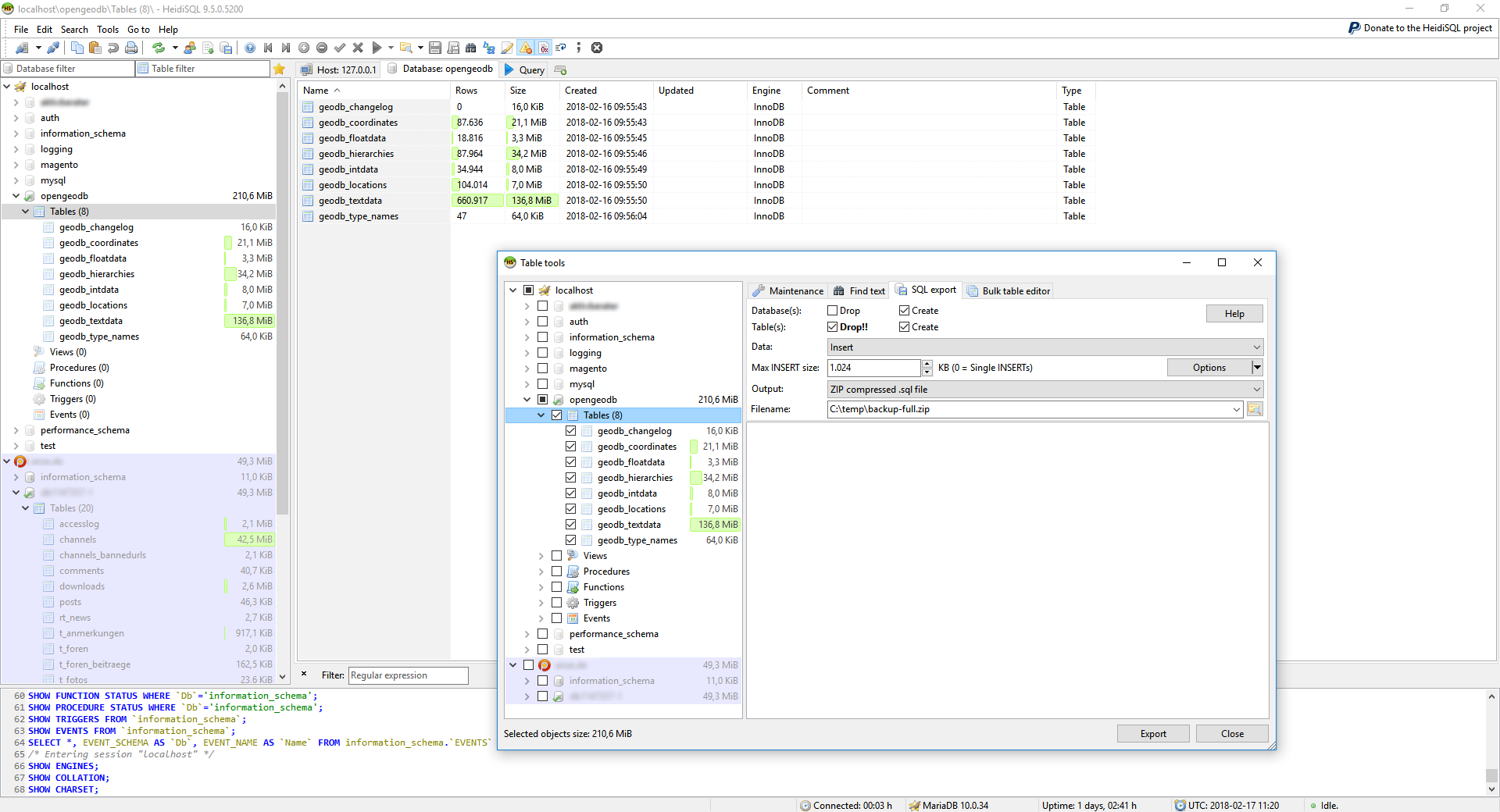 Create, modify databases and assign a character set + collation.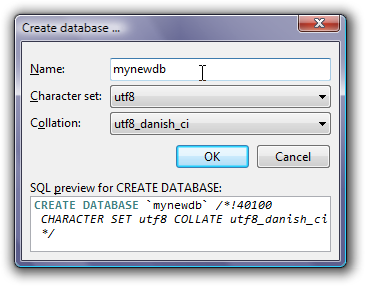 Visually create and edit tables, without hiding the CREATE/ALTER TABLE query.






Create and modify VIEWs on newer MariaDB/MySQL servers.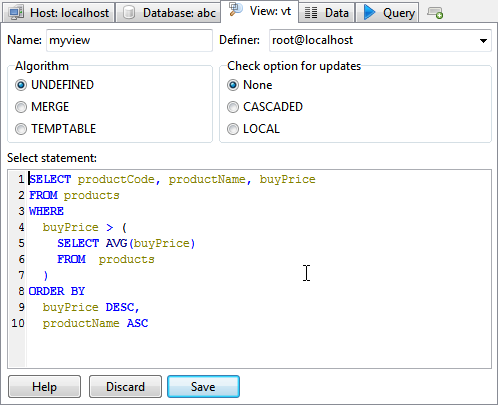 Create and edit stored procedures and functions.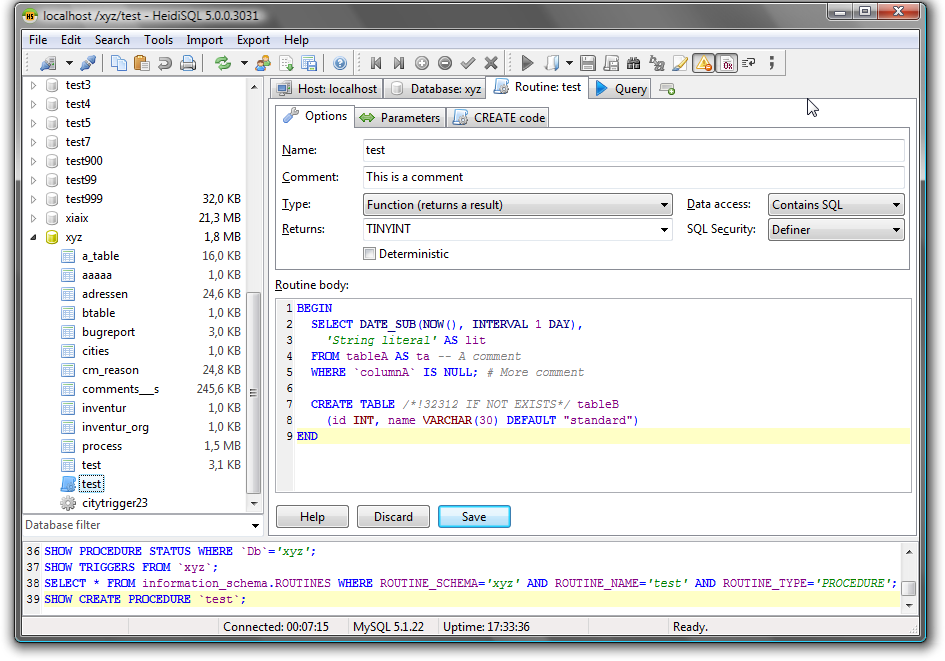 Create and modify TRIGGERs on newer MariaDB/MySQL servers.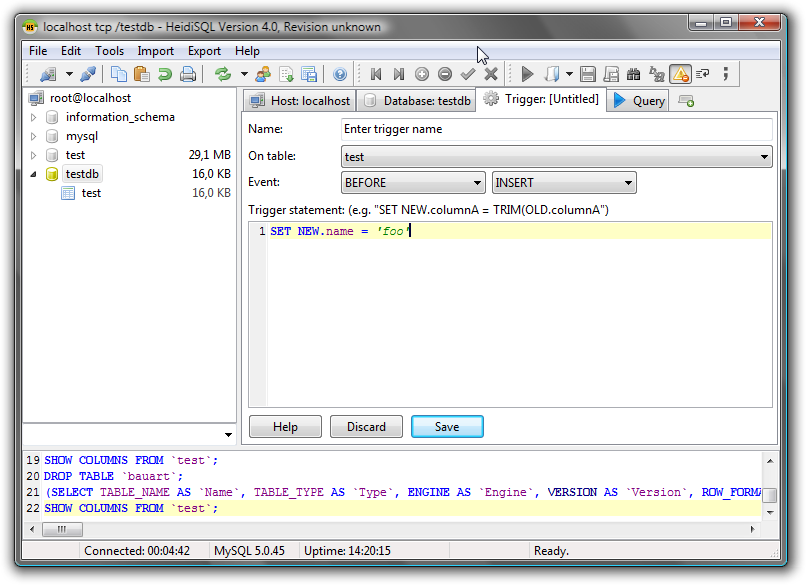 Create and modify scheduled scripts (EVENTs).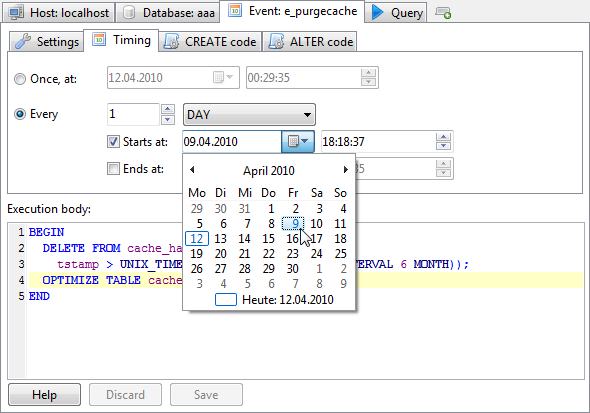 Mark tables and whatever as favorites.







International character support in editors, database tree, log panel ...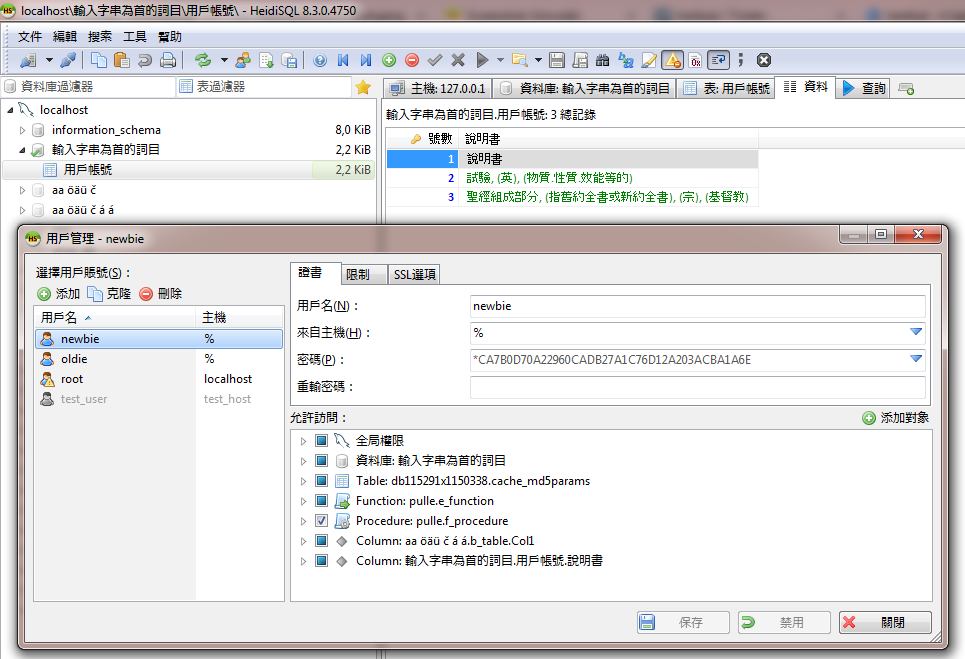 ... and within grids.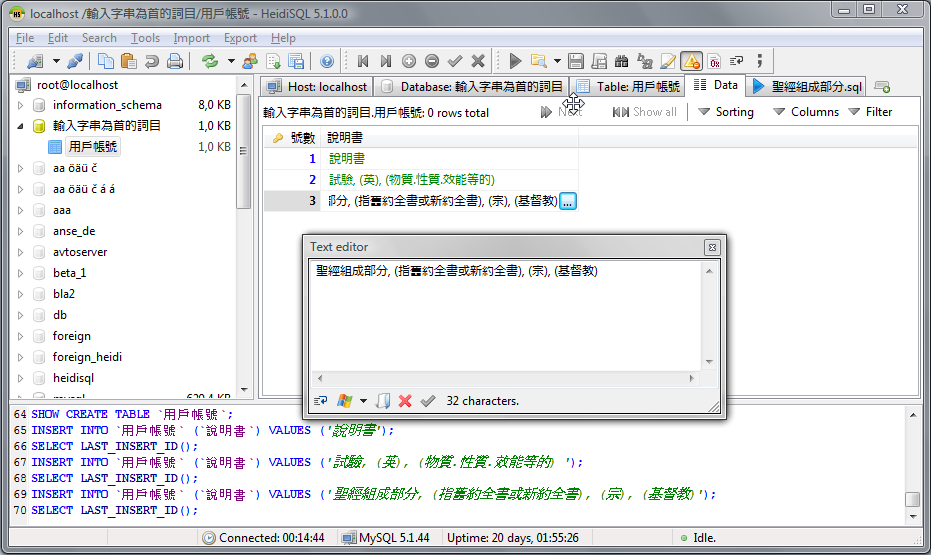 Create exact copies of an existing table, within the same database or in another one.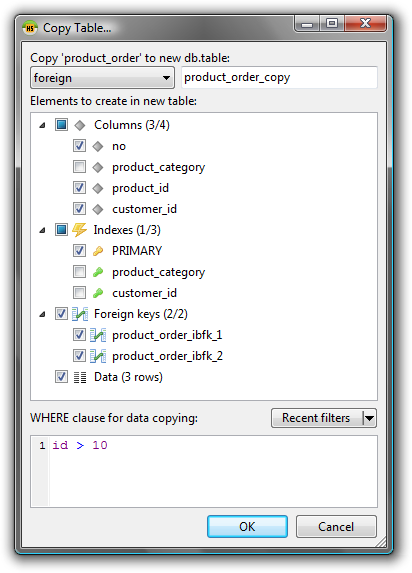 Table contents editable in a grid. Switchable columns and sorting orders. Various filtering mechanisms.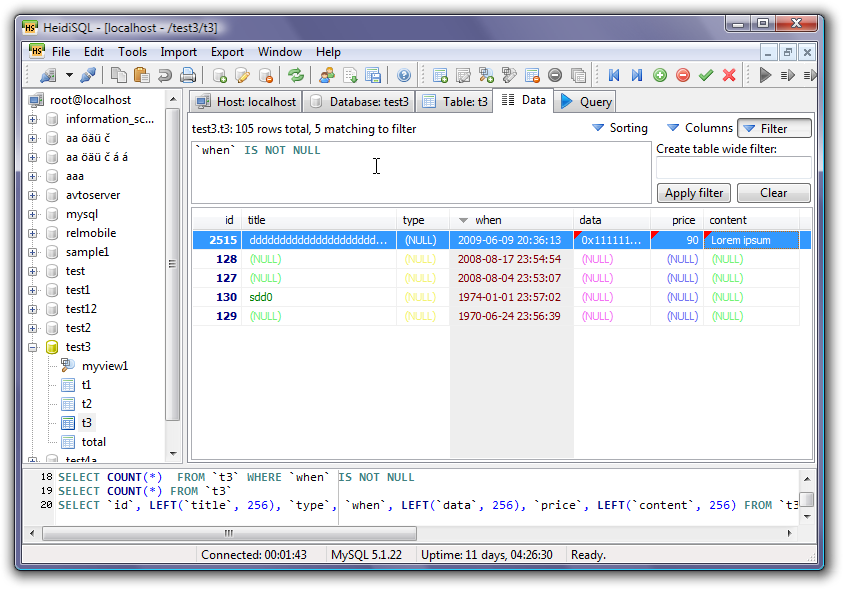 BLOBs can contain various file formats. HeidiSQL displays JPEG, PNG, GIF, BMP, PSD and some more image formats in a quick preview box.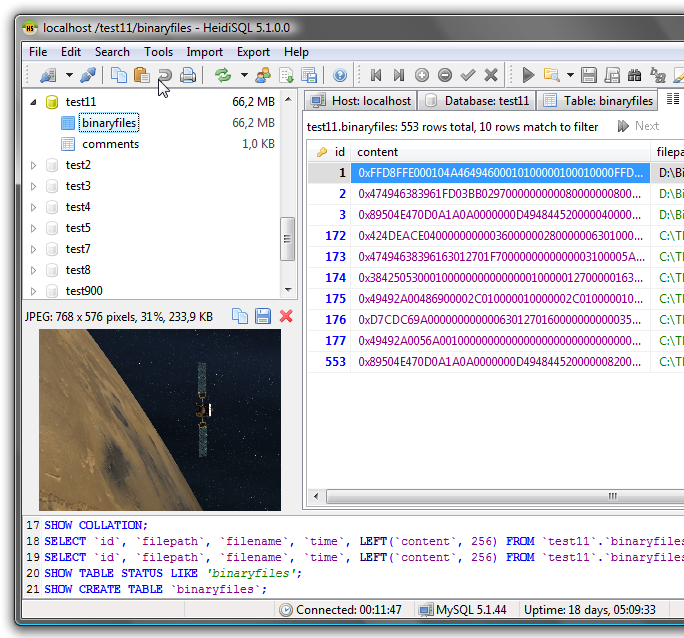 Grid editing using various editors for text, hex/binary, enum, set, date/time columns.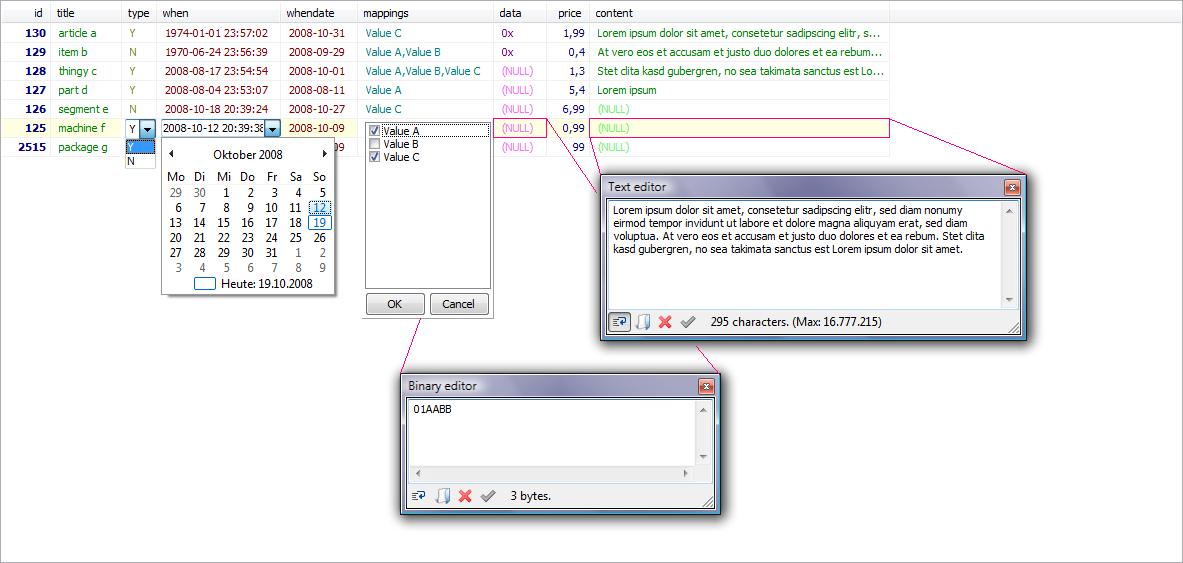 Run a batch with multiple SQL queries and get one tab per query.






SQL query editing: Customizable syntax highlighting, snippet files, completion proposal pulldown and editable results.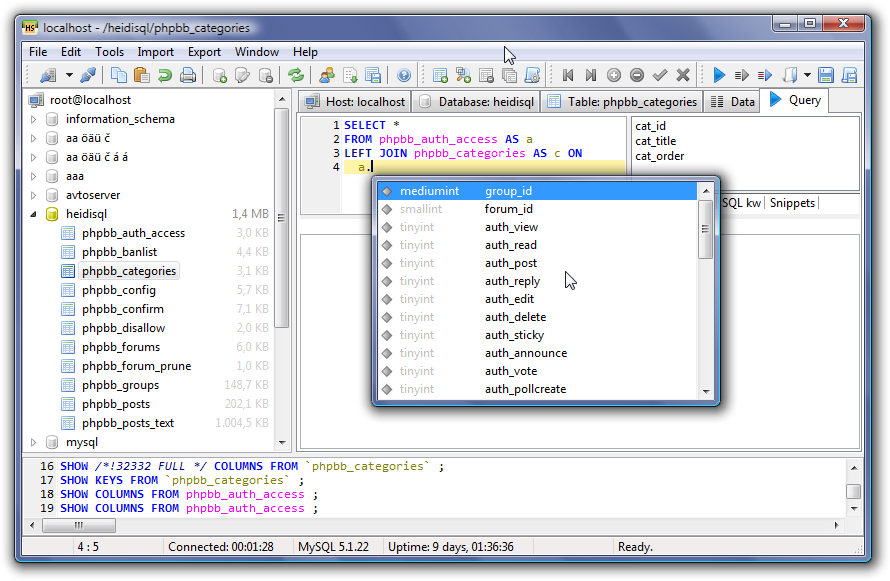 Find and replace text in query editors, supporting regular expressions with callbacks. This dialog also supports searching and replacing in table rows!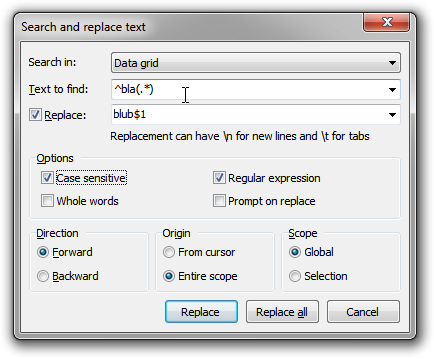 When SQL files are bigger, HeidiSQL asks you to run these without loading them as a whole into the query editor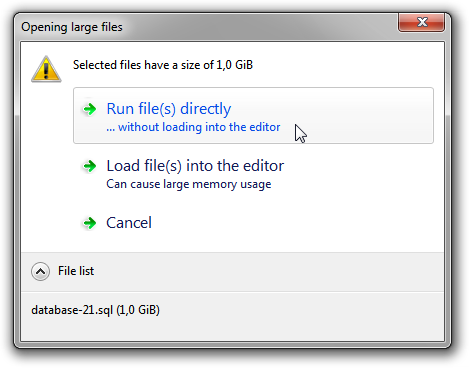 Importing a large file displays a progress dialog with nice statistics details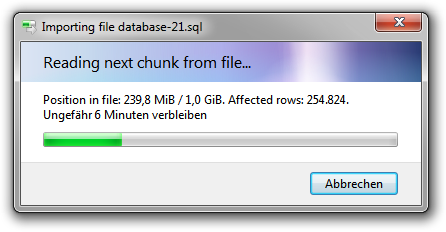 Dump selected databases and data into a single dump file, one file per table, directly to another host, to clipboard or to another database on the same server. Nearly as fast as mysqldump!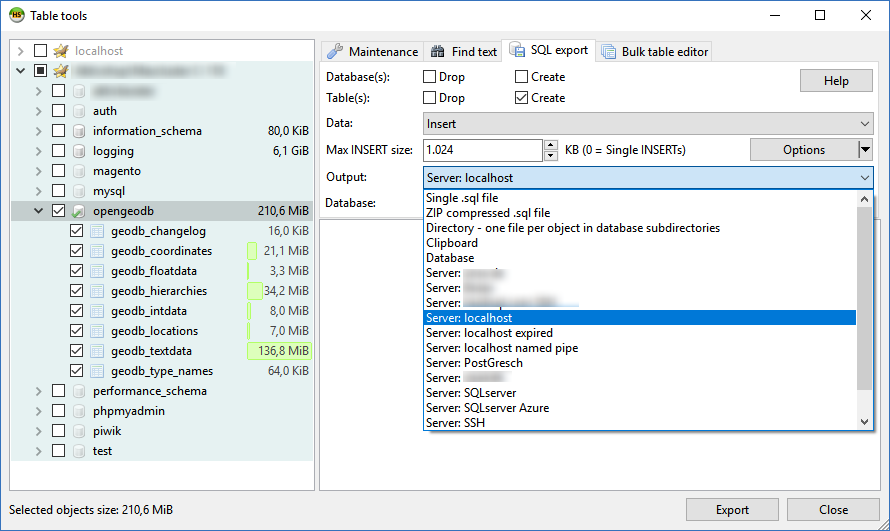 Save the result of any data grid to CSV, HTML, XML, LaTeX, Wiki markup or PHP files.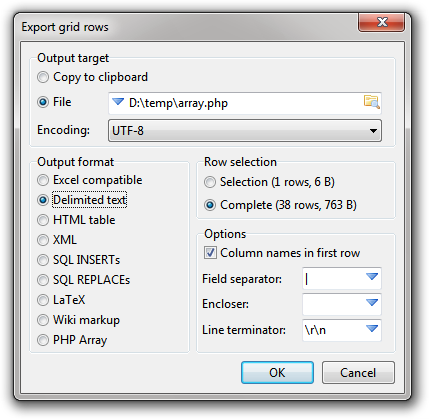 Import CSV or delimited files produced by spread sheet applications directly into a MariaDB/MySQL table. Users which are not allowed to execute LOAD DATA can activate a client-side parser.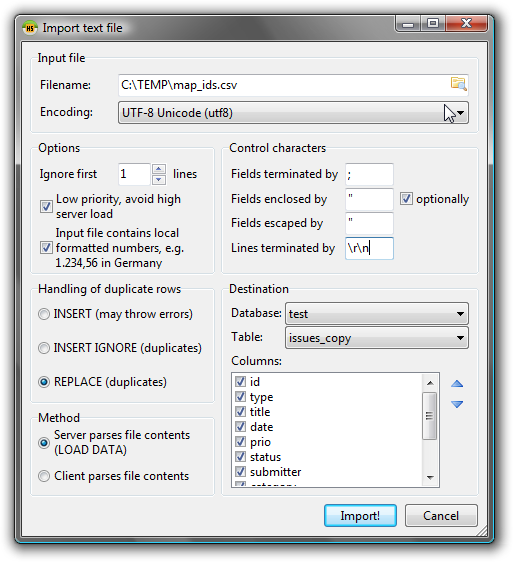 Read lots of files per batch into BLOBs, using macros for neighbour fields. Binary safe.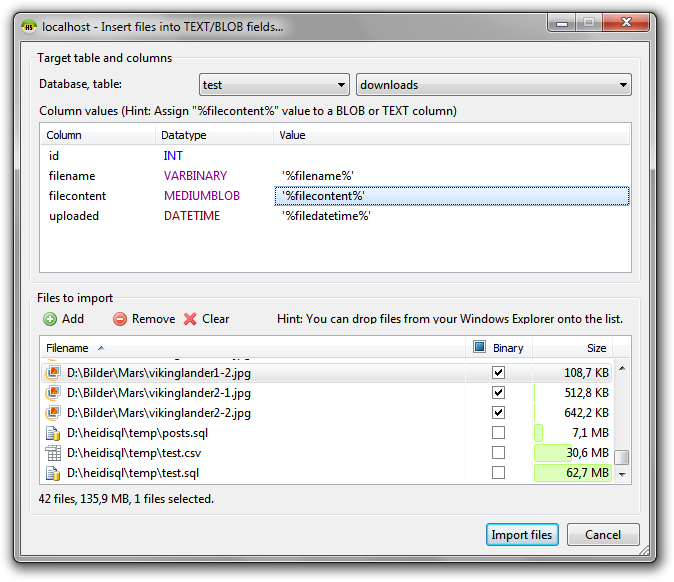 Optimize, check, analyze and repair tables by a few mouseclicks.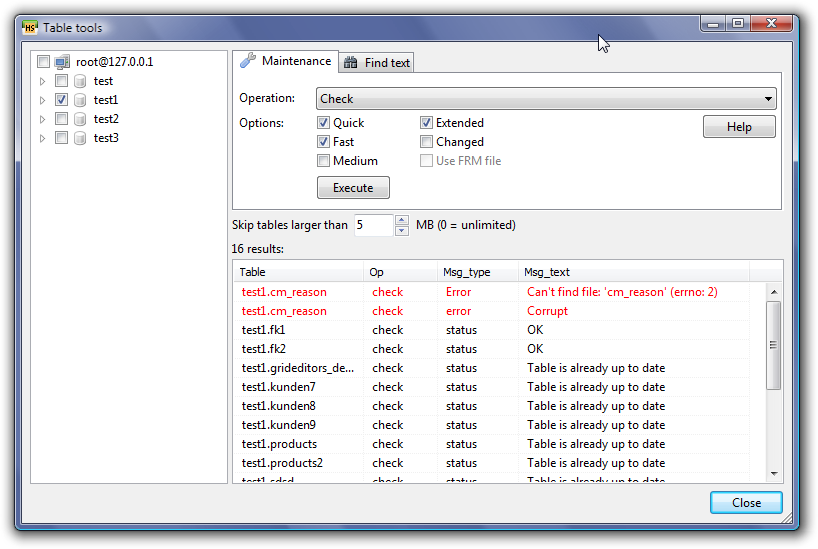 Find text in a table, a database or even on the whole server.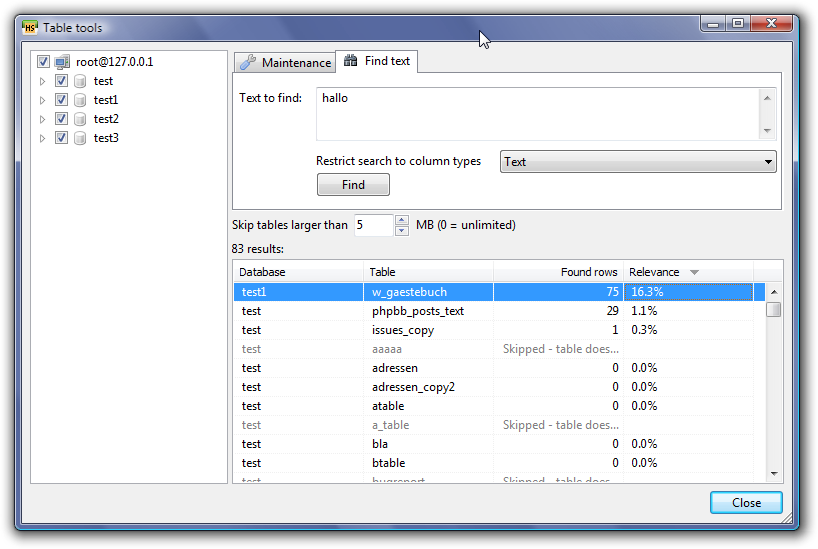 Send any list of tables, columns, variables etc. to your printer. Switchable columns.







Browse through the topics in MariaDB's built in help system.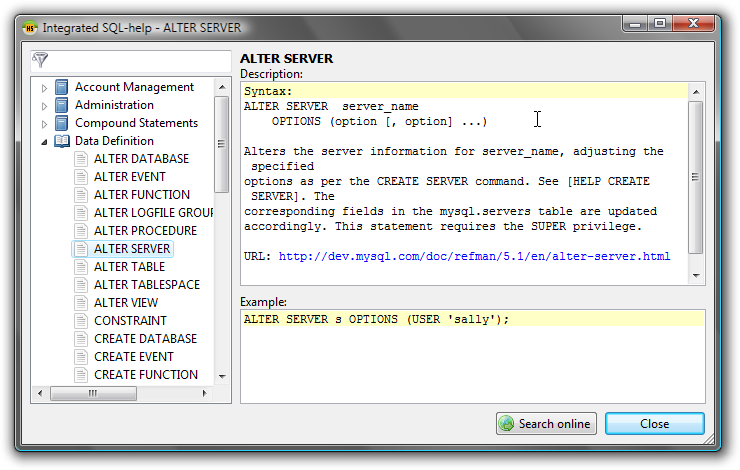 Keeps your HeidiSQL version up to date with the latest features and bugfixes. Can be invoked automatically by option.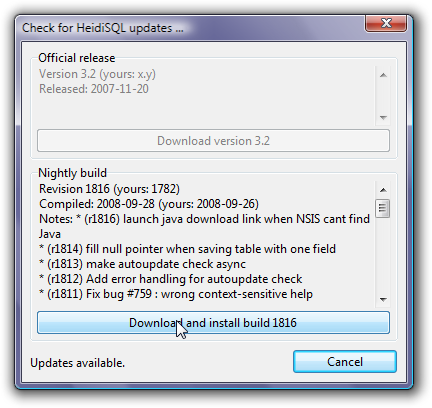 Click here to visit the author's website.
Continue below to download this file.