Always scroll to the bottom of the page to download files on OlderGeeks.com.
We don't believe in fake/misleading download buttons and tricks.

PopMan v1.3.6

What is PopMan?

PopMan is a POP3 and IMAP4 manager. It can be used to list all e-mails received on your incoming mail server, without having to load these mails completely. Unwanted e-mails can be deleted directly from the server.

You can use PopMan to check your e-mail accounts in the background. When new e-mails arrive, you will be notified.

To show you whether e-mails contain useful information, or whether they are just spam, PopMan provides a preview functionality. You can use this preview pane to read the text-based content of your e-mails – whether they are plain text or HTML.

In contrast to most e-mail programs, reading mail with PopMan is absolutely secure. There is no threat of executing dangerous code or being infected with viruses.

You can direct PopMan to use local storage (settings are saved to an *.ini file), and save it to a floppy disk or USB memory stick. This means you can check your mail on any computer with internet access.
Why use PopMan?

PopMan offers you features that are missing in most e-mail clients:

List e-mails waiting on your server
See the e-mails waiting on your incoming mail server and decide whether you want to download them to your computer.

Delete unwanted e-mails
Unwanted e-mails (mass mailing and other spam) can be deleted directly from the server, without having to download them at first. You can define rules to automatically delete e-mails based on their content.

Check e-mail accounts in the background
You can have PopMan run in the background and check your accounts at regular intervals. When new mail arrives, you will be notified immediately.

Secure viewing of e-mail messages
You can examine the content of your e-mails without the danger of potential viruses, ActiveX controls, or JavaScript code. HTML-formatted messages are not interpreted or executed - PopMan simply extracts and displays the text with information.

Selective downloading of e-mails
You can download any e-mail you choose without depending upon other e-mail clients.


The main PopMan window with preview pane and tab view (Default theme):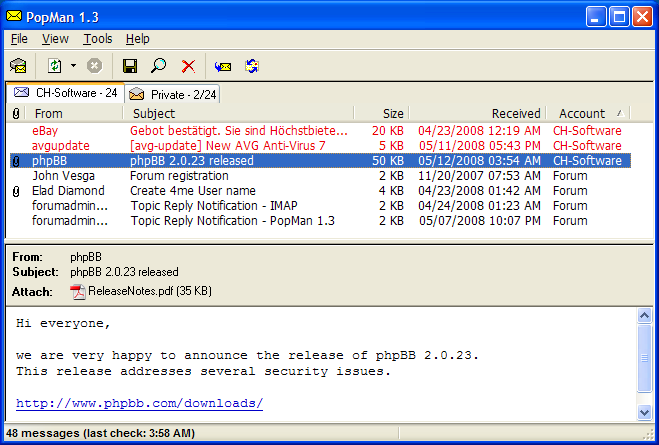 The main PopMan window with preview pane and tab view (Nuvola theme):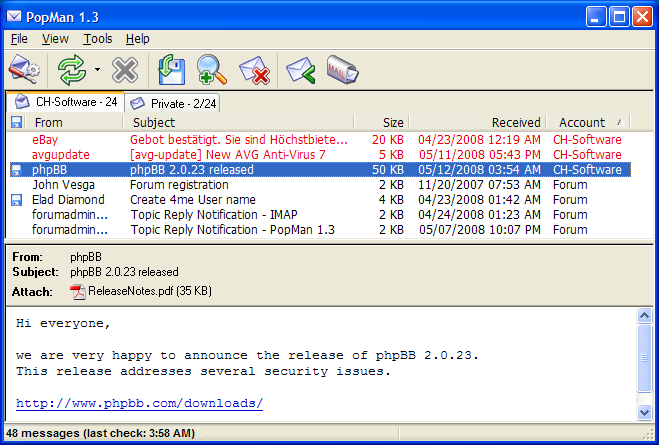 The Message Window displaying the safe content of an HTML-formatted e-mail (including the link targets via tooltip):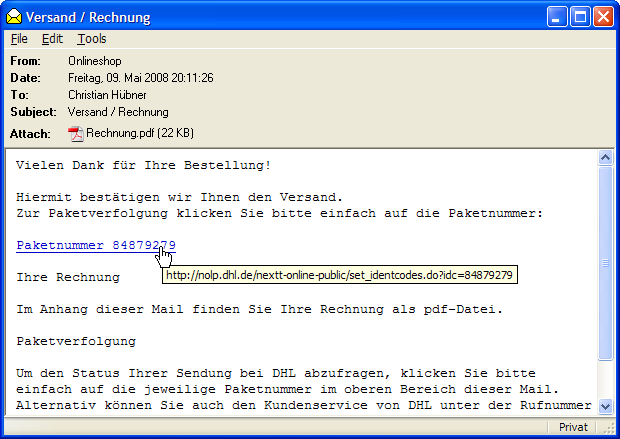 The options dialog:







The new mail notification window. The tray icon shows the number of new messages for each account: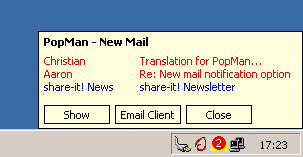 PopMan provides multi-language support and is available in 23 languages: English, Chinese, Chinese Traditional, Croatian, Czech, Danish, Dutch, Estonian, French, German, Greek, Hungarian, Italian, Japanese, Lithuanian, Norwegian, Polish, Portuguese, Russian, Slovak, Spanish, Swedish, Turkish and Ukrainian. If your language is not yet available, please consider translating PopMan yourself: Just save the Translation.lng file to your hard disk and rename it to your language name (the English name!). Now open this file with a text editor and translate all strings. See How translation files work for details.

1.3.6 2019-04-28

(-) Fixed decoding of attachments
(*) Improved reliability of opening attachments in PopMan

System Requirements: Win98 / WinME / WinNT / Win2K / WinXP / Vista / Win7 / Win8 / Win10



Continue below to download this file.