Always scroll to the bottom of the page to download files on OlderGeeks.com.
We don't believe in fake/misleading download buttons and tricks.

SMF – Search my Files v12
The fastest duplicate files finder and a multi-dimensional

– file searcher,
– file copier / mover,
– file deleter / eraser,
– and duplicate previewer…

It has excessive search filter capabilities and a SQLite driven result reporting tool, with which you can sub-filter the results according to your needs.

With this combination the search possibilities are nearly unlimited.

Search for files by last modified date / keyword / file attribute
Search for pictures of a certain filesize / dimension / EXIF info
Search for MP3 by length / author / bitrate
Search for duplicate pictures of a certain filesize / dimension
etc., etc.

Furthermore SMF enables you to open / copy / move / delete / erase any file found.

Initiated searches can be performed in the background while minimizing SMF to the tray.

SMF – Search my Files features are

A good looking GUI,
Search files by location,
Search files and / or folders,
Poll Filenames and Locations in Long and Short (8.3) format,
Poll File Extensions,
Poll File Times (modified, created, accessed),
Poll Filesize,
Poll File Attributes,
Poll File Extended Attributes,
Filter by Extensions,
Filter by Attribute,
Filter by Filesize,
Filter by Filetime,
Free Filter by usage of RegEx.
Extract true file-type (using TrIDLib.dll),
Extract any info from media files (using MediaInfo.dll),
Calculate various hashes (md5, crc32, sha1),
Extract and analyze ADS Alternative File Streams from any file,
Free Filter by usage of RegEx.
Results can be saved and loaded,
Extensive SQLite driven Reporting Tool,
allows free querying,
any selection of files can be copied or moved,
deleted or erased.
md5 driven duplicate file detection is implemented,
simplified md5 calculation to achieve superior detection speed,
plus the file preview functionality of the report (jpg, pdf, mpg…, all previews supported by Windows Explorer),

Changelog

v11 > v12 – 2018, Sep 16
Updated – Codebase to AutoIt v3.3.14.5
Updated – SQLite Dll to 3.25.0
Updated – MediaInfo Dll to 18.08.01
Updated – TrID Definitions to version 2018 Sep 14
Updated – Further speed improvements
Updated – Lots of other small bug fixes and style changes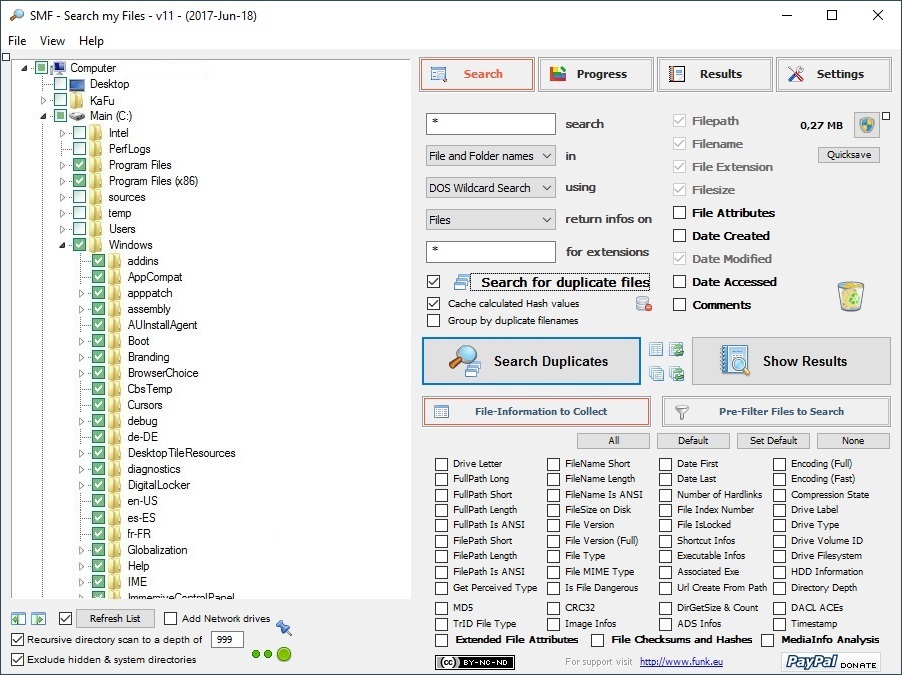 Continue below to download this file.