Always scroll to the bottom of the page to download files on OlderGeeks.com.
We don't believe in fake/misleading download buttons and tricks.

Chatty 0.9
Chatty is a Twitch chat client for everyone who appreciates a dedicated desktop application (similiar to a classic IRC client), but doesn't want to miss out on Twitch-specific features.
Features

General Features
Nick colors, emoticons, badges, chat info, stream status and viewercount display
With FrankerFaceZ-Support (Emoticons & Custom Mod Icons) and BetterTTV emotes (no Personal Emotes though), including unified bot badge
Connect with OAuth (your Twitch account password is never entered in the application)
Basic Whisper Support (no history)
Chatlog, clickable links, TAB Completion (nicks, emotes, commands, custom), input history
Message Highlighting and Ignoring
SpeedRunsLive Race Viewer
Viewer-centered Features
Get notified when channels you follow go live and view a list of live streams
Follow and unfollow channels directly out of Chatty
View and insert your subemotes, channel-specific emotes, all global emotes and Twitch emotes you favorited
Easily open streams in your browser, or run Livestreamer (or the more up-to-date Streamlink) out of Chatty
Join several channels, popout individual channels to view them side-by-side
Streamer/Moderation-centered Features
Set your stream title/game/communities (using presets/favorites) and run commercials
Add the current stream time to a file via hotkey or mod command to assist in making Stream Highlights
View a list with the 100 most recent followers/subscribers of your channel
Graph of how your viewercount developed over time this session
Click on nick in chat to open customizable moderation dialog, showing the last messages of this user (no banning the wrong user) and basic account info
AutoMod support to approve/deny filtered messages
Customization
Choose your font, customize colors, timestamp, how bans are shown, joins/parts and more
Customize usercolors based on user-type (mod, sub, turbo..), specific usernames or colors (replace colors)
Customize usericons (badges), replace default ones or add your own for specific users
Disable specific emotes, replace emotes with your own locally, change scaling all emotes in chat or the Emote Dialog
Create custom commands and add them to context menus or the user dialog
Add or remove regular, app-wide or global hotkeys according to your needs
Extensive settings dialog to adjust the features to your needs

When you start Chatty the Connect Dialog should come up. Click Create login.. and Request login data and follow the instructions to authorize Chatty to connect to chat for you.

Known issues

Sometimes users aren't correctly sorted in the userlist
Windows: Dragging the upper edge to maximize the window vertically doesn't resize the contents of the window. This may be a Java Bug that I cannot fix. Workaround: Try double-clicking the upper edge instead of dragging it.


Changes:
0.9 (2017-12-26) Latest Version

### Twitch Updates
- Added /raid command and display of incoming raids, joining raids doesn't work
- Added support for gifted sub messages

### Look / GUI
- Added more Look and Feels, including dark themes
- Added custom presets to color settings
- Added userlist font setting
- Improved organization and help in Settings Dialog a bit
- Updated Chatty app icons
- Added feature to customize message color based on rules (like Highlighting,
except it only colors messages)
- Updated help

### Emoticons / Emoji
- Load emoticon metadata only as needed to improve memory usage
- Updated source for subscriber emoticon metadata, fixing e.g. which channel an
emote is from, added display of emote tiers
- Improved display of information in emote context menu and emote dialog
- Grouped together sets with only one emote in Emote Dialog
- Fixed some BTTV emotes (like D:) appearing when they shouldn't
- Added Emoji TAB Completion (anything starting with ":")
- Added conversion of Emoji short code to Emoji character when entered into the
inputbox (e.g. :thinking: -> 🤔 when being sent)

### Settings
- Added -d launch argument to directly specify settings directory
- Added ability to execute program for Notifications (e.g. run native Linux
notification)
- Added ability to change spamProtection setting without restart
- Added F1 to open help to settings (instead of it being hardcoded)
- Added "log ignored messages" setting, to be able to turn that off (by default
it does log them, as before)
- Added more timestamp options to the settings (anything can be set via setting
commands anyway, but that's not very accessible)
- Improve setting commands

### Bugfixes
- Fixed bug with separators in custom context menus
- Fixed some emote code conversions
- Fixed error on "Use title only" in Admin Dialog
- Possibly fixed rare error with parsing livestreamer menu options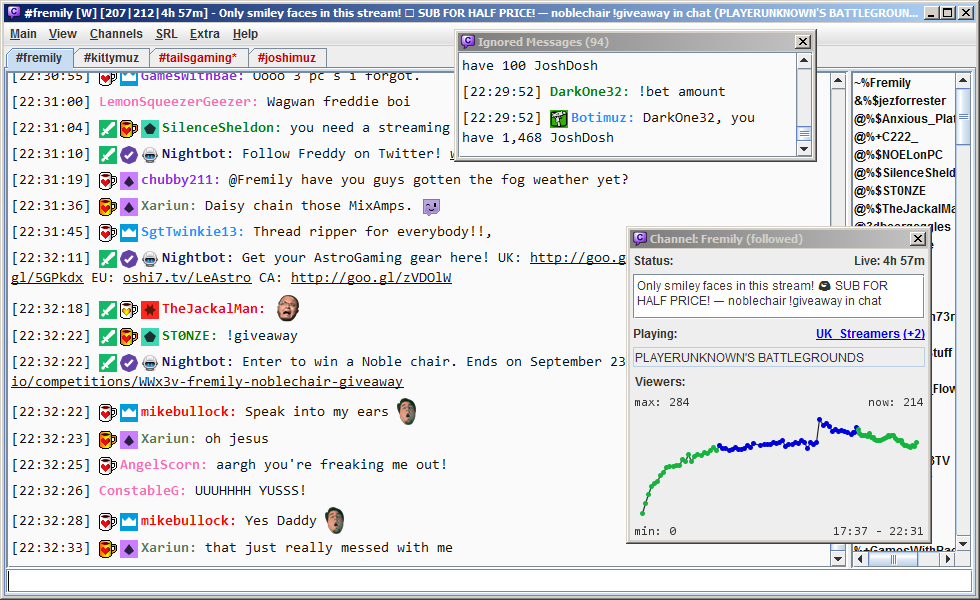 Continue below to download this file.