Always scroll to the bottom of the page for the main download link.
We don't believe in fake/misleading download buttons and tricks. The link is always in the same place.
---

Gramps v5.1.3-2

Gramps is a genealogy program for Linux, Windows, Mac, and FreeBSD that allows you to easily build and keep track of your family tree. It supports the GEDCOM standard, allows fine grained privacy controls and can generate many different types of reports (descendant trees, graphs, connection diagrams, ....)


Features

Dashboard
A dashboard to help you monitor the progress of your research. A variety of widgets (Gramplets) provide quick analysis of your data and more.

People
A list of every individual in your records featuring birth/death dates and more.

Relationships
A summary of the active personís parents, siblings, spouses and children.

Families
A list of every family group featuring parent names, relationship status and, if applicable, marriage dates.

Charts
A graphic representation of the active personís ancestry featuring photos and birth/death dates.

Events
A list of every event in your records featuring descriptions, event types, dates and places.

Places
A list of every place in your records featuring place names and location details.

Geography
An interactive map view highlighting places associated with one person, a group of people or all people in your records.
[x] MISSING icon; now used by citations...Sources
A list of all sources referenced in your records featuring authors and publication details.

Citations
A list of all citations referenced in your records featuring quality, date, volume and page.

Repositories
A list of source repositories referenced in your records featuring web addresses, physical addresses and email contact information.

Media
A list of all photos, videos and other media referenced in your records featuring thumbnail preview, media type and more.

Notes
A list of all text notes included in your records featuring note type and preview.
Work in Your Native Language
Thanks to our great international community, many contributors have helped translating Gramps into numerous languages.


This download is for the Windows 64bit version.
If you need the Windows 32bit version, download here.
If you need the MacOS version, download here.
If you need the Linux Debian version, download here.





v5.1.3
Aug 12 2020

Version 5.1.3 - a new maintenance release, has been released.

Make sure to backup before you upgrade.

Changes since v5.1.2:

Update ca, de, fi, fr, ja, pl, ru, sl, sv, uk, zh_CN translation
Events View: "Main Participants" column does not show the full list
of participants when expanded.
mac/gramps.modules: Use current Gtk release instead of Gtk-3.14.
mac/gramps.modules: Upgrade pymodules for Python 3.8 compatibility.
Fix XML export when 'Group-as" name contains XML invalid chars
Fix NarWeb: Province place-type is not displayed
Fix ManagedWindow so that new windows don't appear offscreen when
system 'screen' sizes change in part time multi-monitor setups.
Fix menus when db fails to open due to upgrade/downgrade etc.
Fix issue with attach source tool, results panel
Fix GEDCOM export; don't include ADDR when address is missing
EditPlace: Allow Coordinates containing a comma instead of a period
NarrativeWeb:
Should show patronymic in individuals.
In the individuals and in surnames pages, we should show the
complete name like defined in the display tab from the narrative web
configuration.
Fix Narrated Website Google Maps Output JS Warning SensorNotRequired
Fix incorrect link type for osm css files
Fix image size limit doesn't match tooltip
Update all translations for changes from 'Default' to 'Home' Person
Change GUI references to 'Home Person' instead of 'Default Person'
Use event attribute types in the event reference editor.
In the event reference editor, custom event attribute types should
be used rather than the default person attribute types.
Fix Verify tool bug caused by bad change in GObject introspection
Fix RemoveUnused tool for crash caused by Gtk introspection bug
Fix import test for change cause by previous change which was:
Fix GEDCOM import for bad source title when sources precede references.
Fix GEDCOM import for bad source title when sources precede references.
Fix some reports for CLI where warning message about Value not found
Fix Genealogy Tree reports for crash in CLI
Add uistate to tree views filter initialization
Fix some Python syntax errors that appear in v3.8.x
Suppress age = 0 days in events list. If the reference event date is equal
to the event date, don't show the age except if the date is estimated,
calculated, etc.
Fix Dashboard Gramplets to update during db close when not shown
Fix Windows GUI mode startup for crash with some languages
Fix dbapi to support "Abandon Changes & Quit" feature
Fix GrampsType for comparison bug with empty string as one value
Fix Date Display so that it uses LC_TIME if defined
Fix StyledText so serialize will match for style list order changes
Try to fix exceptions on ManagedWindow close
Fix Mac SQLite3 locale bug when locale contains non-ascii characters
Fix issue when Person has Same date of birth and death; gives an error.
Geography: add a popup for a bad tiles path
Fix GEDCOM export of estimated/calculated dates with modifers

A note on the AIO; A change was made to hopefully stop windows from
getting hidden behind others while active. Please report any issues in this area.

A second note for AIO; a 5.1.3-2 now includes prerequisites to allow
PlaceCoordinateGramplet to work correctly.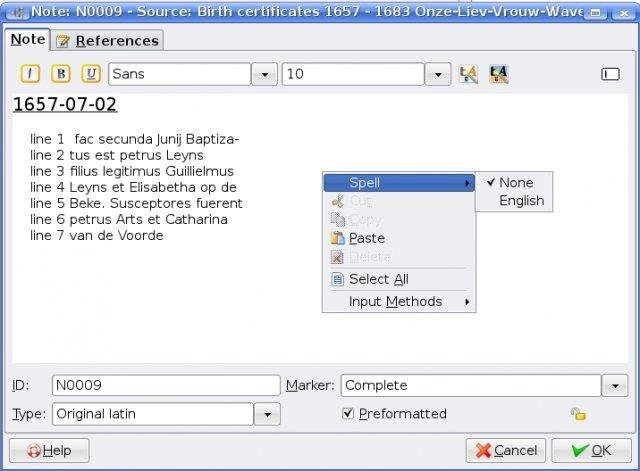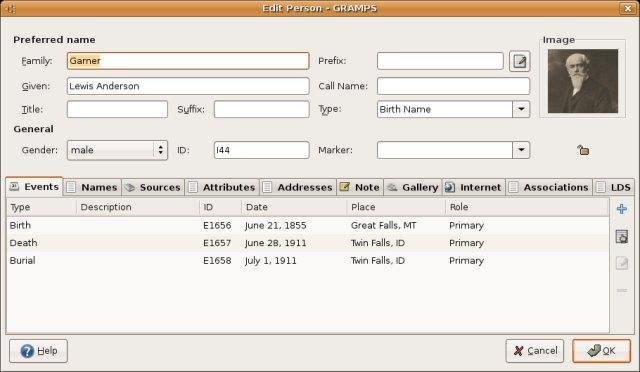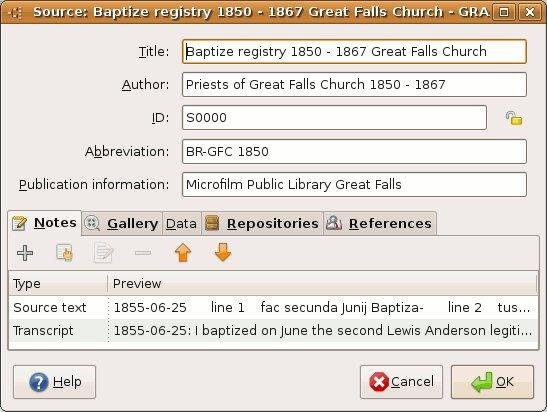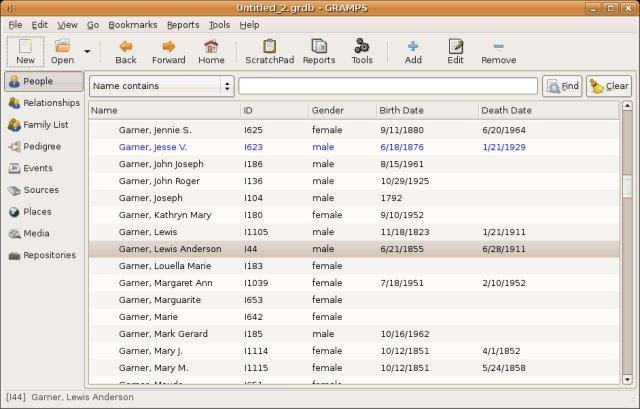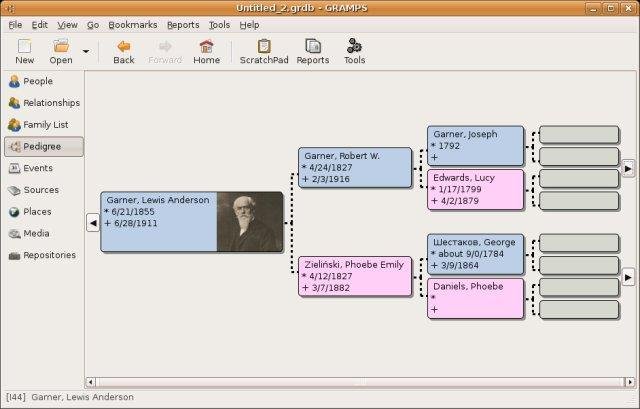 Click here to visit the author's website.
Continue below for the main download link.