FYI, always scroll to the bottom of the page to download files on OlderGeeks.com.
We don't believe in fake/misleading download buttons and tricks. The link is always in the same place.
---

Wireshark for MacOS 64bit v3.0.4

Wireshark is the world's foremost and widely-used network protocol analyzer. It lets you see what's happening on your network at a microscopic level and is the de facto (and often de jure) standard across many commercial and non-profit enterprises, government agencies, and educational institutions. Wireshark development thrives thanks to the volunteer contributions of networking experts around the globe and is the continuation of a project started by Gerald Combs in 1998.

Wireshark has a rich feature set which includes the following:

Deep inspection of hundreds of protocols, with more being added all the time
Live capture and offline analysis
Standard three-pane packet browser
Multi-platform: Runs on Windows, Linux, macOS, Solaris, FreeBSD, NetBSD, and many others
Captured network data can be browsed via a GUI, or via the TTY-mode TShark utility
The most powerful display filters in the industry
Rich VoIP analysis
Read/write many different capture file formats: tcpdump (libpcap), Pcap NG, Catapult DCT2000, Cisco Secure IDS iplog, Microsoft Network Monitor, Network General Sniffer® (compressed and uncompressed), Sniffer® Pro, and NetXray®, Network Instruments Observer, NetScreen snoop, Novell LANalyzer, RADCOM WAN/LAN Analyzer, Shomiti/Finisar Surveyor, Tektronix K12xx, Visual Networks Visual UpTime, WildPackets EtherPeek/TokenPeek/AiroPeek, and many others
Capture files compressed with gzip can be decompressed on the fly
Live data can be read from Ethernet, IEEE 802.11, PPP/HDLC, ATM, Bluetooth, USB, Token Ring, Frame Relay, FDDI, and others (depending on your platform)
Decryption support for many protocols, including IPsec, ISAKMP, Kerberos, SNMPv3, SSL/TLS, WEP, and WPA/WPA2
Coloring rules can be applied to the packet list for quick, intuitive analysis
Output can be exported to XML, PostScript®, CSV, or plain text





Wireshark 3.0.1 Release Notes
What is Wireshark?

Wireshark is the world's most popular network protocol analyzer. It is used for troubleshooting, analysis, development and education.
What's New

The Windows installers now ship with Npcap 0.992. They previously shipped with Npcap 0.99-r9.

Bug Fixes

The following vulnerabilities have been fixed:

wnpa-sec-2019-09 NetScaler file parser crash. Bug 15497. CVE-2019-10895.

wnpa-sec-2019-10 SRVLOC dissector crash. Bug 15546. CVE-2019-10899.

wnpa-sec-2019-11 IEEE 802.11 dissector infinite loop. Bug 15553. CVE-2019-10897.

wnpa-sec-2019-12 GSUP dissector infinite loop. Bug 15585. CVE-2019-10898.

wnpa-sec-2019-13 Rbm dissector infinite loop. Bug 15612. CVE-2019-10900.

wnpa-sec-2019-14 GSS-API dissector crash. Bug 15613. CVE-2019-10894.

wnpa-sec-2019-15 DOF dissector crash. Bug 15617. CVE-2019-10896.

wnpa-sec-2019-16 TSDNS dissector crash. Bug 15619. CVE-2019-10902.

wnpa-sec-2019-17 LDSS dissector crash. Bug 15620. CVE-2019-10901.

wnpa-sec-2019-18 DCERPC SPOOLSS dissector crash. Bug 15568. CVE-2019-10903.

The following bugs have been fixed:

[oss-fuzz] UBSAN: shift exponent 34 is too large for 32-bit type 'guint32' (aka 'unsigned int') in packet-ieee80211.c:15534:49. Bug 14770.

[oss-fuzz] UBSAN: shift exponent 35 is too large for 32-bit type 'int' in packet-couchbase.c:1674:37. Bug 15439.

Duplicated TCP SEQ field in ICMP packets. Bug 15533.

Wrong length in dhcpv6 NTP Server suboption results in "Malformed Packet" and breaks further dissection. Bug 15542.

Wireshark's speaker-to-MaxMind is burning up the CPU. Bug 15545.

GSM-A-RR variable bitmap decoding may report ARFCNs > 1023. Bug 15549.

Import hexdump dummy Ethernet header generation ignores direction indication. Bug 15561.

%T not supported for timestamps. Bug 15565.

LWM2M: resource with
badly shown. Bug 15572.

When selecting BSSAP in 'Decode As' for a SCCP payload, it uses BSSAP+ which is not the same protocol. Bug 15578.

Possible buffer overflow in function ssl_md_final for crafted SSL 3.0 sessions. Bug 15599.

Windows console log output delay. Bug 15605.

Syslog dissector processes the UTF-8 BOM incorrectly. Bug 15607.

NFS/NLM: Wrong lock byte range in the "Info" column. Bug 15608.

randpkt -r causes segfault when count > 1. Bug 15627.

Tshark export to ElasticSearch (-Tek) fails with Bad json_dumper state: illegal transition. Bug 15628.

Packets with metadata but no data get the Protocol Info column overwritten. Bug 15630.

BGP MP_REACH_NLRI AFI: Layer-2 VPN, SAFI: EVPN - Label stack not decoded. Bug 15631.

Buildbot crash output: fuzz-2019-03-23-1789.pcap. Bug 15634.

Typo: broli → brotli. Bug 15647.

Wrong dissection of GTPv2 MM Context Used NAS integrity protection algorithm. Bug 15648.

Windows CHM (help file) title displays quoted HTML characters. Bug 15656.

Unable to load 3rd party plugins not signed by Wireshark's codesigning certificate. Bug 15667.

New and Updated Features

There are no new features in this release.
New Protocol Support

There are no new protocols in this release.
Updated Protocol Support

BGP, BSSAP, Couchbase, DCERPC SPOOLSS, DHCP, DHCPv6, DOF, FP, GSM A RR, GSS-API, GSUP, GTP, GTPv2, H248C, HL7, IEEE 802.11, IEEE 802.15.4, ISO 14443, LDSS, LwM2M-TLV, NLM, Rbm, SIP, SRVLOC, Syslog, TCP, TLS, and TSDNS
New and Updated Capture File Support

NetScaler and pcap
New and Updated Capture Interfaces support

There is no new or updated capture file support in this release.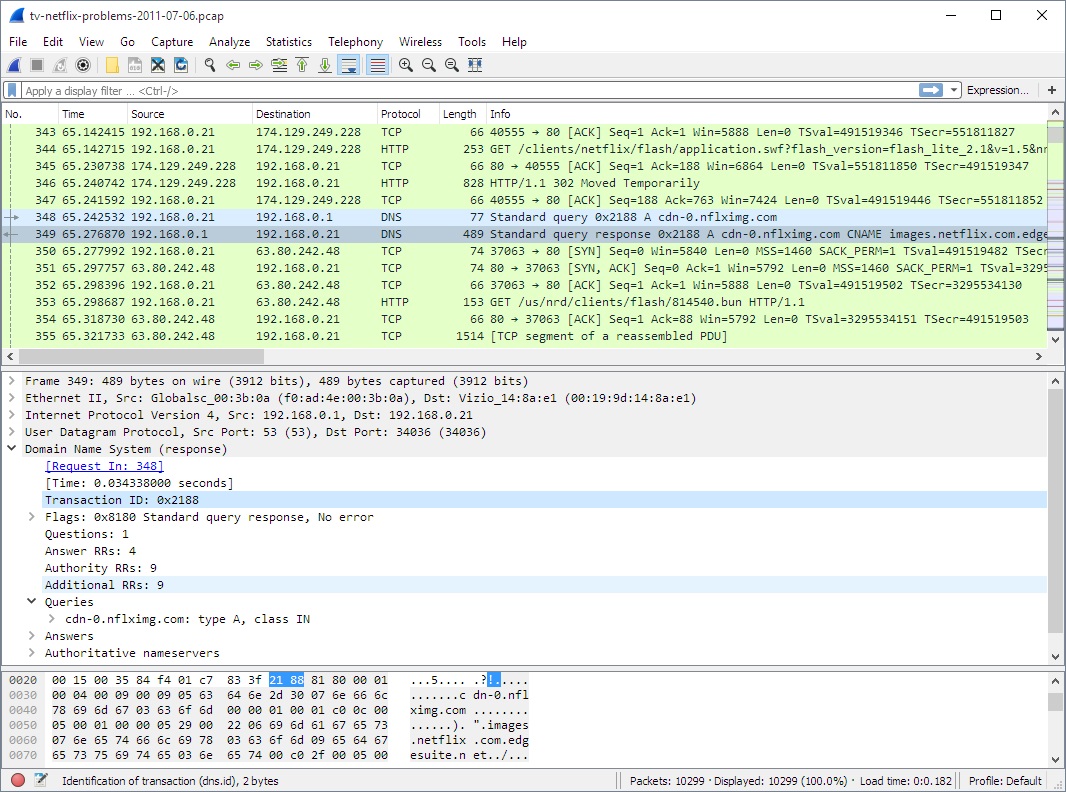 Click here to visit the author's website.
Continue below to download this file.