Always scroll to the bottom of the page to download files on OlderGeeks.com.
We don't believe in fake/misleading download buttons and tricks.

PE-sieve v0.1.6 32bit

PE-sieve is a light-weitht tool that helps to detect malware running on the system, as well as to collect the potentially malicious material for further analysis. Recognizes and dumps variety of implants within the scanned process: replaced/injected PEs, shellcodes, hooks, and other in-memory patches.
Detects inline hooks, Process Hollowing, Process Doppelgänging, Reflective DLL Injection, etc.

Usage

It has a simple, commandline interface. When run without parameters, it displays info about the version and required arguments: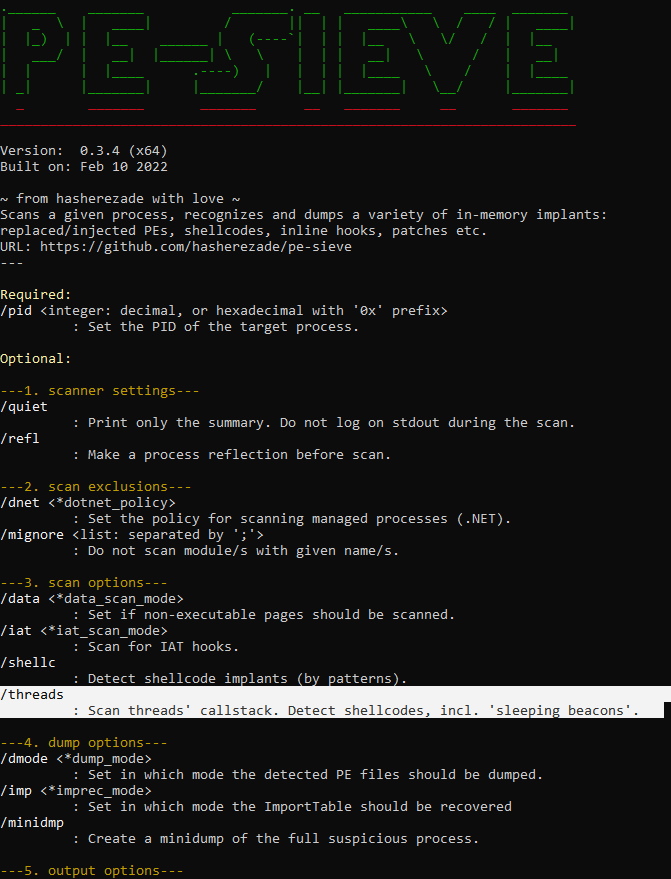 When you run it giving a PID of the running process, it scans all the PE modules in its memory (the main executable, but also all the loaded DLLs). At the end, you can see the summary of how many anomalies have been detected of which type.







In case if some modified modules has been detected, they are dumped into a folder of a given process, for example:







JSON report specifies where the implants were found:







Detailed characteristics of the suspicious indicators are given in the JSON report, that is dumped into the same folder.

Short history & features from the author

Detecting inline hooks and patches

I started creating it for the purpose of searching and examining inline hooks. You can see its initial version here:


With time its precision and abilities significantly improved, and hooking detection is only one of many features of this tool.

In case if the code of the original executable was patched in memory, additionally to the main JSON report, PE-sieve generates a TAG file.







Its purpose is to describe at which offset a patch has been found, and of what type (either a patch, or a hook/redirection). We can easily see what function has been hooked and where the redirection leads to.







The file that was patched is also dumped on the disk, so that we can examine it more closely under a dissembler. The TAG file can be loaded i.e. into PE-bear. Thanks to this, we can easily browse the found hooks and check the code that was overwritten.







For example – in the application presented above, two functions within User32.dll have been hooked and their execution was redirected to the main module, loaded at 0x400000.

The same TAG file can be also loaded into IDA, with the help of the IFL plugin.

1.







2.







Sample use-case: PE-sieve helping to examine hooks installed by PBot adware.







Detecting hollowed processes

Later, I extended it to detect process hollowing etc – and it turned out to be pretty convenient unpacker:


Detecting Process Doppelgänging

In a similar manner, it can detects some other methods of impersonating a processes, for example Process Doppelgänging. The malicious payload is directly dumped and ready to be analyzed:


Manually loaded implants

PE-sieve scan is not limited to typically loaded modules. Full workingset of the process is scanned against the suspicious artefacts. Thanks to this, also PE files that are manually loaded are detected. Example: Kronos.







Some real-life example: Gand Crab's manually loaded DLL was easily dumped with PE-sieve.

Recovering erased imports

PE-sieve has an ability to recover erased imports. In order to enable it, deploy it with an option /imp . Example – unpacking manually loaded payloads with imports erased (Emotet):


Recovering erased PE headers

Sometimes malware authors erase PE headers to evade tools that base their detection on the known patterns. PE-sieve still can detect the cases when the header was partially erased and reconstruct it:


Future development

The project is still not finished and I have many ideas how to make it better. I am planning to detect not only code modifications, but also other types of hooking, such as IAT and EAT patching.

Some in-memory patches are done by legitimate applications, so, in the future version I will provide capability of whitelisting defined patches.

I am also planning to extend its dumping capabilities against the malicious processes that are trying to defend themselves against dumpers etc.

v0.1.6
FEATURE

Identify the hook target: report what is the module where the hook leads to (#23)
Add a possibility to set the root directory of the dumps (option /dir)
Sections that are fully unpacked in memory are reported differently than patched (#22)
Inform if invalid parameter was supplied

BUGFIX

fixed crashing on some malformed samples (#21, #24)
fixed inaccuracies in import recovery
fixed an error in detection of PE artefacts (#25)
fixed information displayed when the access to a process was denied (more relevant information)




Click here to visit the author's website.

Continue below to download this file.