Let it Ride
Let it Ride Arcade horse racing game , 10 courses to complete , just keep on winning to accumulate your cash , use arrow keys , if you collect apple or horse show this will increase your speed a little , but all races can be won without collecting these, good luck unpack and run let_it_be

1,565
Mar 06, 2016
micky4fun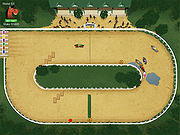 Shut IT - Shutdown Timer 2.0.0.1
Shut IT - Shutdown Timer 2.0.0.1 Shut IT can schedule system power-down commands like Shutdown, Reboot, Log-off, Standby and Hibernate. The user sets a time upon which these commands must be actioned and when the time is up, the system shuts down or reboots and so on. Available timer modes: COUNTDOWN: i.e. shutdown in 30 minutes. SPECIFIC i.e. shutdown at exactly 14h35. The built-in options dialog will allow the user access to some additional features included in the program like system cleaning, idle task processing and shutdown optimizing tweaks. Shut IT runs in stand-alone mode and does not need any special installation. Install Support: No installation needed OS Requirements: Windows XP, Vista, 7, 8, 8.1 OS Bits: 32 and 64-bit System Requirements: CPU 1.6 GHz, RAM 512MB, Any GPU Language: English License: Free CHANGES (APRIL 2014) Version 2.0.0.0: 1.) Fixed issue where child window called from "Help" button functions does not display correctly. Each child window was opening with it's own taskbar presence. Related to: When pressing 'Help' or 'Options' buttons. 2.) "Spesific Time" option will now remember the last time that was used i.e. if the user chose 11:00:00 for powering down the last time then the program will display that specific time again inside the time input box. 3.) Added an auto-run (repeat) feature to the application. The program countdown timer (Specific Timer only) can now be set to automatically startup with Windows so that a selected task can be performed on a daily basis and at a spesific time i.e. Shutdown daily at 17:45. Buttons have ...
4,000
Aug 22, 2015
MetalloSoft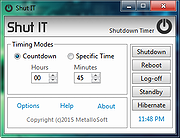 Spiceworks IT Desktop 7.5.00095
Spiceworks IT Desktop 7.5.00095 The only application that combines Network Inventory, Help Desk and more in a single, easy-to-use interface. Your network may be complicated and expensive but your IT management tools don't need to be. Spiceworks IT Desktop is the only application that combines Network Inventory, Help Desk, Reporting, a built-in TFTP Server, Monitoring, Active Directory Management, and Troubleshooting in a single, easy-to-use interface designed for IT teams in small and medium businesses. Plus, Spiceworks lets you collaborate with IT pros around the world to solve problems, share ideas and decide what additional features you need in Spiceworks. And, the best part -- it's free. Why? Because we think you shouldn't have to pay for technology to manage technology. Instead, you should spend your money on cool new hardware and software for your company. That's why top technology vendors help sponsor Spiceworks. Manage your network. Need a way to wrangle all your devices, software, cloud services, and even users? With network inventory and mapping, network monitoring and alerting, license management, troubleshooting, reporting, and much more, Spiceworks is the free IT management app with the tools you need to tackle your IT day. Run an IT help desk. User requests driving you nuts? Your current ticketing solution not quite cutting it? Spiceworks help desk software helps you run a ship-shape help desk, at the office and on the road. Manage user tickets, organize your work, create a custom user portal, and even launch a knowledge base… all for free! Monitor your network. Ever feel like your users are a step ahead of you? Meet Spiceworks Network Monitor — an easy-to-use, real-time interface that'll help you stay in-the-know about what's happening with your critical systems and catch problems long before your users do. Inventory all your hardware. From workstations and servers to routers and switches (even printers and phones) – ...
4,410
Dec 20, 2016
Spiceworks