Access PassView 1.12
Access PassView 1.12 This utility reveals the database password of every password-protected mdb file that created with Microsoft Access 95/97/2000/XP or with Jet Database Engine 3.0/4.0 . It can be very useful if you forgot your Access Database password and you want to recover it. Known Limitations In Access 2000/XP files, this utility cannot recover passwords that contains more than 18 characters. This utility shows only the main database password. It cannot recover the user-level passwords. Versions History Date 19/04/02 1.12 Added command-line and drag & drop support. License This utility is released as freeware. You can freely use and distribute it. If you distribute this utility, you must include the executable and the readme.txt files in the distribution package without any modification ! Disclaimer The software is provided "AS IS" without any warranty, either expressed or implied, including, but not limited to, the implied warranties of merchantability and fitness for a particular purpose. The author will not be liable for any special, incidental, consequential or indirect damages due to loss of data or any other reason. Using Access PassView Using the Access PassView utility is very simple. it doesn't need any installation process or additional DLL files. You can run the "accesspv.exe" file from any directory you want, and start to work. In order to get the password from your mdb file, click the "Get Password" button, select the mdb file and the password will be shown in the main text box. There are also 2 alternative ways for getting the password of mdb file: Drag & Drop: You can get the password of your mdb file by dragging it from the explorer window into the Access PassView window. Command-line: You can get the password of your mdb file by adding the filename as command-line ...
3,936
Jun 27, 2017
Nir Sofer
Easy Access 2.1
Easy Access 2.1 Easy Access is free database application that can help you to view, create and edit MS Access database files (mdb, accdb). Using nice looking user interface you are able to work with database tables, view and run queries, create, edit and view table relationships, list, add and delete indexes etc. Easy Access also supports data search, filtering, data export and many other features. It can be useful for everyone looking alternative mdb & accdb editor, especially for software developers who use MS Access database files as their back-end databases. Features: View, create and edit MS Access database files (mdb, accdb). To be able to open accdb file formats and to use relationships editor you must install Microsoft Access 2007 Runtime. View tables, create new and edit existing tables and columns, define primary keys, list, add and delete indexes. View, create and edit table relationships. Data search, filtering, export (txt, csv, html, xml). View, run and save database queries. Compact & repair database. Set & reset database password. Open databases using command line arguments.
152
Feb 12, 2018
vclexamples.com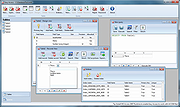 File Access Monitor 1.0.2
File Access Monitor 1.0.2 File Access Monitor is a multipurpose tool that monitors access to your files and provides detailed history of who read, wrote and manipulated them. SoftPerfect File Access Monitor can be used on a file server to track network users activity, as well as on a local computer where it will track local users file access. It is similar in nature to Windows auditing features yet is much easier to use and provides flexible reporting capabilities and notifications. Key features Monitors file actions: creating, moving, deleting, reading and writing to files. Records remote user access to shared folders. Keeps track of local users as to what files they access. Features a powerful filter system to include or exclude certain activities. Self-contained, doesnít require a database server alongside. Supported platforms Windows XP through Windows 10, Windows Server 2003 through 2012 32-bit and 64-bit Changelog: 2016-10-10 1.0.2 This software is now freeware.
218
Dec 14, 2016
SoftPerfect