OBLIGE Level Maker 7.666
OBLIGE Level Maker 7.666 OBLIGE is a random level generator for classic DOOM games. The goal is to produce high quality levels which are fun to play. CHANGES IN 7.666 + UI: big revamp, two scrolling columns of modules - UI: main window can be vertically resized - UI: default save filename is the generated title name - UI: remember the previous folder when saving - UI: option to use mousewheel to change settings - UI: option to disable the overwrite-file warning - UI: the "Use" button in config manager now sets the seed too - UI: "@@" on the command line will forget current module + the "Weapons" button now controls how early or late new weapons are introduced into the wad + new "Park" rooms, naturalistic outdoor areas + hallways + more variety of window prefabs + ensure a secret exit can always be placed - fixed bug swapping normal-exit and secret-exit switches - support secret weapons (available earlier than usual) + add barrels, blood and corpses to rooms - fixed large teleport-in monsters getting stuck - support for the Quake3 map format in the CSG code - sky generator makes better looking mountains - new "Ramp Up" and "Bosses" buttons for monster panel - new themes: "Bit Mixed", "Original-ish", "Episode-ish" - new health/ammo settings: "Bit Less" and "Bit More" ! removed Skulltag engine and modules ! removed most other engines, since they did nothing at all ! removed "Mode" button in UI, since it did very little ! removed the non-standard player things (4001..4004) - got triple-key doors working again - got remote-activated doors working again - got lowering-bar fences working again - added exit signs to doors leading to exit room - renamed "Start Together" setting to "Alt-start Rooms" - improved title generator, removed ...
239
Jul 31, 2017
Andrew Apted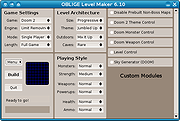 Steam Cleaner 2.3
Steam Cleaner 2.3 Steam Cleaner is a tool that will remove large amounts of data left behind by Steam, Origin, Uplay and GoG. This tool can clear up gigabytes of data in a few seconds. There is no configuration needed, simply run it and it will detect all your installed games and then some. Changelog: Steam Cleaner 2.3 Important Battle.net files being deleted Fixed game files for Penumbra: Overture being removed Fixed crash on startup for sym links
186
Jul 07, 2017
Andrew Sampson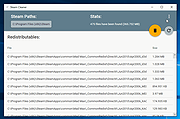 Unreal Engine 4.20
Unreal Engine 4.20 What is Unreal Engine 4? Unreal Engine 4 is a complete suite of game development tools made by game developers, for game developers. From 2D mobile games to console blockbusters and VR, Unreal Engine 4 gives you everything you need to start, ship, grow and stand out from the crowd. Student? Indie? Pro? Yes. There is no limit to what you can achieve with Unreal Engine technology, whether youíre making a clever puzzle app or an open-world action game. Because Unreal Engine 4 is used by students, indies and large teams, it's an engine that you'll never outgrow. One Engine, One Workflow With Unreal Engine 4, you can learn one engine and one workflow to meet all of your needs now and in the future. From mobile projects to super high-end console and PC games, Unreal Engine is in use by indies and professionals around the world. Own The High End Push your visuals to the limit on PC, consoles, and VR with custom lighting, shading, VFX and cinematic systems. Create beautiful visuals for architectural visualizations, simulations, digital films, and more. Everything You Need To Get Started The Marketplace provides a wealth of production-ready game content, asset packs, documentation, sample projects, tutorials, and demos. Get up to speed rapidly with high-quality, UE4-ready items suitable for a wide range of art styles and game genres. Use For Free We give you everything so you can build anything. You get all tools, all features, all platforms, all source code, complete projects, sample content, regular updates and bug fixes. 5% When You Ship The 5% royalty starts after the first $3,000 of revenue per product per quarter. Pay no royalty for film projects, contracting and consulting projects such as architecture, simulation and visualization. Requires sign-up with the Epic Games Community.
1,429
Jul 10, 2017
Epic Games